Ameren (NYSE:AEE) announced today the completion of its exit from the merchant power business. By selling its merchant power subsidiary, Ameren Energy Resources' (AER) Illinois generating facilities to Dynegy (NYSE:DYN), management has made good on its pledge to focus on the regulated portion of its business. However, it was costly for shareholders.
DYN will assume $825 million in debt and pay no cash consideration for five coal-fired power plants and three natural gas-fired plants and AEE will buy back three natural gas facilities for $133 million. In addition, AEE will provide cash of $93 million in the way of cash balances on the merchant power's books. Net to AEE, the five coal-fired plants with a total generating capacity of 4,200 Mw seem to be valued at about $600 million. AEE took a write-down of these assets in the 4th quarter of 2012 of $1.57 billion in preparation for the sale. AER contributed about $45 million in pre-tax earnings, or about $0.18 a share on pre-write-down, non-GAAP earnings of $2.42.
Based on the complexities of the EPA regulations and the economics of these specific plants, it is difficult to determine the "value" of these facilities as an ongoing concern. As a comparison, according to an article in Forbes, the cost to build a new EPA-compliant coal-fired generating plant is about $2.5 billion for 750Mw of capacity. The AEE plants are EPA compliant for the 2015 regulations concerning mercury and air toxic standards.
The sale allows AEE to focus on its regulated business in Missouri and Illinois where it services about 2.4 million electric and about 1 million natural gas customers, mainly in the St Louis and Peoria regions. 86% of revenues are from electric customers and 14% from natural gas customers.
The regulatory jurisdictions in AEE's operating territory are some of the toughest outside California and New England. Recent electric rate cases in Illinois allowed for 9.2% return on equity and an annual review. Future ROE will adjust based on the formula of 30-yr US Treasury yield plus 580 basis point risk premium, up to a maximum of effective rate increase of 2.5%. Natural gas ROE for Illinois was recently set at 9.06%. Missouri recently approved a 9.8% electric ROE based on a 2012 rate request, which is down for the 10.2% allowed in a 2011 rate decision.
As discussed in previous articles, according to the Edison Electric Institute, the most recent quarterly average approved regulatory ROE nationwide is 10.06 and an average for all of 2012 of 10.05%. Below is a chart from the EEI outlining the average ROE approved by quarter: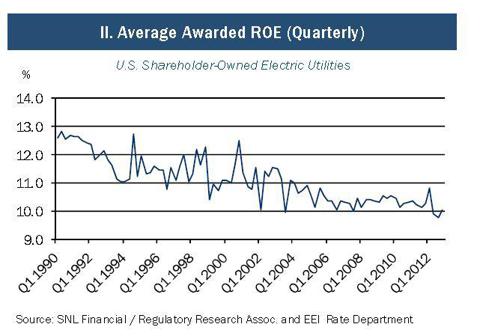 The final disposition of the merchant power business has removed an uncertainty from the company. While increasing its asset base in its service territory, AEE is also expanding in FERC-regulated transmission business. The company announced a $1.2 billion capital expenditure project to build an east-west transmission line across Illinois, about half way between St Louis to Chicago and roughly from Quincy to Springfield to Terre Haute, IN. Upon completion in 2017, this could add as much as $140 million in annual operating results, based on a 12% allowed ROE from the FERC.
The company is looking for a 7% annual increase in its rate-based assets going out to 2017 and should fuel incremental earnings over time. However, the company has announced a capital expenditure budget of $8.1 billion from 2013 to 2017. If operating cash flow were to grow an optimistic 7% annually and the dividend were to grow by 3% annually, overall debt would still need to expand by $1 billion over the next 5 years. This would raise total debt outstanding from it current $7.0 billion to $8 billion, with the majority of the increase over the next three years.
Below is a 5-year chart comparing AEE with XLU. Note the drop in December when the company announced the write-down of its merchant power business, and the subsequent rebound.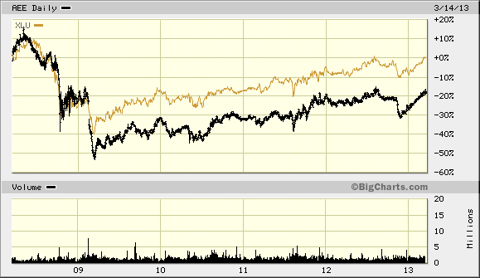 AEE currently pays an above average dividend yield of 4.7% and a payout ratio of about 67%. Dividend growth has been spotty with 2.8% growth over the past 12 months, 1.2% average over the past 3 years and a -8.9% over the past 5 years, reflecting a dividend cut back in Dec 2008. The current 4.7% yield compares favorably with the current 3.9% yield of the S&P Utilities ETF (NYSEARCA:XLU) and 3.8% yield for multi-line utilities. Based on the write-down of the merchant power assets last year, return on invested capital is negative -6.7 % trailing 12 months and 1.2% for the previous 5 years.
The latest investor presentation is dated March 5 and can be found here.
Income investors may want to review AEE with its above average yield, which seems stable after the announcement of the asset sale. Dividend growth will not be a huge factor until allowed ROE improves in both Missouri and Illinois, and that does not seem likely over the near term.
Author's Note: Please review important disclaimer in author's profile.
Disclosure: I have no positions in any stocks mentioned, and no plans to initiate any positions within the next 72 hours. I wrote this article myself, and it expresses my own opinions. I am not receiving compensation for it (other than from Seeking Alpha). I have no business relationship with any company whose stock is mentioned in this article.