Share Reductions
Share buybacks have gotten a lot of attention lately as it has been reported that Dell (DELL) has shelled out more cash on buybacks than it has made in earnings throughout its history. Qualcomm (NASDAQ:QCOM) and others talk in press releases about implementing new buy back programs to "reward shareholders" without mentioning that the company has grown the number of shares outstanding by 50 million over the last two years.
The transgressions of a few can cause investors to overlook other companies that are actually smart about buyback programs and use them properly to retire outstanding shares. These four discount retailers have shown a consistent track record of buying back shares over the last 10 years: Family Dollar Stores Inc. (NYSE:FDO), Ross Stores Inc. (NASDAQ:ROST), The TJX Companies, Inc. (NYSE:TJX) and Wal-Mart Stores, Inc. (NYSE:WMT).
FDO Shares Outstanding data by YCharts
As you can see in the chart above, all four companies have decreased the number of outstanding shares by at least 23 percent over the last decade, with Family Dollar leading the way with nearly 1/3 fewer shares than 10 years ago.
Dividends
In addition to decreasing their numbers of outstanding shares, these companies have also consistently increased dividend payouts to shareholders.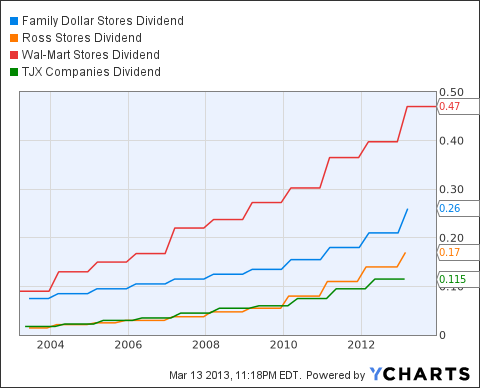 FDO Dividend data by YCharts
All four companies have grown dividend payouts at an attractive rate since 2003, with Ross Stores growing payments at a 29% annual rate, TJX Companies at 23%, Wal-Mart at 18% and Family Dollar at 12%.
Fundamentals
Here is a look at the current PE ratios for the four companies.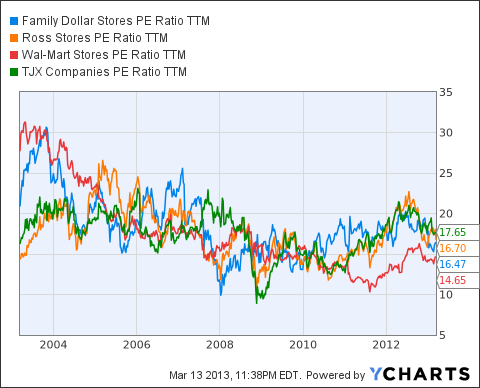 FDO PE Ratio TTM data by YCharts
Information shown in the table below collected from Yahoo Finance.
Company Fundamentals
FDO
ROST
TJX
WMT
Market Cap
$6.9B
$12.3B
$33.2B
$246.0B
Current Yield
1.8%
1.2%
1.0%
2.6%
Trailing 5YR EPS Growth
18.5%
31.1%
24.0%
9.6%
Forward EPS Growth
12.9%
12.7%
11.7%
8.4%
In looking at the side by side fundamentals the lower PE ratio by Wal-Mart is probably warranted based on the lower trailing and forward growth rates for the company. The other three retailers have shown tremendous growth over the last five years and are expected to grow at a 11%+ rate going forward, which justifies the market giving them a higher multiple.
While the dividend payouts have increased steadily for all four companies, the yield for the three fastest growers is still below a level generally considered for investment by dividend investors. Wal-Mart currently has a respectable yield of 2.6% while Family Dollar, Ross Stores and The TJX Companies are all below a 2% yield.
However, by avoiding these retailers because of the low yield, dividend investors have missed out on some outstanding returns over the last five years, as seen below.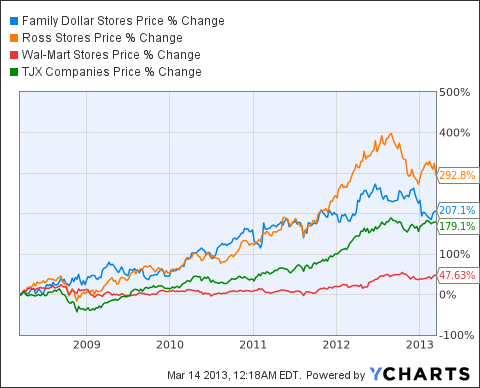 FDO data by YCharts
Conclusion
These four retailers have all done a tremendous job of rewarding shareholders over the long haul by way of aggressive share buybacks, increasing earnings and growing dividend payouts. In looking at the underlying fundamentals of the companies, it appears that even with the market at all-time market highs, these discount retailers can still provide value to a portfolio.
Disclosure: I am long ROST. I wrote this article myself, and it expresses my own opinions. I am not receiving compensation for it (other than from Seeking Alpha). I have no business relationship with any company whose stock is mentioned in this article.