The first few months of 2013 have been trying for investors in Linn Energy LLC (LINE) and its recent spin-off, LinnCo LLC (LNCO). The companies were hit with a strong, short-selling push and then responded with a historic acquisition that should keep the dividend growth policies of the Linn Energy duo intact. You can catch up on the news here: Linn Energy Sticks A Dagger In The Vocal Short Seller Crowd.
Now that the drama is behind us, it is time to look at the benefits of investing in LinnCo for a combination of very attractive current yield, a growing payout and tax-advantaged income.
The K-1 Dilemma
For many investors the K-1 Schedule reporting system used by limited partnership companies is a significant deterrent to investing in MLP and LP stocks. A K-1 requires extra and complicated tax reporting, may require an investor to file multiple state income tax returns and if units are held in an IRA, the account may become liable to pay Unrelated Business Income Tax - UBIT. Although the distributions from K-1 issuing LP stocks can be very attractive income streams, the extra reporting and potential IRA taxes are often viewed as too much of a burden.
One of the reasons Line Energy spun off LinnCo is to remove the K-1 dilemma from investor consideration. LinnCo is an LLC that files taxes as a corporation. Each LNCO share is backed by one LINE share so a distribution paid by the LINE unit will be passed through as an LNCO dividend. The big change for investors is that LinnCo dividends are reported on a Form 1099-DIV and not on a K-1 Schedule.
Tax-Advantaged Income
LinnCo has released the tax considerations information for the single quarterly dividend paid in 2012. For investors, dividends earned were not taxable income on the 1099-DIV, but were reported as 100% non-dividend distributions. Line Energy has stated that it expects the dividends paid in 2013 will be completely tax-shielded. In future years, the company expects 4% to 5% of the distributions paid to LinnCo to be taxable and passed through to be taxable income.
The dividends paid by LinnCo will not be completely tax free. The dividends are classified as return of capital, so an investor's cost basis in LinnCo units is reduced by the dividends earned. When shares are resold, the return of capital distributions would be recaptured as capital gains and taxed as such.
Income Potential
Line Energy expects to pay at least $2.90 per unit in distributions for 2013 on both LINE and LNCO units. That gives a 7.25% dividend yield at the current share price. Since going public in 2006, Linn Energy has increased distributions from a $1.60 annual rate to the projected $2.90 for 2013. The quarterly payout leveled off during the 2007-2009 financial crises, but has increased each year since 2009.
The Linn Energy business model is based on a process of constant acquisition of producing oil and gas assets and working those assets to generate increasing per unit cash flow. When an asset is purchased the production is hedged for several years into the future to guarantee the cash flow. The major risk of investing in Linn Energy or LinnCo is if the company stops being able to raise capital at rates that allow the purchase accretive to cash flow assets.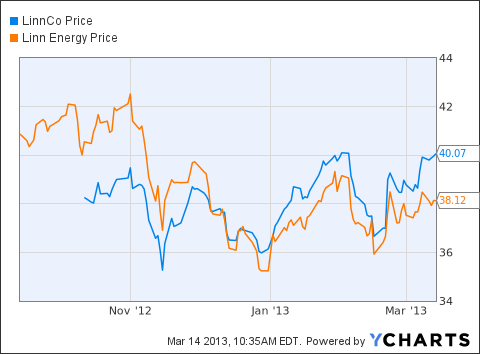 Disclosure: I am long LNCO. I wrote this article myself, and it expresses my own opinions. I am not receiving compensation for it (other than from Seeking Alpha). I have no business relationship with any company whose stock is mentioned in this article.