One of an investor's biggest challenges is finding new ideas. There are thousands of stocks and a lot of screens available to help. But, one of my favorite sources of new ideas remains seasonality.
There's no guarantee seasonal trends will repeat. But, seasonality helps investors discover sectors, industries and stocks, which may experience seasonal demand cycles.
Last weekend, I discussed the top seasonal picks across large cap through May. Today, I'm focusing on mid-cap stocks with the best seasonal tailwinds.
According to the Seasonal Investor database, six mid-cap stocks have finished May higher than they begin March in each of the past 10 years.
Copart, Inc (NASDAQ:CPRT)
Those who survived Hurricane Sandy are dealing with a daunting list of repairs. But, it's not just houses that were damaged. Some 230,000 cars were washed under too. Insurance companies have spent millions paying off these cars and contracts with Copart to dispose of them suggest sales growth heading into summer.
Costs associated with leasing additional lots and towing Hurricane Sandy vehicles weighed on profits last quarter. But, business was brisk as revenue grew 17% year-over-year. As those sunk costs translate into higher service fees and unit sales, earnings should return. As a result, analysts expect earnings per share will increase by 17% in 2014 to $1.81.
Over the past decade, shares have gained an average and median 10.15% and 8.47%, respectively in the three months ending in May.
Camden Property Trust (NYSE:CPT)
Multi-family growth has been an ongoing bright spot in housing since the recession.
Tight credit and worries over falling prices drove many into rentals, which helped rents increase as vacancy dropped. This has meant bigger profits for multi-family REITs such as Camden.
The company operates 206 multifamily communities comprising some nearly 70,000 apartments. In January, real estate tracking firm Reis estimated Q4 vacancy rates dropped to 4.5%, down from 5.2% the prior year. This helped rents climb 0.6% from Q3.
As a result, Camden's revenue grew 17% in Q4 from the prior year as earnings per share increased 15%. Analysts project the company's earnings per share will grow 8% in 2014 to $4.28. And, since Camden is a REIT, shareholders benefit as those profits are paid out. Currently, shares yield 3.7%.
In the three months ending May 30, shares have gained an average and median 14.62% and 9.51%, respectively over the last 10 years.
F M C Corp (NYSE:FMC)
The market for agricultural suppliers wasn't great last year as drought-ravaged crops forced farmers in the U.S. to plow under acreage.
But, this year should see similar near-record planted acreage across the grain belt and that should help FMC, which gets 20% of its herbicide and insecticide sales from North America.
And, while the U.S. market faced headwinds last year, planting remained robust south of the border.
Last quarter, FMC sales in Latin America were up 53%, which helped the company's agricultural segment revenue grow 20%. As a result, FMC's total sales were up 10% in Q4 to $1 billion.
As we move closer to the U.S. planting season, keep an eye on FMC as shares have gained an average and median 15.92% and 10.75%, respectively through May.
Gartner Inc (NYSE:IT)
Professional investors use a number of services to keep on top of sector and industry trends.
As equity markets improve and assets rotate back to stocks, demand for research products should benefit. But, it's not just investors who rely on Gartner's research. Corporate IT leaders also contract with Gartner, which suggests an improving economy and rebound in global IT spend could also help Gartner grow.
The biggest part of Gartner's business is research, an attractive business generating up front cash and near 70% margins. Last quarter, this segment saw sales grow 14% to $300.2 million. This strength helped overall sales grow 11% and earnings per share climb 34%.
Analysts expect the sales and profit strength to continue into next year. The consensus street estimate is looking for earnings per share to expand 19% to $2.45 in 2014.
As for seasonality, over the past 10 years shares have increased by an average and median 13% and 6.2% through May.
PetSmart (NASDAQ:PETM)
Of all the stocks in the list, one of the most challenged this year is PetSmart. The pet retailer has slumped from a peak near $73 last fall to $62. And, last week shares dropped $4 following earnings.
Yet, results weren't horrific. Sales grew 15% in the quarter from last year and earnings per share grew 36%. Additionally, comparable stores sales grew a healthy 4.5% from a year ago.
However, these numbers couldn't offset the pessimism surrounding PetSmart's guidance. The company's $3.76-3.92 earnings per share projection for this year was light to what analysts wanted.
But, even with tempered enthusiasm, analysts are predicting earnings per share will grow 15% to $4.48 in 2014. This gives shares a reasonable 14x price to earnings multiple.
Since shares have returned an average and median 10.49% and 12.08% through May, investors who thought shares were too pricey before might want to take another look.
Wolverine Worldwide (NYSE:WWW)
April showers mean mud -- the perfect environment for Wolverine boots. As construction activity accelerates into warmer weather, demand for work boots should pick up.
But, Wolverine sells more than just boots. Its Merrell brand targets consumers active outdoors and Sebago markets casual footwear.
Sales last quarter grew 60%, thanks to its acquisition of Performance+Lifestyle group, the maker of Sperry Top-Sider, Saucony and Keds. Ignore the acquisition and organic sales still grew a healthy 6.5% from a year ago.
Earnings per share were up 2%. Analysts expect earnings per share to climb 21% to $3.20 in 2014. That's after rising 15% from 2012 to 2013. At $3.20, shares are trading at a forward price-to-earnings multiple of just shy of 14.
Throw the current 20x multiple on forward earnings and you get a back of the napkin target in the mid $60s. Short sellers remain unconvinced. They're still sitting on nearly 10 days to cover short. This suggests any positive news could force a squeeze higher.
Over the past decade, shares have climbed and average and median 9.8% and 7.8% in the three months ending in May.
Of course, seasonality alone doesn't guarantee investors will make money again this year. However, seasonality does suggest these stocks benefit from uncommon demand this time of year. And, if that's the case, each may deserve a place in portfolios.
Source: Seasonal Investor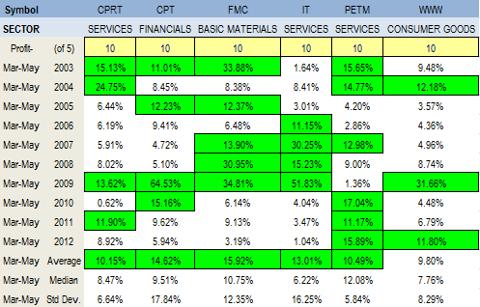 Disclosure: I have no positions in any stocks mentioned, but may initiate a long position in WWW over the next 72 hours. I wrote this article myself, and it expresses my own opinions. I am not receiving compensation for it (other than from Seeking Alpha). I have no business relationship with any company whose stock is mentioned in this article.