The market reacted very positively to the U.S. February Retail Sales report issued on Wednesday morning. While top line numbers looked positive and exceeded market expectations, the devil lies in the detail on its impact on the segments of retail competed in by companies like Amazon (NASDAQ:AMZN) and eBay (NASDAQ:EBAY). February total U.S. retail sales increased 1.1% year/year, but retail excluding autos, gas, food and food services (Retail xAGFF) was up only 0.68% - the lowest value in over three years.
Meanwhile the AGFF segment was up 1.57%. This is a double whammy for companies like Amazon, because not only does increased food and gas prices reduce disposable income for the majority of families (reducing Amazon revenue potential), it also significantly increases Amazon's fulfillment costs, thus negatively impacting gross margin (to the tune of 10 basis points for every 2% change in gas prices as per my last Amazon article, "Amazon is Getting Gassed").
Figure 1: US Retail Sales (ex Auto, Gas, Food & Food Services)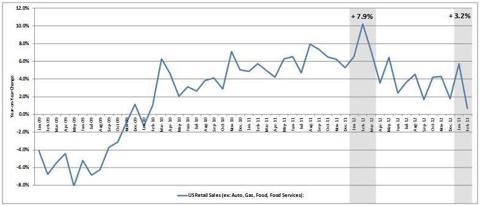 February retail sales (xAGFF) continued a downward trend of growth that appears to have accelerated during the month (Figure 1). The shaded areas in the chart highlight the quarters discussed with the number within it representing the growth for the full quarter Y/Y (whereas the blue line represents the month's Y/Y change). The impacts of the mid-January massive tax increase implementation combined with run ups in food and energy prices are having significant impacts on retail sales (xAGFF).
Amazon will have a difficult comparison period for 2013 Q1, as 2012 Q1 saw retail sales (xAGFF) up 7.9% Y/Y (Amazon e-commerce sales were up 32.9% in that period). Through the first two months 2013, Q1 retail sales (xAGFF) are only up 3.2% Y/Y (60% reduction in growth) and trending downward. In addition to the continued Y/Y impacts in March, from the tax increases and food and gas prices, March has the additional headwind of the sequester implementation.
Conclusion
U.S. Retail Sales (xAGFF) growth has been in decline for the past year. This decline has been exacerbated in February by a massive tax increase taking effect combined with strong increases in food and gas prices. With consumer discretionary spending under pressure, Amazon is facing both reduced revenue growth and increased fulfillment costs in Q1.
Disclosure: I am short AMZN. I wrote this article myself, and it expresses my own opinions. I am not receiving compensation for it (other than from Seeking Alpha). I have no business relationship with any company whose stock is mentioned in this article.