Auto and housing were leaders of the sluggish U.S. recovery so far. The auto industry is showing further signs of strength, and Ford Motor Company (NYSE:F) is poised to reap the benefits of further recovery.
In my previous article, I noted the strengths and benefits of the auto recovery, and Ford and General Motors (NYSE:GM) were at/near 52 week highs. They suffered a mild correction since, and now they seem prepared to take new highs for the year.
Ford released earnings in late January that beat estimates, but the share price headed lower because of the increased estimate on the European losses from $1.5 billion to $2 billion. Although it was surprising to see the price drop as heavily as it did after beating earnings expectations, it might have served as a reason to take profits, as the stock had a significant run prior to the earnings report. After heading lower in the next month, shares began climbing back up.
Recent developments
Ford's U.S. February sales were up 9%, the highest level in six years. Second quarter production forecast was 800,000 vehicles, which would represent a rise of 9% over the same period last year. Fusion brought a new February sales record, topping last year's record by 28%. Escape too had a record February, and the Explorer sales were up 59%, the best level since 2006.
Sales in China were up 7% from a year earlier, with a surge of 46% in the first two months of the year to 105,209 units. Much of the surge was attributed to the high demand for the Ford Focus. The company plans to continue to aggressively expand its range of models in China, bringing the EcoSport and the Explorer to the market.
Europe remains the weak spot for auto sales. New car sales in Germany dropped 10% in February and 8.5% in January. Another weak spot for Ford recently is India, with sales of the Ford's India unit dropped 44% in February. However, India is still a quite small market for Ford, so the drop is not so important on an absolute basis.
Strong U.S. and China sales remain the main driver of Ford's increased revenue. Those trends are poised to continue, with new product offerings in China, and a further expected recovery in the U.S.
Valuation
Ford has a trailing PE of 9.42, forward PE is 8.03, and the PEG ratio is 0.85. The expected 5 year growth rate of 11.33% suggests there is more upside with regard to these valuation metrics. However, analyst EPS estimates are down compared to 90 days ago, from 1.46 to 1.39 for this year, and from 1.83 to 1.67 for 2014.
Price action
After reaching 52 week highs, the share price corrected after reporting better than expected earnings, but weak guidance for Europe. It then lost the 50 day moving average line in mid-February, but managed to regain the key support level recently, and is holding above it so far. The consolidation might be defined as a double bottom base, with a $13.41 entry. Having in mind that this level is also close to the 50 day moving average line, the entry would provide further safety of the eventual support level of the 50 day moving average line.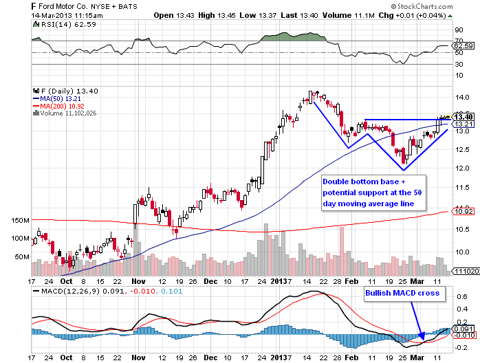 Conclusion
Ford is a pure play on the further U.S. auto recovery. It is bound to benefit from strong auto sales growth in China with launching new models, and building on the high demand for models already present in the market. Weak Europe sales are a burden, but a burden the company can withhold with the strong recovery in the U.S. markets and strong demand from China. Technically, the share price suggests it can give more upside this year, and potentially reach new highs.
Disclosure: I have no positions in any stocks mentioned, and no plans to initiate any positions within the next 72 hours. I wrote this article myself, and it expresses my own opinions. I am not receiving compensation for it (other than from Seeking Alpha). I have no business relationship with any company whose stock is mentioned in this article.
Additional disclosure: This writing represents my personal opinion, and is for informational purposes only.