Back in December, in Oil: From Bubble to Bust...and Back Again? I again took a contrarian stance on oil, having turned ultra bearish last spring as the speculative bubble peaked, stating that:
A blind monkey throwing darts would beat the average investment bank oil analyst, whether forecasting weekly inventory levels or the future oil price. At the peak of the historic investment bubble in oil futures back in July, they were falling over themselves to predict $170-200 oil in 2009. Now it's $25.
Despite endless bearish news on the global economy, that call has come good, initially for non-WTI grades like Brent given the specific Cushing storage issue, but in recent weeks for Nymex crude as well. As can be seen in the chart below, thanks to OPEC discipline (helped by a steep contango structure which makes keeping oil in the ground rational) crude is now breaking out of its recent trading range. As with many commodities right now, the market is struggling to reconcile the reality of short term demand destruction (albeit US gasoline demand seems to be rebounding) with the prospect of medium-term supply destruction as key development projects are postponed or canceled.
We also have strategic stockpiling of resources from copper to oil, particularly by China, to add to the mix. China now holds the maximum 100m barrels in its national reserve, although storage capacity will grow to 281m barrels by 2011. Although marginal production costs have declined marginally in recent months, if prices stabilize as low as $35, not much below current levels, only two international oil companies, ExxonMobil (NYSE:XOM) of the US and Total (NYSE:TOT) of France, would be able to finance current investment programs out of their cash flow, according to Bernstein Research. For the others, raising capital to finance investment would be difficult in the current risk-averse climate. After a relatively strong move versus other assets so far in 2009, where to now for oil, or does natural gas offer better prospects?
images
Oil has rallied on OPEC supply restrictions but remains below marginal production costs in the $60-65 area and above cash costs of $30-35, although at these levels many producers would face social upheaval. It seems too early for a break-out from the recent price range, at least until we get clearer evidence of demand picking up in the US and the scale of an accelerating Chinese economic slowdown is evident. Medium-term, of 100 key OPEC production projects announced in early 2008, 35 have been delayed; oil infrastructure spend is down 12-15% in a year, making a spike in prices to $75-100 as global recovery takes hold in 2010 and beyond very likely.
If, like me, you think the US economy risks an upside growth surprise into 2010, and China a downside one (the latest IMF GDP forecast is 6.5% and I'd be a seller) then natural gas would seem a better energy play. Natural gas prices have tumbled this year, as a steep drop in US industrial consumption has undermined demand.
However, dwindling production is starting to outpace slumping demand and the rig count has halved since last September to under 1,000 according to Baker Hughes; rig count is a key predictor of future supply. Natural gas futures for delivery in early 2010 are trading at a 50% premium to the April contract, but even that may not discount the scale of the supply squeeze looming. In its recent energy outlook the Energy Information Administration said that total natural gas consumption is projected to decline by 1.3% in 2009 and then increase by 0.4% in 2010. But many energy companies have idled rigs, scaling down production and increasing the chances of a supply crunch if the economy starts to recover.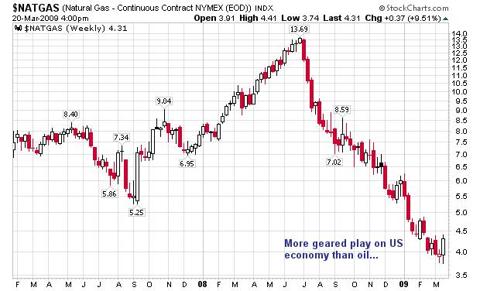 With so many rigs coming offline, fourth-quarter gas production could decrease by over 5%, way in excess of the predicted demand fall. The cost of drilling and servicing a gas rig is about double what it was just four years ago, and since 2007 tightening credit standards and higher financing costs for exploration companies, (which tend to be smaller and financially weaker than in the oil industry) are forcing big cuts in exploration budgets.
"During March 2009, most Mid-Continent natural gas prices at major interstate pipeline delivery points will average around $2.70 per thousand cubic feet, a price at which most natural gas production is unprofitable," according to the CEO of independent Chesapeake Energy. Deutsche Bank forecasts that spending on U.S. exploration and production will drop an estimated 40% to $22.5 billion this year.
Against this background, and particularly if the US economy stabilizes as I expect by year-end, it's quite possible natural gas prices will soar from here, perhaps back above $7/btu by early 2010. While it's hard to see oil prices doubling in the next year absent a huge supply disruption, it's quite feasible for US gas from these levels. Well financed and unhedged natural gas plays should deliver excellent returns in that scenario but given recent downward momentum, watch for signs of the price levelling out through the typically seasonally weak summer months for a clear lead.
Disclosure: None