By Sumit Roy
Natural gas reached its highest level in three-and-a-half months after the Energy Information Administration reported that operators withdrew 145 billion cubic feet from storage last week, above the 133-140 bcf withdrawal most analysts were expecting. The withdrawal was also above last year's draw of 64 bcf and the five-year average draw of 86 bcf.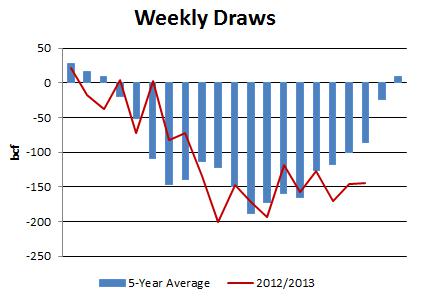 In turn, inventories now stand at 1,938 bcf, which is 431 bcf below the year-ago level and 200 bcf above the five-year average (calculated using a slightly different methodology than the EIA).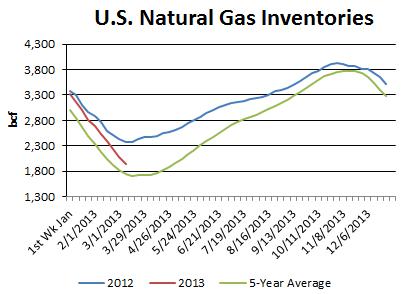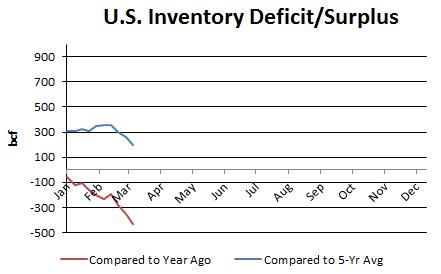 The weather last week was colder than normal and colder compared with this period last year. Looking forward, the NOAA's 6- to 10-day outlook calls for more cold weather across the Midwest and East Coast.
NOAA Six- to 10-Day Outlook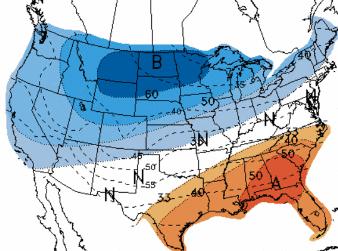 Meanwhile, the number of rigs drilling for natural gas in the U.S. fell by 13 last week to 407, according to Baker Hughes. That's a new low for the cycle and a level not seen since 1999.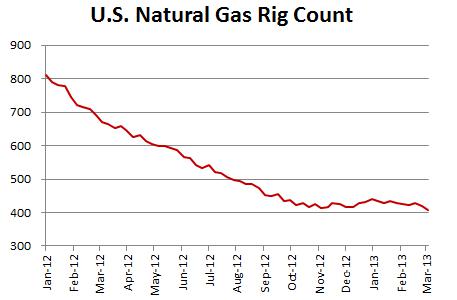 Natural Gas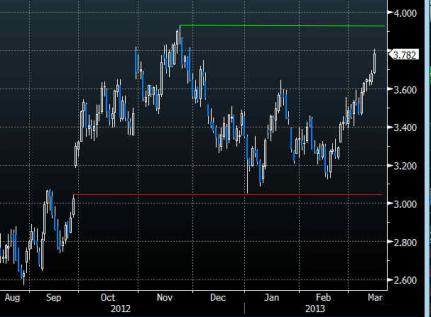 The latest inventory report from the EIA was bullish, as the surplus over the five-year average fell another 59 bcf to stand at 200 bcf. Though colder-than-normal temperatures contributed to the large withdrawal, the draw was bullish, even on a weather-adjusted basis.
Given the weather of the previous two weeks, we would have expected to see a withdrawal between 100 and 120 bcf. Instead, both weeks saw a draw close to 145 bcf. Perhaps this is a sign that production is finally rolling over, though it is much too premature to confirm that. In any event, all the fundamentals in the gas market are currently working in favor of bulls. The storage surplus above the five-year average may drop further to 100 bcf or lower over the next few weeks.
At the same time, the number of rigs drilling for natural gas hit a new cycle low as of last week, according to Baker Hughes. Granted, the rig count has not correlated with production levels, but the fact that the count is down to a fresh 13-year low signals that producers remain reluctant to spend their capital drilling for natural gas at these prices.
Bottom Line: The path of least resistance for natural gas is higher. Bullish fundamentals may propel prices through the $4/mmbtu mark in the coming weeks.