Homebuilder stocks have gotten off to a strong start to 2013 after a banner year in 2012 that saw the group gain more than 80%. So far in 2013, the S&P 1500 homebuilder group is up 13% compared to a gain of 9.35% for the S&P 500. With the market making new bull market highs on a daily basis, most investors would probably assume that a market leader like the homebuilders is making new bull market highs as well. Notably, though, the homebuilder group has yet to take out its highs that were made back in January.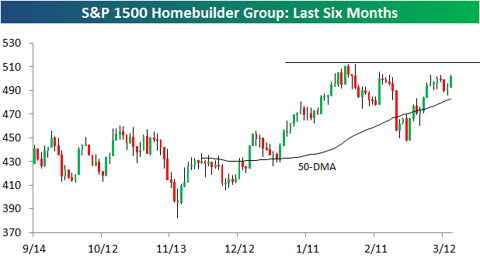 For those who need a reminder of just how far the homebuilders have to go to get back to all-time highs, below is a 10-year chart of the S&P 1500 homebuilder group. Even though the group is now up 263% off of its financial crisis lows, it still needs to gain 112% to get back to its highs from late 2005.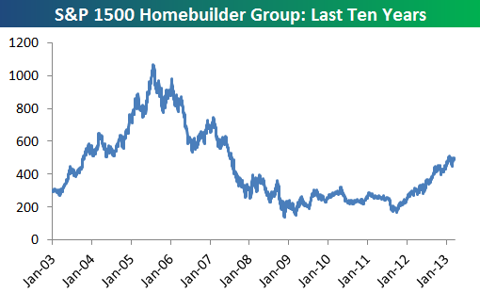 For those interested, below is a table showing the 2012 and 2013 performance of the stocks that make up the S&P 1500 homebuilder group. As shown, KB Home (NYSE:KBH) is up the most so far this year with a gain of 29.86%. D.R. Horton (NYSE:DHI) ranks second best with a gain of 23.61%, followed by MTH and SPF. Only one stock in the group is down year to date -- M/I Homes (NYSE:MHO).