Ulta Beauty (NASDAQ:ULTA), a 2007 IPO, has been on a rocket ride, almost doubling from the initial price of $18 before trading to $4 in early 2009 and then running to $103.52 last year. Today, after reporting its Q4, the stock is down sharply, trading at a 52-week low in after-hours trading.
ULTA caught my attention in January as I was looking at strong 2012 performers getting off to a bad start in 2013. Here is what I said:
Ulta Beauty began 2012 with a sprint and has flat-lined for the past three quarters. The company, which is the largest beauty retailer that operates 550 stores, shared an update two weeks ago, indicating 23% sales growth in the seven-week holiday period ending 12/29 (including 7.4% same-store-sales growth, which excludes e-commerce). The company affirmed its Q4 guidance it had shared in late November for same-store-sales growth of 5-7%, which accounts for some impact from Sandy.
Q4 Review
The quarter was fine, with EPS of $1 slightly ahead of the consensus and representing 37% growth. The company said that the extra week added .05, so 30% is a more accurate growth rate.. $759mm was ahead of the sales consensus by $6.5mm. This represented 30% growth on 8% comparable-sales growth (14 weeks vs. 13 weeks). GM improved 10 bps (34.2%), while SG&A relative to sales declined 1% to 20.3%. One concern is that inventory was up 48% (20.5% on a per-store basis) and up a bit more than the company had intended.
Outlook
Q1 guidance was really bad, but for the full year it seems alright. The company shared several factors that are hurting margins in Q1 (promotion delay, cadence of store openings, Ulta Card issue). On sales, the company is guiding 4-6% same-store sales, but this includes a change: E-commerce is now included, which boosts it by 1%. Overall sales for Q1 are projected at $568mm-$577mm. While this is 21% at the mid-point, it is below the $579mm consensus. EPS guidance of .60-.63 was way below the .72 consensus. This would represent just 10-17% growth from Q1-12.
For the full year, the story is much better. Interim CEO Eck indicated that there had been no change in the full-year budget since year-end. The company is guiding for 4-6% comparable-sales growth (including e-comm) and expects margin expansion. Despite a .13 hit to EPS from incremental investments, the company expects to hit the low-end of its 25-30% long-term EPS guidance, though this comes with a hitch: They are adjusting for 52-weeks vs. 53-weeks. The bottom-line is that the EPS should be about $3.29, which is slightly below the $3.39 EPS consensus. They plan to open 125 stores (adding to 550 at year-end) and remodel 7 stores. Square footage will grow 22%. The company will spend $225mm on CapEx (up from $189mm).
Management Changes
On February 14th, ULTA shareholders felt jilted, no doubt, as CEO Chuck Rubin surprised them with his departure. He had served in the role from May 2010 and is headed to Michael's Stores to be its CEO as it prepares to go public again. The board formed a search committee and named Dennis Eck, who has served as Chairman of the Board since 2003, as Interim CEO. His background includes serving as CEO of Coles Myer (Australian retailer) and previously in executive roles at Vons Companies and American Stores. On the call, it came across that there is no super urgency, as they are focused on getting the "right" person. They are working with an outside search firm.
Just yesterday, the company named Scott Setterstein as CFO. He had been serving on an interim basis since mid-October. He joined the company in January 2005, with 15 years of work at PwC in its assurance and risk management practices.
Hidden Cause for Weak Guidance?
The company just released an 8-K that may shed some clarity on the conservative outlook:
On March 12, 2013, the Company's Board of Directors approved an option grant to be made to Dennis K. Eck in consideration of his service as Interim Chief Executive Officer of the Company. In consultation with the Company's outside compensation consultant, the option grant will have a grant date fair value equal to $2,000,000 and is intended to be reflective of annualized compensation for such services. Such option shall vest and become exercisable in equal increments over a period of twelve months for so long as Mr. Eck serves as the Interim Chief Executive Officer plus one additional month of transition after a permanent Chief Executive Officer of the Company has been hired, and any unvested portion of the option grant shall be forfeited at that time. The option will be granted on March 19, 2013, the third business day following the release of the Company's 2012 fiscal year fourth quarter earnings results.
What's It Worth?
Here is the Baseline perspective, based on 87.50: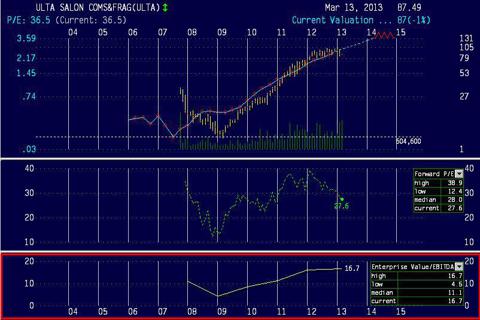 The stock is trading closer to 75 in after-hours trading. On a forward PE basis, this is about 23PE. The median has been 28, and the stock recently was pressing 40X. This doesn't incorporate cash of $5 per share. If one believes the company's long-term guidance of 25-30% EPS growth, this is a bargain.
How's the Chart?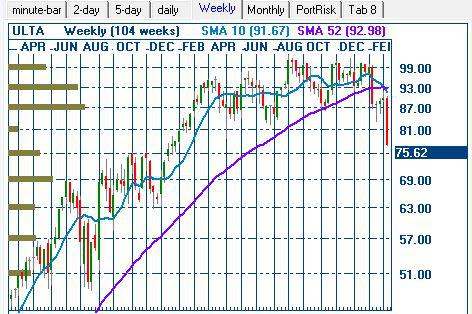 I see big support near 75, where the stock is testing as the call comes to an end. Beneath this late 2011 peak, 69 looks to offer support as well. I use a price momentum indicator developed by StockVal that suggests the 75 level would represent about a 2 s.d. move from trend
Conclusion
High PE retailers that miss or share shaky guidance get crushed, and that is certainly no surprise here. Add to it the management changes as well as concern over the back-end loaded nature of guidance for 2013, and it's rather obvious that the stock should be down. While management did a good job in my view of explaining things like the timing of expenses and the high inventory, I expect that some analysts will have a negative view tomorrow regarding the aggressive store-openings for 2013 (ahead of 20% expectation in s.f. expansion).
Bottom-line: ULTA is a "Beauty" and not a beast. I think that this is a good opportunity to enter ULTA near 75 (the mid-point of the past two years), but I don't expect a quick recovery beyond 80.
Disclosure: I have no positions in any stocks mentioned, and no plans to initiate any positions within the next 72 hours. I wrote this article myself, and it expresses my own opinions. I am not receiving compensation for it (other than from Seeking Alpha). I have no business relationship with any company whose stock is mentioned in this article.