Since the beginning of '09, the Chilean ETF (NYSEARCA:ECH) is up 16.5%. While not immune to the current global economic meltdown, Chile has weathered the storm better than most countries due to a solid financial system, the lack of a domestic housing bubble, and sizeable wealth reserves.
During the commodity boom of 2002-2007, Central and South American countries saw a massive inflow of wealth to the region. Most of this cash was immediately put to use as the region's seven largest economies (Argentina, Brazil, Chile, Columbia, Mexico, Peru and Venezuela), on average, spent 77% of the excess revenue. However, Chile only spent 34% of this revenue and built up a US$19.5 billion "stabilization fund". The large cash reserve enables greater flexibility in monetary policy and should prevent Chile from being forced into this difficult credit market in search of financing.
Chile's conservative economic policies have been criticized in years past for stifling growth. The government's response was simply that it prefers policies that are anti-cyclical. So while much of the rest of the world was engaging in increasingly risky lending practices, Chile remained disciplined. Chile's mortgage practices have only recently become less regulated. In 1995, 86% of all mortgages originated, known as Mortgage Bills, had a maximum LTV (loan to value) of 75%. By 2005, although Mortgage Bills only made of 40% of the loan market, their less-regulated counterparts, known as Non-Endorsed mortgages, still had relatively conservative LTVs compared to the rest of the world. In comparison, the average LTV in 2006 for first time home buyers in the UK was 92% and Wachovia's infamous pick-a-pay loans were up to a 90% LTV average in California by July '08. Chile's conservative lending practices will allow them to escape the global "de-leveraging" phenomenon relatively unscathed.
A common misconception about ECH is that it is a good play (long or short) on copper since Chile, the world's largest producer and exporter, relies on exports for 43% of its GDP and copper is the largest of that group. However, ECH's holdings have very little reliance on copper. The breakdown of ECH's holdings as of February 27th is as follows: Utilities 30.86%; Materials 20.33%; Industrial 17.2%; Consumer Stapes 10.65%; Financials 8.67%; Consumer Discretionary 5.77%; Telecom 4.85%; IT 1.22%; Healthcare 0.35%. The materials holdings do not include any copper industry related producers.
Chile's utilities sector could be set for a banner year as energy supply concerns have caused prices to rise, thus increasing margins for ECH's largest group holding, utilities. Energy concerns are driven by the effects of recent droughts on the output of hydroelectric plants. A decrease in precipitation reduces water levels which lowers the potential output for hydroelectric plants. Hydroelectric power makes up 40% of Chile's power supply.
A look at the ECH chart for the past six months shows a number of positive attributes.
Three higher lows since the October bottom.

An ascending 50 day moving average.

A price within spitting distance of the 200 day average.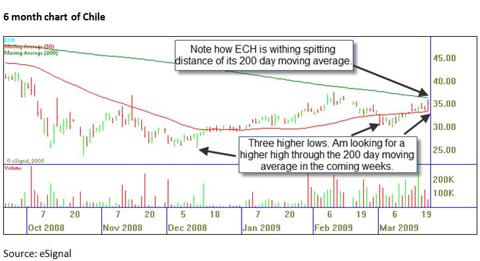 I plan on taking a probing position in ECH on a move through the 200 day average. I will then add to this position on a break above $37.62, which will signal a new bull market for this ETF.
Disclosure: I am not long ECH yet but will be when the above parameters are met.