Avino Silver (NYSEMKT:ASM) is a silver exploration and mining company with assets near Durango in Mexico and Canada. The company is currently focused on re-opening the Avino mine in Mexico. Activities to this end are increasingly self-funded through processing of stockpiles, and more recently through processing of ore from the newly discovered nearby San Gonzalo mine.
The Avino mine was one of the first Spanish mines in Mexico with silver production documented as early as 1500 and historic production of 16M ounces of silver, 96,000 ounces of gold and 24M pounds of copper. Avino Silver operated the mine for 27 years from 1974, commencing underground operations in 1993. In 2001, silver prices had dropped to $4.00 per ounce, the mine became uneconomical and production ceased.
By 2006, silver prices were showing strong signs of recovery and Avino Silver started activities to revive the mine. Funds were raised, facilities were refurbished and connected to the power grid, and exploration on the property surrounding the existing mine was initiated. Early last year, an agreement was struck with third parties and full control of the old mine was acquired in exchange for a net smelter royalty.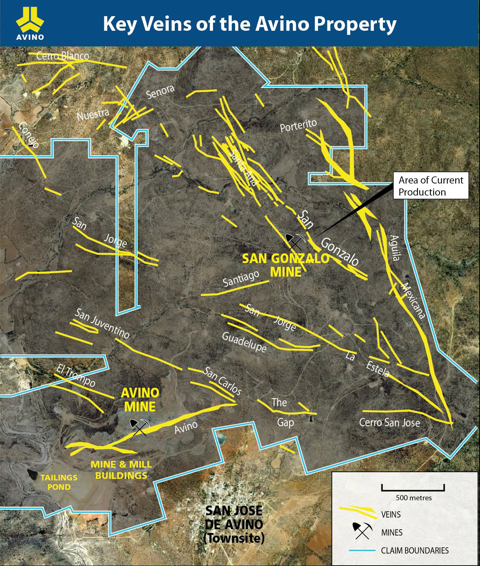 At two kilometers distance from the mill the newly discovered San Gonzalo vein quickly provided an exploration focus and in 2009 a first NI 43-101 report was prepared for this deposit (an update of this report is expected in April 2013). After completion of a bulk sample in 2011, underground development and mining to stockpiles was initiated resulting in first ore supplied to the mill late in 2012. Until this time, the mill had been fed with old stockpiled material and the higher-grade ore from the San Gonzalo vein certainly made a difference in silver output and generated revenue. Currently 250 tons per day are mined and processed from the San Gonzalo mine.
Meanwhile de-watering of the old underground workings at the Avino mine has been initiated and is expected to be finished early in Q4 2013. Rehabilitation work of some areas affected by water has already started. Permitting for re-commencement of mining at the Avino mine is ongoing and first production is expected for mid-2014 with operations ultimately ramping up to 1000 tons of ore per day.
The third source of ore for the Avino production will come from a historical tailings deposit near the mine. The Deposit contains oxide and sulphide tailings and a PEA was prepared in 2012 considering processing of the oxide tailings only which contain 91 g/t silver and 0.54 g/t gold. The economics of this PEA were compelling indicating an NPV of $74.1M and an IRR of 92% for silver prices of $28.36 per ounce with capital expenditures of only $29.1M. Current planning has the oxide tailings deposit in production by 2015.
On March 4 2013, an updated mine expansion plan was announced including a second 250 tons per day processing circuit going into production in Q2 2013. This second circuit will be fed with stockpiled material effectively doubling current throughput. The components for this second circuit were paid for with revenue generated by production from the San Gonzalo mine and came as a pleasant surprise to investors. The total processing capacity will therefore be 1500 tons per day as soon as the Avino mine comes online in 2014. In a recent interview a production target of 700,000 silver-equivalent ounces was mentioned for 2013. Considering the chart below which shows monthly production for the past half year, and taking into account the second circuit coming online in the second quarter, we would expect this target to be surpassed.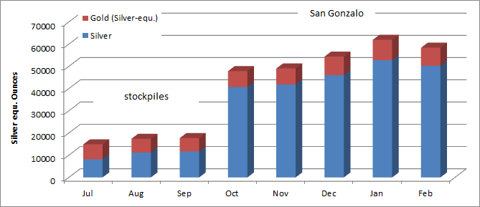 Avino also holds interests in the Eagle exploration project in the Yukon. This property is surrounded by Alexco's (NYSEMKT:AXU) Keno Hill property on which the Bellenko Mine has recently been reopened. The so-called Eagle vein potentially runs through Avino Silver's property giving rise to speculation about a future cooperation with Alexco. The other exploration properties (Olympic-Kelvin and Minto) are situated in British Columbia in close proximity to the Bralorne mine which has recently been reopened by Bralorne Gold Mines (OTCQX:BPMSF). Avino hold these properties in inventory and will explore them in the future cash flow permitting.
So far Avino Silver has executed their plan to bring the Avino mine back into production with great precision. Mile stones have been reached in time and budgets have been kept. As a result, the share price performance since last year's summer low compares favorably with other silver producers and also the underlying metal. The market capitalization is still only $39M which seems dramatically undervalued considering that the mill by itself is valued at around $40M. With several mile stones anticipated in the coming months, ramp-up continuing and exploration ongoing a re-rating of Avino Silver seems a very high probability.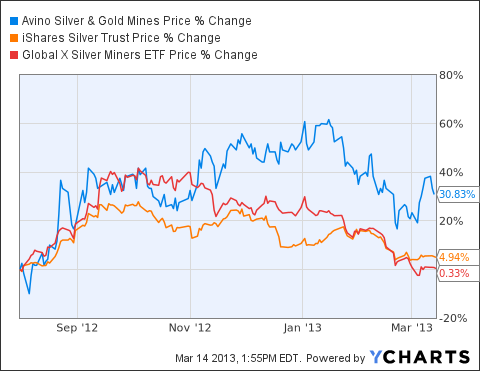 For those considering an investment in Avino Silver, it should be pointed out that all the usual risks associated with mining companies apply. Avino should be considered a development company and therefore represents a high risk/reward play.
Disclosure: I am long ASM. I wrote this article myself, and it expresses my own opinions. I am not receiving compensation for it (other than from Seeking Alpha). I have no business relationship with any company whose stock is mentioned in this article.