McDonald's (NYSE:MCD) has been a consistent dividend champion by raising its dividend payments every year since 1976. The company's restaurants are 81% franchised or licensed with the remaining 19% of them owned by the company. McDonald's success has been attributed to the synergy of the company, its franchisors, and its suppliers. This business model has enabled the company to deliver locally-relevant restaurant experiences and allows for flexibility in adapting to changing tastes/preferences in individual markets throughout the world.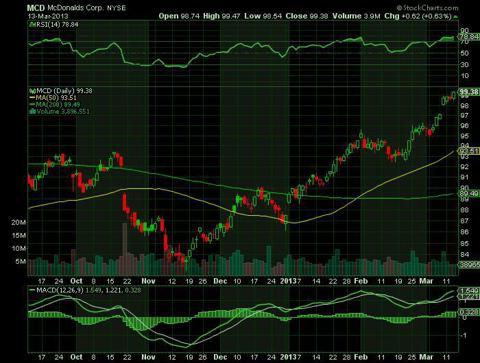 McDonald's is looking to leverage its competitive advantages in the $1 trillion informal eating out (IEO) segment of the restaurant industry. It has the brand advantage in convenience, menu variety, and value. With over 34,000 restaurants throughout the world, McDonald's has the largest restaurant footprint in the world. When people need a fast, inexpensive meal on the go, McDonald's is frequently at the right place, at the right time to satisfy this need.
The company's priority (as stated in the recent 10-K filing) is to satisfy consumer's needs by serving great-tasting, high-quality food in contemporary restaurants. Restaurant remodels are an important part of this strategy for creating enjoyable meal experiences. Remodels are also important for installing the latest restaurant equipment and technologies to improve service.
Strategic menu offerings for each local market throughout the world are another key aspect of this strategy. Having seasonal items such as the popular Shamrock Shake, allows MCD to create a reason to visit their restaurants on a regular basis. The McRib sandwich is another menu item that is offered for a limited time. More nutritious offerings are another example of strategic menu offerings (real fruit smoothies, salads, yogurt, etc.) The company also plans to enhance its dollar menu and introduce new items at all price levels. Basically, McDonald's can tweak its menu the way it sees fit to satisfy the needs and tastes of consumers.
In Europe, MCD plans to reimage approximately 450 restaurants and open 300 new restaurants. New kitchen platforms, updated point-of-sale systems, side-by-side drive-thrus, and self-order kiosks are some examples of what the company plans to implement in Europe. Despite the economic uncertainty in the region, McDonald's sees the area as a good long-term investment.
In the Asia-Pacific region, the company plans to focus on menu variety and growth. For example, restaurants in Australia will update its loose-change menu; while restaurants in Japan will focus on breakfast items and promotional products. The company implemented a new web ordering system in China, which will enhance the customer experience and drive new demand through delivery. MCD plans on opening 300 new restaurants in China by the end of 2013.
One of McDonald's primary risks is the threat of competition. Yum Brands (NYSE:YUM) is a large competitor that operates approximately 39,000 restaurants throughout the world under various brands (Taco Bell, KFC, Pizza Hut, etc.) Yum Brands is expected to grow earnings annually at 11.7% for the next five years and pays a dividend of 2%.
I think that MCD and YUM can continue to coexist in the restaurant industry and actually complement each other. For example, sometimes consumers have a craving for pan pizza or tacos and other times the craving may be for a Big Mac or a McDonald's breakfast.
Yum Brands offers breakfast items in about 800 of its Taco Bell restaurants, primarily in the western U.S. Frankly, I can't visualize Taco Bell's breakfast menu ever becoming a huge threat to McDonald's extensive breakfast menu. Nevertheless, Yum Brands should be a company to watch as it continues to expand internationally.
McDonald's continued success is contingent upon management excellence with a strategic outlook for long-term growth. Thus far, the company has navigated well. If MCD continues to innovate with new efficient technologies and strategic menu offerings that appeal to customers' tastes, it should meet or exceed its earnings estimates for the long-term. With a dividend of 3.1% and expected annual earnings growth of 9.3% for the next five years, MCD should outperform the market over the long-haul.
Disclosure: I am long MCD. I wrote this article myself, and it expresses my own opinions. I am not receiving compensation for it (other than from Seeking Alpha). I have no business relationship with any company whose stock is mentioned in this article.