Boy it's been a long week. I flew to Chicago on Monday night and spent two days honing my skills in REIT valuation. I wanted to give a special shout out to the instructor Christopher Haley, partner with Palladian Realty Capital LLC, who gave the class some excellent guidance on basic REIT valuation techniques and hopefully, thanks to Chris, you will see the fruits of my ongoing education.
Now we all know that there was a Seeking Alpha article that was published last week that brought considerable attention to the REIT sector. I promised some readers that I would not write about that article as it has already been the subject of far too many page views. As a frequent and well-liked friend wrote: "It's time to put the baby to bed."
However, I did want to bring attention to the latest REIT article by Adam Aloisi. This recent article, Just How Risky Are REITs?, had a well-deserved editors' pick, and one paragraph that seemed to sum up the author's point is as follows:
Unlike a traditional dividend stock, which can utilize a portion of ongoing cash flow to fund expansion, REITs have no such luxury. This is why the capital structure is so critical. There needs to be a careful balance of attention to current operations, expansion, leverage, and shareholder value. REITs benefit in the current rate environment as they are able to borrow and refinance at low cost, reinvest, and achieve juicy operating results for investors. If rates were to reverse course, the environment would become more challenging as borrowing costs rise.
Adam, you nailed it! In bold, I will share it again: This is why the capital structure is so critical.
Some Academic Insight
According to Google Scholar, Michael C. Jensen's article, Agency Costs of Free Cash Flow, Corporate Finance, and Takeovers, has been cited 13,513 times in other academic articles. As a Professor Emeritus at Harvard Business School, Jensen published the article in 1986 and his work - some refer to it as the so-called "Jensen Alpha" - has played a huge role in developing methods of measuring fund manager performance.
In Jensen's prolific research article, he explained his free cash flow hypothesis whereby he argued that a company with too much free cash flow would result in internal insufficiency and waste of corporate resources, thus leading to agency costs as a burden of stockholder wealth. Now, keep in mind, REITs don't have that problem since they are forced to pay out 90% of cash flow in the form of dividends. As Adam Aloisi said,
REITs have no such luxury.
So how is it that REITs perform better since they are forced to pay out dividends? Professor Jensen had the answer:
Payouts to shareholders reduce the resources under managers' control, thereby reducing managers' power, and making it more likely they will incur the monitoring of the capital markets which occurs when the firm must obtain new capital. Financing projects internally avoids this monitoring and the possibility the funds will be unavailable or available only at high explicit prices.
So how is it that companies payout dividends while their only source for expansion is optimized by issuing stock or utilizing debt? Professor Jensen also has that answer:
Managers have incentives to cause their firms to grow beyond the optimal size. Growth increases managers' power by increasing the resources under their control.
It's clear to see that non-REITs have more potential conflicts of interest between shareholders and managers since payout policies are more severe when the organization generates substantial cash flow. As Jensen explained:
The problem is how to motivate managers to disgorge the cash rather than investing in at below the cost of the capital or wasting it on organizational inefficiencies.
Jensen's free cash flow hypothesis states that when a company has generated an excessive surplus of free cash flow and there are not profitable investment opportunities available, management tends to abuse the free cash flow in hands, resulting in an increase in costs. As Jensen went on to say:
Managers with substantial free cash flow can increase dividends or repurchase stock and thereby pay out current cash that would otherwise be invested in low-return projects or wasted. This leaves managers with control over the use of future free cash flows, but they can promise to pay out future cash flows by announcing a "permanent" increase in the dividend. Such promises are weak because dividends can be reduced in the future. The fact that capital markets punish dividend cuts with large stock price reductions is consistent with the agency of free cash flow.
Bingo! It's plain to see that REIT returns have been systematically better than non-REITs. But I need another academic citation. What about "The Intelligent Investor" Ben Graham? What could he tell us about REIT dividends?
Well, since REITs were formed in 1960, I can't refer specifically to REITs in Graham's 1949 classic. However, I can cite his theory of the all important dividend:
Paying out a dividend does not guarantee great results, but it does improve the return of the typical stock by yanking at least some cash out of the manager's hands before they squander it or squirrel it away.
Finally, I was able to catch up by telephone today with a leading academic REIT expert. Brad Case, Ph.D., CFA, and CAIA, Senior Vice President of Research & Industry Information with NAREIT, explains:
There's a big difference between cash that a company has because it raised it externally to finance a planned acquisition, and cash that it has simply because it refused to pay dividends to shareholders. Academic researchers have found time and time again that executives have a tendency to make poor use of free cash on hand, whereas when they have to undergo "capital market scrutiny," they tend to make decisions that are better for shareholders. That may be part of the reason why listed REIT returns have been systematically better than non-REIT stock returns, not just recently but over more than four decades of available history.
REITs I Like Today
Every day I get a question about REIT valuation. It's a fair question since we have seen P/FFO (price/funds from operations) multiples steadily grow. However, I think it's important to acknowledge that because of the dividend fundamentals, REITs are much more efficient with their capital markets decisions. Alternatively, non-REITs tend to be more "wasteful" and that has led them to become less competitive in the capital markets' space. That's why I don't consider REITs to be over-valued today.
Over time (REITs have been around for over 53 years), REITs have generated very sustainable operating results and due to the "forced dividend component" their returns are much more systematic. Here are a few of REITs that I like today: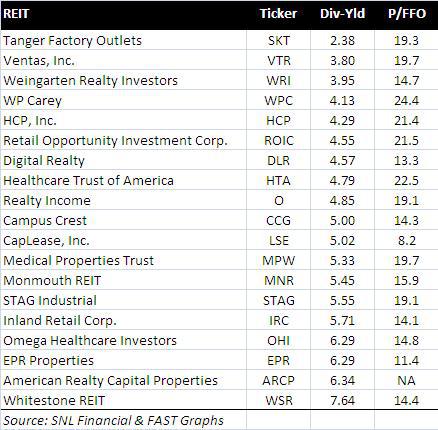 One last note … Back in June (2012) I wrote an article on Healthcare Trust of America (NYSE:HTA). In that article (Healthcare Trust Of America: Breaching Liquidity And Transparency By Going Public ) I recommended the shares in the newly-listed healthcare REIT:
The stars are lined up for HTA to be an "all star" performer. The hand-picked properties are high quality and the management is vetted. The tenant base is solid and the overall credit is mix is excellent. By focusing on medical office properties (90 percent of portfolio), HTA maintains a competitive advantage distinguished by above average occupancy fundamentals (91 percent).
I know some readers weighed in and purchased shares back then. Yesterday HTA broke $12.00 a share and hit an all-time high of $12.03 - over 20% increase from the public listing in June (2012):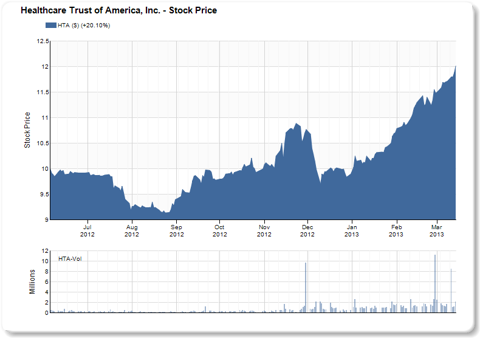 In addition, HTA has returned over 21% since January 1, 2013: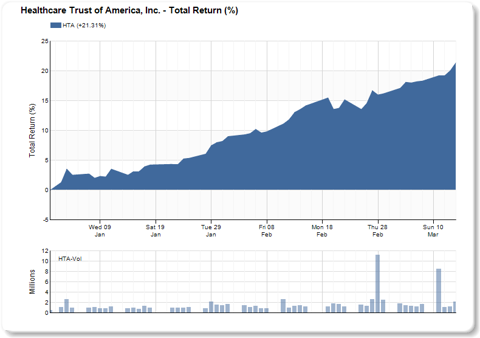 In Closing
In a previous Seeking Alpha article I wrote:
It's not hard to see why investors are attracted to the idea of high-dividend-paying stocks. On the surface, these investments seem to offer the best of both worlds: the potential for long-term capital appreciation and a steady income stream. But this perception rests on a fundamental misunderstanding of how dividends work.
In my opinion, REITs offer the very best value proposition for dividend investors and perhaps one of the best options for total return performance. As Howard Marks said (in The Most Important Thing):
When you boil it all down, it's the investor's job to intelligently bear risk for profit. Doing it well is what separates the best from the rest.
REITs mentioned: (NYSE:O), (ARCP), (NYSE:WPC), (NYSE:MNR), (NYSE:SKT), (NYSEMKT:WSR), (NYSE:LSE), (NYSE:STAG), (NASDAQ:ROIC), (NYSE:VTR), (NYSE:DLR), (NYSE:OHI), (NYSE:WRI), (NYSE:HCP), (NYSE:CCG), (NYSE:MPW), (NYSE:EPR), and (NYSE:IRC).
Disclosure: I have no positions in any stocks mentioned, and no plans to initiate any positions within the next 72 hours. I wrote this article myself, and it expresses my own opinions. I am not receiving compensation for it (other than from Seeking Alpha). I have no business relationship with any company whose stock is mentioned in this article.