I suppose that only Tiger Woods can be forgiven for misgivings because he is a wonderful golfer and a celebrity. Even many of our nation's politicians who have been found to be less than wonderful, are given second chances. Unfortunately, I cannot say the same for a stock that has so many positive things going for it, yet it simply is continually "unloved" and under-appreciated.
General Electric (NYSE:GE) has become perhaps the one truly great stock that still garners all sorts of negativity. Whether it is dislike for the CEO, Jeff Immelt, or the BOD, or the company's aggressive tax approach, GE is still perhaps the perfect stock for just about any portfolio.
Great Things Are Still Happening
I have written a few pretty good articles on GE, the last one being this one, in which I announced that the Comcast deal to purchase the remainder of NBC Universal came one year ahead of schedule:
In breaking news, announced by CNBC, and reported in this article, Comcast has decided to buy all remaining "shares" of NBC Universal, a GE component that was sold last year. The original deal allowed Comcast to purchase the remaining shares in increments in 2014. While at first glance this deal looks great for Comcast (which indeed it is), it is also an early payment of cash for GE, one year or more, ahead of schedule.
What that meant of course was that GE would get yet another infusion of cash directly into its coffers. I used the following chart to explain quite easily how the company itself plans on using its cash: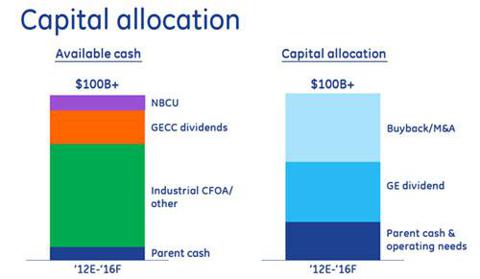 With the additional infusion of capital now, GE would be well positioned to return even more shareholder value. I will get to that a bit later though.
My favorite article was this one which broke down just about the entire business structure of GE, and how they are positioned. One chart is worth taking another look at:
The global footprint of this company is staggering. Not a day goes by (probably not even a second) that a GE product or service is used around the world.
Even the major advancement into emerging markets leaves nothing out: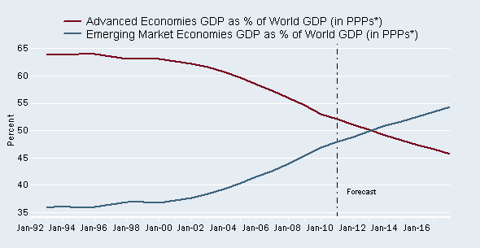 To further support my opinion, this article states quite emphatically;
.....GE is simply everywhere. And if you're a global-focused investor, this is a name you can't afford to ignore....
That about sums it up for the company and the stock.
Not only is the company diversified within all corners of the Earth, but the company is in just about every market. GE has its hands basically in every business sector, in every part of the globe, touching virtually everyone on the planet. I want a company in my portfolio that has the ability to generate revenues from just about anything.
Home appliances
Healthcare
Aviation
Lighting
Consumer electronics
Oil and gas
Renewable energy
Software and services
Consumer and business finance
Rail technology and innovation
Medical imaging equipment
Water treatment products and technology
Why would any investor continuously look in the rear view mirror, and complain about dividend cuts that obviously had to happen (yes, we all know GE promised NOT to cut dividends) when the great recession threw a big monkey wrench into the entire thing. Not many companies did as well after biting that bullet, and now GE is back on track, including dividend payments.
Even the future revenue and profit forecasts are glowing.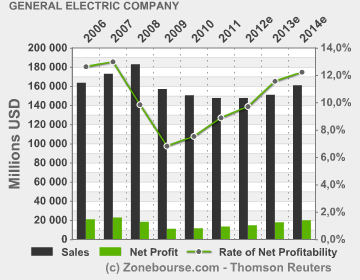 Got a better chart than this? Show me.
Even the basic fundamentals look better than ever, and all investors should familiarize themselves with each bullet point.
An enterprise value of $550 billion.
A forward P/E of only 12.29.
YOY revenue growth of nearly 15%.
YOY earnings growth of almost 8%.
Low payout ratio of 26%.
Current dividend yield of 3.20%
Current cash reserves of over $125 billion.
An ESS rating of bullish to very bullish.
Price-to-book value of only 1.95.
Institutional ownership of only 53% which leads me to believe that there could be plenty of institutional buying in the months and quarters ahead.
Now My Dividend Prediction Is Coming True
Jeff Immelt was interviewed on CNBC a few days ago and stated that more money will be given back to shareholders in the form of dividends and share buy backs.
GE remains committed to returning cash to its shareholders. "In total, we plan to return $18 billion to investors this year through dividend and buyback," the letter said. Since 2000, GE has paid out $106 billion in dividends, which the company said is more than any other company except for Shell. Immelt estimates that the company will generate $100 billion that will be allocated to dividends over the next few years, "including cash from existing operations, dividends from GE Capital and dispositions."
I believe they now have even more cash to increase dividends more quickly, and an even higher percentage than they have done recently. As far as I am concerned, the nearly 100% increase in dividends over the last 2 years is just the tip of the iceberg. The comments by Immelt simply adds to my opinion.
GE has a current dividend yield of roughly 3.20% and the dividends have increased since mid-2010, and if the economy continues to recover, perhaps that dividend can jump by another 100% in a few years.
The Bottom Line
Even though Immelt shared his concerns about government spending cuts and tax policy, I believe his conservative approach to all business will serve GE quite well even if they need to cut back on hiring and capital expenditures. Obviously no stock comes without risks, and being prudent is a positive approach.
All in all, GE still remains very cheap in my opinion, and with a nice dividend is a wonderful buy right now.
After all, it is my stock pick of 2013.
Disclosure: I am long GE. I wrote this article myself, and it expresses my own opinions. I am not receiving compensation for it (other than from Seeking Alpha). I have no business relationship with any company whose stock is mentioned in this article.