Share price of Baidu (NASDAQ:BIDU) has plummeted by 37.5% over the past 12 months. At $86.33, the stock is trading almost at its 52-week low. Investors should consider buying the shares on the dip as I believe the stock is oversold. My view is backed by the following four reasons:
1. From a relative valuation perspective, Baidu shares are priced attractively based on the company's solid financial performance relative to that of its global peers (see chart below). Consensus estimates on average predict Baidu's revenue, EBITDA, and EPS to grow at 2-year CAGRs of 33.5%, 21.3%, and 17.6%, respectively. The figures considerably outperform the averages of only 22.1%, 22.1%, and 10.6%, respectively, for a group consisting of Baidu's primary peers. Similarly, Baidu's long-term earnings growth rate is forecasted to be 28.8%, markedly above the peer average estimate at 22.2%. On the profit side, Baidu again demonstrates a superior performance as most of the company's profitability margins and capital return metrics are significantly above par. In terms of liquidity, Baidu has a higher free cash flow margin. Both the company's current and quick ratios are fairly comparable to the peer averages, reflecting a healthy balance sheet condition.

To summarize, given Baidu's above-average growth potential, robust profitability, as well as its solid liquidity position, I believe the stock's fair value should reasonably command a premium over the peer-average valuation level. Nevertheless, the current price multiple at 16.4x forward EPS (next 12 months) is 20.5% below the peer-average P/E at 20.6x, suggesting that the shares are undervalued on a relative basis (see chart above). Further, accounting for Baidu's superior EPS growth estimate, the stock's PEG ratio of 0.6x is at a 40.7% discount to the peer average at 1.0x, again indicating an undervaluation.
2. The stock's forward P/E multiple is currently trading at only a 12.1% premium over the same multiple of the S&P 500 Index, which stands at 14.6x now (see chart below).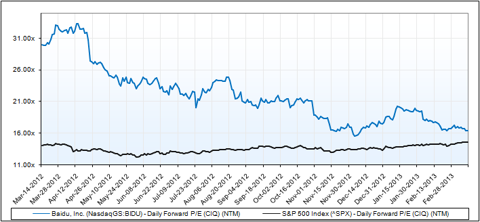 I believe the relative level presents a great entry opportunity as the valuation premium appears to be low, provided that 1) the market premium averaged at approximately 63.5% in the past 12 months; 2) Baidu's long-term EPS growth rate at 28.8% is overwhelmingly above the average estimate at 8.2% for the S&P 500 companies; and 3) the company has a significant market share in the Chinese online search market and also enjoys a market-leading profitability and free cash flow performance.
3. Baidu's valuation is at its 3-year low measured by both the P/E and EV/EBITDA multiples (see chart below).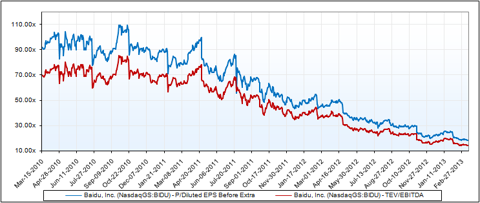 The value decline is primarily driven by the continued growth slowdown which has caused notable downward revisions across the consensus revenue, EBITDA, and EPS estimates over the past 12 months (see charts below). However, it appears that the market has not given enough credits for Baidu's solid margin and capital return performance (despite the seasonality factor) (see charts below).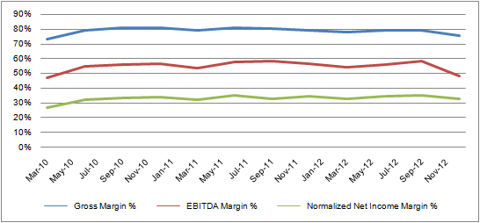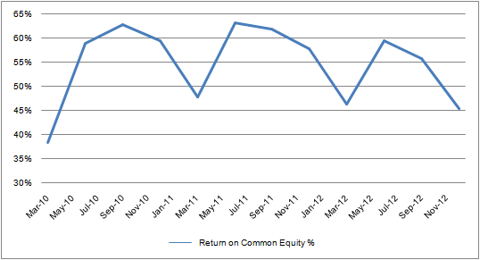 4. Sell-side analysts remain generally bullish on the stock. Of the total 30 stock ratings compiled by Thomson One, there are six strong buys and nine buys, and the average 1-year target price of $121.80 is still 41% above the current share price at $86.33. In a research note released in late February, Dan Su at Morningstar commented on the company's growth prospects (sourced from Thomson One, Equity Research):
"We think the firm's strength is not in a particularly compelling search technology, but in deep local knowledge of a generally young and entertainment-seeking Internet user crowd in China. Many of the seemingly irrelevant free services offered over the years, such as Baidu post bar, have been hugely popular and are essential to its success in garnering leading market share in site traffic and search queries. This, in turn, has made Baidu particularly attractive to paid search advertisers and enabled it to branch into verticals, including video and travel. We see a long-term trend of Chinese advertisers shifting their ad budgets to paid search, attracted by better targeting and measurability. These tailwinds should propel Baidu to thrive further, although competition is on the horizon...We expect Baidu to grow revenue by an annual rate of 33% over the next five years, fueled by increases in both the client base and in average ad spending. Search advertising spending will likely remain resilient amid the current economic slowdown in China."
Bottom line, the recent share price decline appears to be overdone and investors should consider adding position.
All charts are created by the author except for the consensus estimate tables, which are sourced from Capital IQ, and all financial data used in the article and the charts is sourced from Capital IQ unless otherwise noted.
Disclosure: I am long BIDU. I wrote this article myself, and it expresses my own opinions. I am not receiving compensation for it (other than from Seeking Alpha). I have no business relationship with any company whose stock is mentioned in this article.