Express Scripts (NASDAQ:ESRX) is one of those companies that can be used to illustrate the power of compounding. In 1994, net income was $12.7 million. In 2012, net income was $1.3 billion. That makes for an average annual compounded growth rate of about 29%. The graph below demonstrates the stock's performance during that time period that accompanied this growth.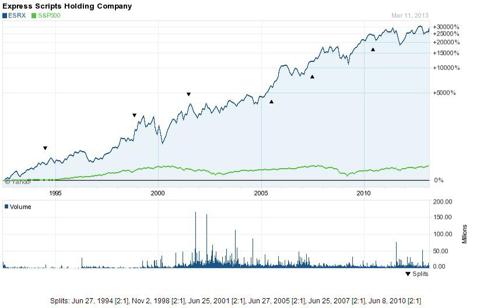 ES is something of a middle man between drug companies and pharmacies. It is the country's largest pharmacy benefits manager, or PBM. It manages the prescription benefits for HMOs, insurance companies, unions, and other organizations that provide prescription benefits.
In this business, the size of the network is a source of competitive advantage. As more people enter the market, you can get better deals from drug vendors, be in a better position to negotiate with retail pharmacies, and offer a broader line of services. ES is the biggest PBM and has only gotten bigger with its acquisition of Medco in 2012. See market share data below.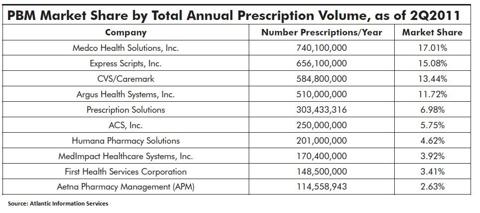 Management has led the company through this significant growth in the last two decades while maintaining strong profitability and positioning the company around changes in the regulatory and technology innovations that have taken place in the marketplace. I trust management can lead the company's growth into the future given its large success in the past. The company enjoys excellent returns on capital and growing revenue.
Competition
According to the 2012 10-K, there are 67,000 retail pharmacies in the United States. ES did business with 95% of them as of the end of 2012. The ten largest retail chains make up 60% of the total number of stores in the company's largest network. At first glance, it might appear that the large retail chains have the bargaining power because they are so big. However, consider the case of Walgreen's (WAG). Walgreen's decided to drop ES in 2011 over a contract dispute. This was a big strategic error and Walgreen's lost business as a result. People that were signed up with ES went elsewhere; ES has a large network. Prescription sales at Walgreen's fell 8.1% in 2012 and lost 21 cents per share as a result of losing the ES contract. Walgreen's finally got the situation resolved in 2012 after it realized the extent of the fallout. A Forbes article summarizes the situation.
Walgreen's is an important and powerful pharmacy in the US economy. This situation demonstrates ES's market power even over large and powerful retail chains. Walgreen's needed ES's business. From its supplier's perspective, ES allows companies to distribute their drugs, particularly the generic companies, to a large network. Therefore, ES is likely to have negotiating power with these suppliers who wouldn't be able to drive that type of volume otherwise.
As a result of its competitive advantage, ES enjoys significant margins and returns on capital. As ES enjoys its market power, the two major retail pharmacies (Walgreen's and CVS) have positioned themselves with their own PBMs. CVS (NYSE:CVS) has Caremark but still fills ES prescriptions. Because ES has the largest network, these pharmacies have no other choice but to fill ES prescriptions or else lose out as demonstrated by Walgreen's. It is one of those situations where you are helping your competitor be successful while you are trying to maintain a business that competes directly with that competitor for network size.
Growth: Changing Demographics and Obamacare

The above is data from the 2011 Consumer Expenditure Survey. You can see that older people spend more per capita on drugs than other groups; they spend over 40% more than the average person. As it turns out, the percentage of older people in the population will be growing per the data below. You can see that the number of 60+ year-olds is expected to increase from 57 million to 75.6 million by 2020, a difference of 32%. This demographic change bodes very well for the prescription industry. The group that spends 40% more than everyone else will be growing by 32%.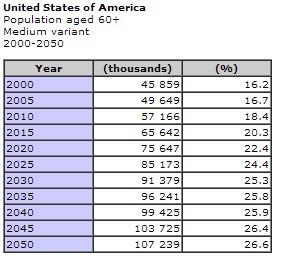 Along with these favorable demographics, Obamacare will also provide positive developments to the prescription industry. First, there will be more Americans that are newly insured, about 30 million people. With more people come more purchases of prescriptions. Secondly, Obamacare makes it easier and less time consuming for generic drugs to be approved, allowing for more utilization of certain drugs that would not even have been purchased because the branded drug was too expensive. Thirdly, the Medicare "donut-hole" will be closed by the end of the decade. This donut hole refers to a Medicare Part D regulation where an enrollee needs to pay prescription costs between $2380 and $6440 annually; after $6440, the enrollee pays 5% of the cost and the government picks up the rest. Because people are forced to pay the amount within this "hole" in full, many of them just do not pay and then do not get the drugs. Obamacare phases out the donut hole by the end of the decade, which will also result in more prescriptions purchased. Each of these items is favorable to the company.
Amazon of the Prescription Industry?
It should be mentioned that when ES purchased Medco, it bought about 40% of the mail-order market share. ES itself had a 21% share. That makes for about 60% of the market for mail-order prescriptions. In the future, I believe that people will become more comfortable with purchasing their prescriptions online, just like they become more comfortable with purchasing everything else online. Just like Amazon, customers can avoid retail markups and enjoy more convenience in making their purchases. ES enjoys better margins on its mail order sales. It operates five high-volume, automated dispensing facilities that support the mail-order business. As more of the industry shifts to mail-order, the retail pharmacies will likely lose volume. This direct-to-consumer relationship is very important to ES, allowing it to sidestep any strategic moves by the retail pharmacies that are jockeying to gain market power of their own.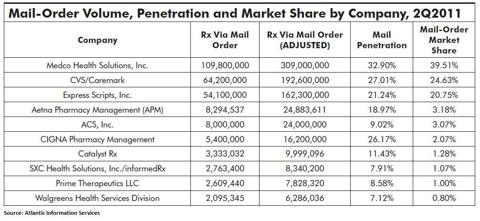 Valuation
Express Scripts is trading at a forward P/E of 11.1 and a P/B of 2.1. See the financials below.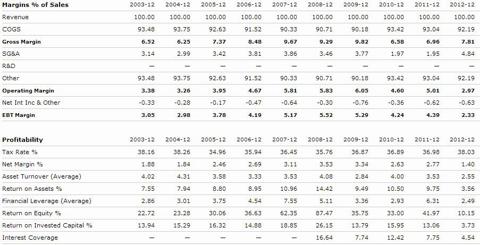 2012 saw a decline in profitability levels because of the acquisition of Medco; it cited $697 million of transaction costs associated with the event. 2012's SG&A % of Sales was 4.84%; when you account for that $697 million, SG&A expense declines to 15% less than its reported value. The SG&A % of Sales without the transaction costs is about 4.10%. The company expects further synergies that will decrease the SG&A expense even further, between an 8%-10% expected improvement per the recent earnings call. This is important because taking out just 1% of sales in costs adds dramatically to the bottom line which was about 3% of sales in 2012. The result of this normalizing of profitability and the expected growth results in a forward P/E ratio of 11.1. The industry's average P/E is 13.4 and the company's 5-year P/E average has been 23.6.
Although the company has enjoyed high rates of return on equity previously, it appears that its capital structure may not be as leveraged as in past years allowing for such high returns. At the end of 2012 per the financials above, its financial leverage was 2.49. Management further intends to pay back $1 billion in debt during this year, further deleveraging the balance sheet. As a result, investors will demand a lower cost of capital as compared to previous years. When evaluating two stocks with the same P/E ratio with different hurdle rates, the stock with the lower hurdle rate has more value from ongoing earnings and less in projected growth built into that valuation. Therefore, that P/E ratio of 11.1 makes the company look even more undervalued because there is less growth built into that pricing because the cost of capital is coming down.
In my opinion, relative to the expected growth opportunities as elaborated upon above, this stock looks undervalued. A further kicker that makes this stock so appealing to me is management's continued commitment to share repurchases. See below for the historical trend in shares outstanding. There were more outstanding shares recently because of the Medco deal. On March 6th of this year, the company's board authorized the purchase of 75 million shares, or about 9% of the current outstanding.
| | | | | | | | | | | |
| --- | --- | --- | --- | --- | --- | --- | --- | --- | --- | --- |
| (Millions) | 2003 | 2004 | 2005 | 2006 | 2007 | 2008 | 2009 | 2010 | 2011 | 2012 |
| Shares Outstanding | 631 | 620 | 596 | 568 | 528 | 504 | 532 | 544 | 505 | 747 |
Conclusion
I believe that Express Scripts is a good buy at this price. There will be 30 million more people with access to health care under Obamacare and will likely use more prescription drugs as they receive treatment. The population is aging, leading to increases in per capita spending on prescriptions. Obamacare makes it easier for generics to enter the market and changes to Medicare will make it more likely that people will purchase more prescriptions. The company is the biggest prescription benefit company in the market and uses its scale to be the most convenient and best-priced company amongst competitors. This type of network economics only feeds on itself as more customers means even better pricing and better service offerings. Further, the valuation looks favorable and the company will repurchase material amounts of stock this year.
Disclosure: I have no positions in any stocks mentioned, and no plans to initiate any positions within the next 72 hours. I wrote this article myself, and it expresses my own opinions. I am not receiving compensation for it (other than from Seeking Alpha). I have no business relationship with any company whose stock is mentioned in this article.