Real-time Inflation Indicator (per annum): 8.6%
In a recent column ("Gold Traders Whipsawed" at), we said we'd let you know when the gold/mining stock ratio tipped in favor of the miners. Well, we're telling you now. The GLD/GDX ratio decisively broke through its 200-day moving average late last week.
The SPDR Gold Shares Trust (NYSE Arca: GLD) is a grantor trust affording its holders an undivided interest in vault bullion. The Market Vectors Gold Miners Index ETF (NYSE Arca: GDX) is a portfolio comprising nearly three dozen mining issues. With GLD's price in the numerator, a decline in the quotient represents appreciation in gold stocks relative to gold itself.
Gold (NYSEARCA:GLD)/Gold Stocks (NYSEARCA:GDX) Ratio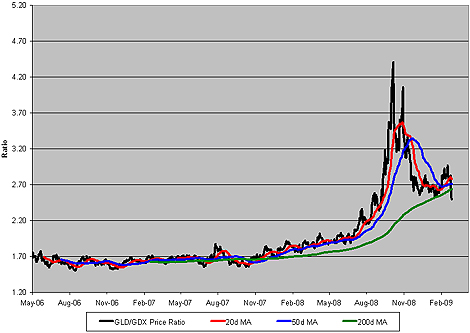 Both bullion and mining shares are higher for the year – GLD's up 8.2% and GDX has risen 10.8% – but the momentum, for now at least, is with equities. Buoyancy in the broader equity market is providing lift for the miners, but it's good to keep in mind that there's a 75% correlation between GDX and GLD. Gold is, for the most part, gold.
Gold's rising price has a leveraged effect on the stocks, as every dollar above a miner's production cost flows to its bottom line.
Back in February, we highlighted one GDX component with very low production costs ("A Particularly Healthy Gold Stock").
Is this the time to buy miners? Well, if you believe there's more upside in gold (keep that correlation in mind) and want to ride the draft of the current equity market rally, perhaps. Taking a whack at GDX removes some of the stock-picking risk.
Reflation Update: The Real-time Inflation Indicator spiked 1.3% higher last week, reaching a level not seen since January.