High end grocery chains Whole Foods (WFM) and Fresh Market (NASDAQ:TFM) have both struggled recently with an uncertain macroeconomic environment as consumers continue to drift to value chains like Kroger (NYSE:KR) or big box superstores like Target (NYSE:TGT) and Walmart (NYSE:WMT).
Whole Foods managed to beat earnings and revenue forecasts for the first quarter of 2013 but disappointed on future revenue guidance. Additionally, they reported that comparable store sales growth has cooled from 8.5% to a still respectable 7.2%. Investors weren't impressed though and sent shares tumbling almost 10%.
The news was worse for Fresh Market. They missed on both earnings and revenue estimates and guided lower for the remainder of 2013 as well. Comparable store sales growth dropped all the way to 1.9% - way below analysts' estimates of 4.2%. Fresh Market shares experienced a similar plunge dropping 20% from the recent high of around $50 it reached in the middle of February.
Considering recent earnings news as well as taking a look at these stocks from both technical and fundamental points of view yield largely the same conclusion - Whole Foods stock is a considerably better buy at this point than Fresh Market.
Stock Price Performance
Both stocks started performing relatively well during the 2nd half of 2012 before disappointing earnings reports began knocking share prices back to earth.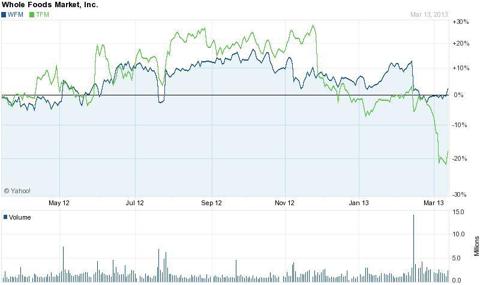 You can see quite clearly on this chart where each company delivered its quarterly earnings. Fresh Market delivered its 3rd quarter earnings report at the end of November 2012 and the stock price dropped around 13%. Whole Foods followed that up with its 4th quarter report that knocked around 10% off the stock price in the middle of February 2013 (and taking Fresh Market's price down with it). Fresh Market's 4th quarter disappointment was the big one though taking around 20% in total off the stock price in the matter of a few days.
Not surprisingly, both stocks currently sit well below their 50, 100 and 200 day moving averages.
Fundamental Analysis
Despite the recent pullback in the stock prices, neither of these companies is priced cheaply. Whole Foods forward P/E ratio stands at around 26 currently whereas Fresh Market is a little cheaper at 21. Both of these stocks earned relatively rich multiples due to expectations for growth and expansion but the recent earnings reports and the severe reaction to those reports from the marketplace suggest that those multiples may not have been warranted in either case.
While that and their business models provide similarities, Whole Foods is, quite simply, better positioned going forward.
First, Whole Foods' balance sheet is in excellent shape. It's sitting on almost a billion dollars in cash and its long term debt load is just $25 million leaving its debt-to-equity ratio at a scant 0.07.
Second, expansion plans for Fresh Market shouldn't be discounted. In 2013, Fresh Market expects to open around 20 new stores which would expand its total number of location by about one-sixth. While eventually it would be expected that these stores will add to the bottom line, there will be significant start-up costs involved including rents, materials, etc. that won't immediately see a return. Whole Foods expects to add locations as well but with its nationwide geographic diversification the impact to the bottom line should be more muted.
Third, recent quarters aside, Whole Foods has a better track record of growing revenue and earnings year over year. While the recent economic environment has clearly affected both companies, Whole Foods' management team has managed to deliver consistently solid growth, comparable store sales growth numbers are still very good despite the recent dip and they know how to deliver to the bottom line. When the economy returns to a healthy state, Whole Foods should be positioned to take advantage of it.
Technical Analysis
Using Bollinger Bands and the MACD indicator, neither stock presents a terribly compelling case currently although there are some positives.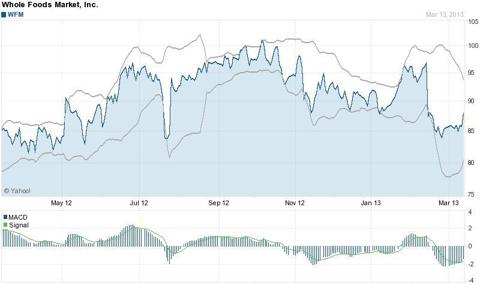 Whole Foods seems to be right in the middle of its range on the Bollinger Bands indicating that it's not particularly overvalued or undervalued at current levels. Conceptually, that makes sense given recent events with the company. The stock price sat right on that bottom band after its 4th quarter earnings report but seems to be back in more neutral territory now.
MACD still shows a bearish lean on the stock since that 4th quarter report although it's begun to show signs of improvement lately.
Again, the technicals aren't signaling a buy by any means but taken together I think you're looking at a more neutral position overall on the stock.
Fresh Market looks a little worse though.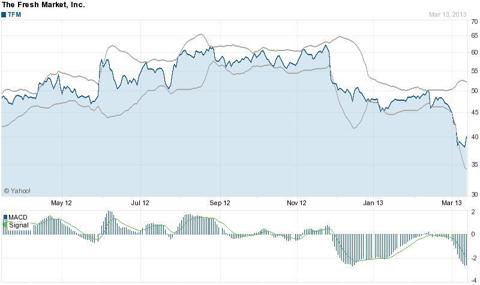 The recent earnings report has put a decidedly bearish sentiment on this stock. The stock price is right near the bottom of the Bollinger Band range very similarly to where Whole Foods was about a month ago.
MACD demonstrates a fairly strong sell signal as it has for most of the year. The chart looks like it could be forming the first half of a reverse head and shoulder pattern and that could indicate a near-term bottom in the stock price.
Like Whole Foods, though, there's not a lot of positive sentiment coming from the technical indicators.
Conclusion
Given the company's revenue growth history, solid balance sheet, low debt levels, slightly better look on the technical side and better overall performance on recent earnings reports, I'm definitely choosing Whole Foods over Fresh Market in the high end grocery space.
Whole Foods is a better cash flow generator and has more cash on hand currently to help it with its 2013 growth and expansion plans. Fresh Market faces some short-term obstacles with its store growth and expansion plans as well as how it can turn around comparable store sales growth and revenue growth.
Both companies should be reasonably expected to do well in the long-term once the economy recovers but Whole Foods seems better equipped and positioned for both the short and long term.
Disclosure: I have no positions in any stocks mentioned, and no plans to initiate any positions within the next 72 hours. I wrote this article myself, and it expresses my own opinions. I am not receiving compensation for it (other than from Seeking Alpha). I have no business relationship with any company whose stock is mentioned in this article.