We noticed the other day that we totally missed the move higher in the uranium names recently which were on our watch list. Tunnel vision and tax season are probably to blame, but we just wanted to point out that one should not chase these names into the summer months as they historically head lower as a group due to the thawing of the exploration areas in Canada. We see a pullback starting in late April or early May, if history is any guide.
Until then there are plenty of areas to trade, and if gold can take out the $1600/ounce level, then maybe we could see a resumption higher in that trade.
Commodity prices this morning are as follows:
Gold: $1591.80/ounce, up by $1.10/ounce
Silver: $28.88/ounce, up by $0.16/ounce
Oil: $93.19/barrel, up by $0.16/barrel
RBOB Gas: $3.1365/gallon, down by $0.0048/gallon
Natural Gas: $3.85/MMbtu, up by $0.038/MMbtu
Oil & Natural Gas
We had a nice run in the natural gas stocks yesterday with some serious moves higher. The pure-plays and those with a majority of their production being dry natural gas saw the largest moves, but so too did those with decent exposure.
Quicksilver Resources (NYSE:KWK) saw shares rise $0.58 (26.85%) to close at $2.74/share on volume of 9.8 million, while Rex Energy (NASDAQ:REXX), a name we recommended to readers at $10/share and to sell half of the position around $13/share, rose $0.82 (5.57%) to close at $15.53/share. Rex had volume of 1.2 million and actually got as high as $16.29/share during yesterday's session before seeing a fade into the close, but the move was impressive.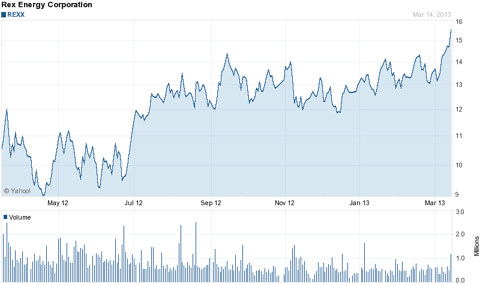 Chart courtesy of Yahoo Finance.
We have said we do not like the pure-plays simply because they do not have diversification of production which allows them to flourish in good times and bad but instead like those names adding liquids to the mix, which Rex is one. They will be ramping up their Utica efforts this year and they also have exposure to one of the few remaining economic dry gas fields out there, the Marcellus.
The Indicator
The oil and natural gas plays are admittedly looking a bit toppy right now after these great runs and some of the premier names just marching daily, it seems, to new 52-week and all-time highs. We have been using Cheniere Energy (NYSEMKT:LNG) as our guide for the past year or so, as our readers are aware, and it too continues to move higher. This has been right every time we look to it for direction thus far as there is a bit of a risk-on/risk-off trade in play here, so we have no reason to doubt it at this point. We remain bullish of the names we are in and will be looking even more closely to Cheniere for guidance as the S&P 500 approaches its all-time high. It just feels toppy here as there is a lot of confidence and very little fear.
Rare Earths
Is this a bottom?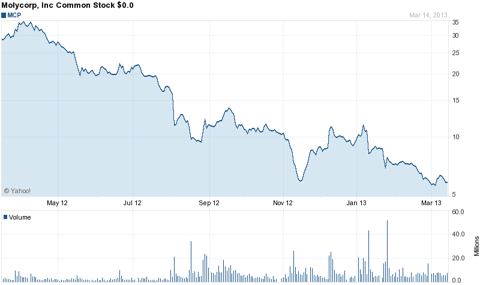 Chart courtesy of Yahoo Finance.
Molycorp (MCP), the rare earth producer with a mine in California, reported its results yesterday and the market was neutral on it. We expected a loss and an impairment charge so all-in-all it came within the range of expected outcomes. The market provided no guidance on its take, but with the stock ending up only $0.02 on volume of 7.9 million it was obviously water under the bridge. The company did announce a distribution agreement for its water systems with Univar which will be exclusive and in North America (see press release here). For those wanting to get a feel for what was said in the conference call, which we will be listening to this weekend, the transcript is located here. One has to wonder if investors have now gotten all of the bad news, or if there will be any surprises in the future, much like has happened at Cliffs.
Iron Ore/Coal
As the news gets worse for Cliffs Natural Resources (NYSE:CLF) so too does the price action in its shares. We warned yesterday that the stock was in danger of falling through that support and here we are heading lower. Has the kitchen sink not already been thrown at investors? One would have thought so, but obviously there is more at play here than meets the eye. Volume is spiking and shares are falling, and that is never a trend one wants to see developing in their holdings. There will be a bottom here, but one simply has to hope that it will not be rock bottom and that the company either manages through this eventually or finds a buyer with a stronger balance sheet and better management to step in and take over the assets. They have options, but the longer they wait and let the negative narrative take over, the less bargaining power and control they have on their destiny.
Disclosure: I have no positions in any stocks mentioned, and no plans to initiate any positions within the next 72 hours. I wrote this article myself, and it expresses my own opinions. I am not receiving compensation for it (other than from Seeking Alpha). I have no business relationship with any company whose stock is mentioned in this article.