In an earlier article, I discussed one of the most important metrics to analyze the silver industry, the actual cost of mining an ounce of silver, which can help an investor figure out whether it is time to buy SLV and/or the silver miners. In that analysis, we used the Q3 2012 financials to calculate the combined results of a number of publicly traded silver companies and come up with the average cost it takes to mine each ounce of silver. Once the Q4 FY 2012 reports from all gold and silver miners are out, I will be posting the consolidated true production cost calculations for both gold and silver, so investors who are interested can follow me and you will receive that report.
In this analysis, we will calculate the real costs of production of Hecla Mining (NYSE:HL), a primary silver miner with two large primary silver mines in the U.S. It operates the Green Creek mine in Alaska and the Lucky Friday mine in Idaho.
Calculating the True Mining Cost of Silver -- Our Methodology
In a previous article about Goldcorp's (NYSE:GG) cost of gold production, I gave a thorough picture of the current way mining companies report their cost of production and why it is inaccurate and significantly underestimates costs. Then we presented a more accurate methodology for investors to use to calculate the true costs of mining gold or silver. Please refer to that article for the details explaining this methodology, and I would encourage all precious metals investors to understand this important concept. It is important for investors interested in miners or those who focus on gold and silver as a commodity investment, because the true costs of production will show where a possible floor exists for a commodity (the production cost) which is important to silver (SLV investors) and is also an obvious way to differentiate miners.
Real Costs of Production for Hecla Mining -- Q4 2012 and FY 2012
Let's now use this methodology to take a look at HL's results and come up with its average cost figures. When applying the methodology for the most recent quarter and FY 2012, we standardized the equivalent ounce conversion to use the average LBMA price for Q4 FY 2012. This results in a gold ratio of 53:1, a zinc ratio of 37:1, and a lead ratio of 33:1. We like to be precise, but minor changes in these ratios have little impact on the total average price -- investors can use whatever ratios they feel most appropriately represent the by-product conversion.
Important Note: When determining the proper figures to use for HL's metal production, we use "payable" ounces rather than the simple top-line figures. Top-line figures represent how much of a particular metal was mined, but the payable figures represent the true recoverable amount - which is much more representative of what was mined.
Here's the definition that Hecla Mining gives payable metals (from the 2012 10-K): "Payable metals are those included in our products that can be recovered and sold by smelters and refiners."
Since the top-line metals cannot be practically recovered, then they should not be used in our calculations to arrive at the total production cost per ounce. Thus all of our numbers are passed on the payable ounces.
Click to enlarge image.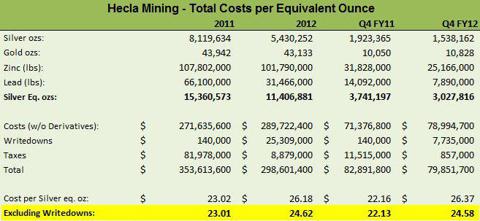 Observations for HL Investors
The first thing investors should note is the clear drop in silver production from 2011 to 2012, which was primarily due to the closure of the Lucky Friday mine for 2012. The mine was closed for safety reasons, and according to the company should be reopened for 2013 -- so investors should not be worried about the drop in production.
To produce each silver equivalent ounce, it cost HL approximately $24.62, which is higher than a number of HL's competitors. When compared to competitors Pan American Silver (NASDAQ:PAAS), First Majestic (NYSE:AG), and Silver Standard Resources (NASDAQ:SSRI), HL's costs were significantly higher than all except SSRI on an annual basis -- PAAS had an annual cost of $20.81, AG had an annual cost of $18.44, and SSRI had an annual cost of $24.72. These higher costs are after removing the writedown related to the closure of the Lucky Friday mine (including writedowns, costs are $26 per ounce), so they reflect HL's standard production costs.
At costs of $24.62 an ounce, HL has a very limited profit margin with silver in the sub-$30 range and the company will not be creating a lot of cash until silver prices rise. Management will have to look at acquisitions (evidenced by the Aurizon Mines (AZK) bid) or fight hard to lower production costs, which may be very tough because other miners are having no luck lowering production costs in this current environment. Investors should be very cautious if HL does spend its remaining balance sheet cash on an acquisition that is not currently producing or about to produce. This would mean that HL would exhaust its cash reserves and because of their low margin, have no room for error if silver prices fall further.
Finally, there is a positive for HL investors but it is a little bit counter-intuitive. Low profit margins mean that a company's net income will vary significantly with moves in the silver price. For example, HL generated only $14 million dollars in net profit for 2012 with production of 11.5 million silver equivalent ounces, or around $1.50 per silver equivalent ounce.
If production costs were around $26 per ounce and the average sales price of silver for each ounce would be $27.50. If the silver price rose from $27.50 to $29.00 and assuming HL's costs were kept in check, then HL would double its profit with the $1.50 rise in the silver price. The low profit margin allows investors a greater exposure on both the upside and downside to the silver price in terms of earnings per share. This is a very important concept that many investors often overlook when simply looking for the lowest cost gold or silver miners.
One important note is that the numbers we use to calculate the average silver equivalent cost for 2012 will not exactly correspond to HL's earnings and achieved profit margin -- it will be close. The reason is that we use the fourth quarter average price of the metals to calculate silver equivalent ounces, while HL obviously sells its metals throughout the year and achieves a different sales price than the fourth-quarter average for the metal. If you use the average yearly price for the metals and then convert them into silver equivalent ounces, you will get a number much closer to the true yearly profit margin for HL.
Conclusion
For a silver miner, HL's production costs were a good deal higher than most of its competitors and were consistently in the $24 per ounce range. This means that it will be difficult for the company to generate much cash at a sub-$30 silver price and management will either have to look at buying new properties with on-balance sheet cash or try to make it through this period and wait until silver prices rise.
For those who invest in silver as a commodity, it is important to note that HL is another major silver producer that is producing silver in the mid-$20s and these costs are still rising across the industry. With a sub-$30 silver price, this is bearish for miners but is very bullish to those who hold silver as a commodity (SLV, SIVR, and PSLV investors) because rising costs for a quasi-industrial metal mean that unless prices rise, production is bound to start to fall as less companies are able to mine silver profitably.
Disclosure: I am long HL, PAAS, AG, SIVR, PSLV. I wrote this article myself, and it expresses my own opinions. I am not receiving compensation for it (other than from Seeking Alpha). I have no business relationship with any company whose stock is mentioned in this article.