Demographics play a major role in the rise and fall of civilizations, which in turn may encourage where you elect to invest. As such, I thought it would be thought-provoking to see how the populations represented by some international ETFs, stack up against the U.S. demographically.
Using estimates from the U.S. Census Bureau, the population growth over the next 25 years for the population 65 years of age or older, is and continues to be expected to increase at historical rates. To my surprise the market with the fastest overall population growth between now and 2032 is not in the emerging markets, but rather the United States, which is expected to grow 23% from 307 million now to 357 million in the next quarter century.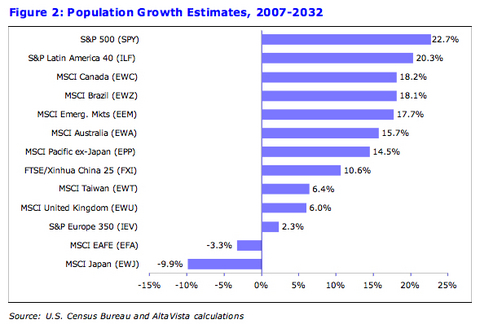 The population represented by the MSCI Emerging Market index (NYSEARCA:EEM) is expected to grow 18% over the same period, dragged down by double-digit population declines South Africa (about 8% of EEM assets) and Russia (8%), as well as virtual stagnation in Korea, which is 14.5% of the index. This is partially offset by a population explosion in India, but Indian companies are only about 6% of index assets. Meanwhile the one-child policy for urban couples in China (NYSEARCA:FXI)-adopted in an era of scarcity when few were thinking about having the manpower necessary to sustain growth-has resulted in a relatively slow-growing population.
Japan is facing substantial population declines over the coming quarter century and the country also drags down the overall population growth of countries in the MSCI EAFE index (NYSEARCA:EFA) of developed-markets. The U.K. (NYSEARCA:EWU) is favored to continental Europe, where population regresses in Germany, Spain, Italy and Finland are expected to decrease the overall population growth rates for the S&P Europe 350 (NYSEARCA:IEV), even though U.K. companies represent almost a third of that index
The U.S. (NYSEARCA:SPY) has the youngest average population of any developed market, and is expected to keep that designation in the future, but Latin America (NYSEARCA:ILF) and Brazil (NYSEARCA:EWZ) take the overall prize for the youngest populations, both now and in 2032.
China may be the first country in history to grow old before it gets rich: by 2032 its elderly liability will be approximately as high as it is in the U.S., but the country won't have nearly the same resources on a per capita basis to deal with the challenges.
What does all of this mean?
Unfortunately, the aforementioned analysis isn't likely to produce any short-term trading ideas, but it does provide some outlook for a thematic approach to transnational investing.
The U.S. is relatively well-off compared to other industrialized markets. It will be better able to grow its way out of its complications, and its companies could see faster earnings growth, which in turn would justify the slight premium U.S. companies get over European firms.
China-hype may be misplaced. China is older than the other emerging markets overall, and is expected to see much slower population growth as well. Twenty-five years from now, India will have the world's largest population, about 100 million ahead of China-and they'll be much younger too.
The question of whether Japan is emerging from a roughly 17-year economic slump is academic; in the long run, the country is essentially dying. Global winners like Toyota (NYSE:TM) are relatively insusceptible and may thrive regardless, but the fortunes of most of companies in EWJ are indisputably linked to the vanishing Japanese consumer.
Societies can undergo significant changes in a quarter century that could alter birth rates, death rates, and immigration, and as a result, demographics. And as alluded to in reference to Toyota, in our global economy, it probably makes less difference where a company has its headquarters today than it did a generation ago. My analysis is nowhere near perfect, and in some respects purely speculation; perhaps the biggest inadequacy is the extremely long-term nature of the analysis itself. While we pride ourselves on being long-term investors, demographics is not destiny, and as the famous economist John Maynard Keynes said, "In the long run, we're all dead."
Disclosure: I have no positions in any stocks mentioned, and no plans to initiate any positions within the next 72 hours. I wrote this article myself, and it expresses my own opinions. I am not receiving compensation for it (other than from Seeking Alpha). I have no business relationship with any company whose stock is mentioned in this article.