Introduction
When we talk about industrial construction, there are a few names which pop up instantly. Yes, I am indeed talking about Caterpillar Inc. (NYSE:CAT), Deere & Co. (NYSE:DE) and Cummins Inc. (NYSE:CMI). The three industrial construction equipment manufacturers hold significant market share in the heavy machinery market, as well as farmland equipment. In this article, I will be analyzing their stock performance, past and the future. The three companies ply their trade in cyclical industries, where the demand for their products is dependent upon seasonal prices of crops or construction impetus encouraged by governments across the world. More importantly, in a slowing economy of lower prices, the eventual result for manufacturers is decreased cash receipts.
Stock Performance of this Triple
Deere is the world's largest farmland equipment maker and in the first quarter of 2013, it posted an eleventh consecutive quarter of record earnings. However, such optimism was not reflected on the stock market amidst failure to meet expectations, nor was it supported by the weak sales, as the stock lost 3% on the announcement. Its competitor Caterpillar is one of the world's leading manufacturers of construction and mining equipment, diesel and natural gas engines, industrial gas turbines and diesel-electric locomotives. The problem for CAT is China. For many years now, the company has not been successful as sales to China only represent 3% of their total revenue along with acquisition and operational blunders in that country. Last month, Cummins announced that its Q4 2012 net income decreased by almost 30.5%. Once seen as a clear cut favorite against its competitors, Cummins is now being increasingly ditched by investors in favor of alternatives.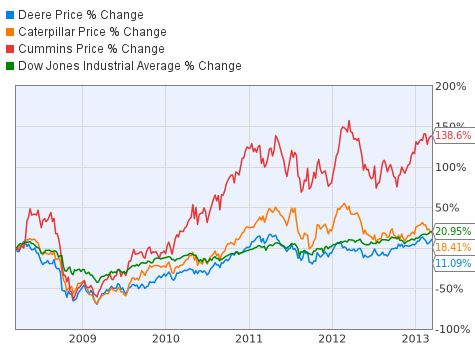 The above picture illustrates the price movements of the three companies over the past 5 years. Prompting an immediate response from investors, Cummins has undoubtedly been the pick of the three stocks as it has increased in value by 138.6%, a phenomenal number. Furthermore, in comparison with the Dow Jones Industrial Average, Cummins appears to have outperformed the market's pace by a phenomenal margin. However, since 2012, the cyclical nature of the industry has hit Cummins more than its competitors, and its price has been shaky over the past year or so.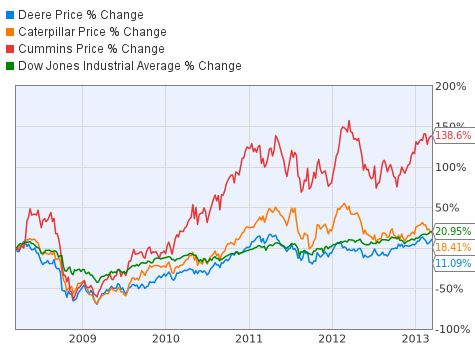 However, Cummins has been struggling for traction over the past year along with Caterpillar. Deere has kept up with the market pace and increased in value by 12.84%. More importantly, Cummins is on the up, but whether or not it will be able to sustain its progress will only be answered in time. Caterpillar, on the other hand, is the worst pick of the three stocks over the last year as it continues to slide below its competitors. The million dollar question pertains to the future of all three stocks and when to buy them. Timing can only be provided by taking a look at financial performance, pipelining and future prospects.
Financials And Fair Stock Valuation
CAT currently trades at $88.72 and its 52-week range varies from $88.17 to $89.55. DE is currently priced at $92.17 and is much closer to the top end of its 52-week range than CAT. Its 52-week range varies from $69.51 to $95.60. CMI's 52 week range varies from $82.20 to $129.51 and it is currently traded at $117.24.
| | | | |
| --- | --- | --- | --- |
| Indicator | | | |
| Price/Earnings ttm | 10.45 | 11.55 | 13.43 |
| Price/Book | 3.3 | 4.8 | 3.4 |
| EPS Growth (3 Year Avg.) | 81.0 | 54.7 | 58.9 |
| Dividend Yield, % | 2.34 | 2.23 | 1.70 |
| Debt/Equity | 1.6 | 3.0 | 0.1 |
| Return on Equity | 37.4 | 44.7 | 27.2 |
| Current Price | $88.72 | $92.17 | $117.24 |
| Estimated Fair Value Range | $175-$201 | $124-$143 | $150-$185 |
| Stock Valuation | Undervalued | Undervalued | Undervalued |
| Upside Potential to Reach Fair Value | 97% | 35% | 28% |
Data from Morningstar and Financial Visualizations on March 15, 2013.
There are many ways to estimate the fair stock value of a company. For this purpose, we applied the discounted-earnings-plus-equity model developed by EFS Investment analysts to these competitors. The calculations based on this model allow us to suggest the following: currently, all stocks are well undervalued. In addition, EFS' fair stock price valuation indicates that Caterpillar is trading at the most attractive discount. At a price of $88.72, CAT stock has 97% upside potential to reach its fair value.
Caterpillar is the most valuable company among the three with respect to market capitalization. Deere and Cummins are being outdone comfortably by the total value of CAT's issued shares. While being careful not to read too much into the P/E, or associating too much significance with it, the ratio suggests that CAT is also the most undervalued of the three companies.
Over the course of 3 years, CAT has also fuelled more growth to its EPS than its competitors. However, in its latest quarterly update, sales were down by 12% in the Asian/Pacific region and by 11% in North America, according to a company filing with the U.S. Securities and Exchange Commission. Sales in Latin America were up by 3%. Sales in Europe, Africa and the Middle East were up by 1%. For Deere, net sales of their worldwide equipment operations rose 11% for their latest quarter. Net sales for equipment in the United States and Canada increased by 18% for the quarter. Outside the U.S. and Canada, net sales increased by 2% for the quarter, including an unfavorable currency translation effect of 3%. Cummins saw its sales dwindle in the last quarter by a whopping -13%. However, quarter-over-quarter growth was driven by increased sales for North American distribution.
Even after being the largest in market capitalization, CAT offers the best dividend yield even after Deere and Cummins upped their dividends in the last quarterly report. As far as debt goes, Deere's debt/equity is off the scales. However, there is more to it than meets the eye. The company has Deere Capital which issues farm equity. Without this financial arm of Deere, its debt/equity would be around 1.2.
Make or Break for Investors
What has been done can only provide so much guidance for the future. What really fuels a stock is investor confidence, with expectations for the future and speculation based on it. So what is expected for the future? Caterpillar has expected sales and revenues in a range of $60 to $68 billion and profit per share of $7.00 to $9.00. It plans to cut 1,400 jobs at a plant in Belgium due to high costs and the weak European economy. Unless it manages to find a magic wand and mend its weak position in China, Caterpillar will seemingly continue to have to play catch up.
Deere expects sales to grow 6% for 2013 and to be up 4% for the Q2 2013 compared with Q2 2012. It forecasts agricultural machinery sales in the US and Canada to be flat to 5% higher for the current year because of caution in the US livestock sector. Uncertainties over fiscal and economic issues, which have caused corn and soybean prices to decline from records, are undermining business confidence and restraining growth, which will continue to hinder the company's growth.
Named as one of the world's most ethical companies will mean little to investors, but Cummins is now also ranked No.153 on the basis of market capitalization. The company invests heavily in research and development and in order to increase its sales and revenue, the company must ensure existing weak sales in Brazil and North America are not repeated for the upcoming quarters.
Morningstar provides the following rating for these companies: Caterpillar - 5/5 hold. DE - 2/4 buy, 2/4 hold. CMI - 1/5 buy, 4/5 hold.
Bottom Line
Keeping in mind Deere's recent positive growth and solid global sales, I tip Deere to be the most productive and positive investment choice among the three noted above. Deere's worldwide image, reliability and continued growth prospects cannot be matched by geographically struggling Caterpillar and Cummins, which are not showing any signs of consolidation upon 2011 and 2012, which were its years of phenomenal growth.
Disclosure: I have no positions in any stocks mentioned, and no plans to initiate any positions within the next 72 hours. I wrote this article myself, and it expresses my own opinions. I am not receiving compensation for it (other than from Seeking Alpha). I have no business relationship with any company whose stock is mentioned in this article.