Vodafone Group (NASDAQ:VOD) is the second-largest wireless company in the world behind China Mobile (NYSE:CHL) and the largest carrier in terms of the number of countries served. VOD owns 45% stake in Verizon Wireless, the largest wireless communications services provider in the United States with 98.2 million subscribers as of Q4, 2012. In this article, recent developments will be updated for VOD. Investing strategies will also be presented.
Aiming for Growth in Spain
As reported by Seeking Alpha, VOD and France Telecom's (FTE) Orange unit plan to invest €1B (USD$1.30B) in a fiber-optic cable broadband network in Spain, indicating that the country's fixed-line Internet market is an area of growth. The company's investment appears to be part of a strategy to move into the fixed-line sector across Europe.
The Big Deal
As indicated by Norman Levine, a managing director with Toronto-based Portfolio Management Corp, "A merger between Verizon Communications (NYSE:VZ) and Vodafone, or the sale of Vodafone's stake in their joint venture, could make its stock go up substantially higher." Mr. Levine also suggested that a merger is more likely as it could minimize tax implications compared with VOD selling its joint-venture stake. As quoted, "They would call it a merger but it would basically be Verizon buying Vodafone [whose stock is lot cheaper on a price-to-earnings multiple]...They would have to pay up for Vodafone." Although the merger or sale scenario may happen soon, VOD will continue to benefit from strong earnings generated by Verizon Wireless, which made a special dividend payout in 2011 and bought back stock and reduced debt in 2012. Mr. Levine said,
We expect Verizon Wireless to pay out a large dividend this year. Vodafone will either pay some, or all of it to shareholders, or once again pay down debt and buy back shares. It's all accretive to shareholders no matter what.
Analysts' Calls
On March 8, 2013, BofA/Merrill Lynch (BAML) said to buy VOD on a clearer endgame in the U.S. BAML thinks the status quo will be Vodafone's near-term scenario, but a merger with VZ is the likely end result and it is "unlikely" for Vodafone to sell its stake in Verizon Wireless. BAML commented that many near-term catalysts still remain.
On March 14, 2013, Santander downgraded VOD from overweight to hold. Analysts currently have a mean target price of $29.20 and a median target price of $30.70. Analysts are estimating an EPS of $2.46 with revenue of $68.79B for 2013. For 2014, analysts are projecting an EPS of $2.53 with revenue of $69.82B, which is 1.50% higher than 2013.
Fundamentally, there are a few positive factors for VOD:
VOD's fundamentals are improving with its streamlined holdings, and its diversified geographic position helps the company to weather through current economic climate
Higher revenue growth (3-year average) of 4.2 (vs. the industry average of -2.7)
Lower debt/equity of 0.4 (vs. the industry average of 0.8)
Lower P/B of 1.3 (vs. the industry average of 1.6)
VOD generates an operating cash flow of $18.69B with a levered free cash flow of $11.71B
VOD has a forward annual dividend yield of 3.70%
Technical Analysis
VOD was up 1.98% and closed at $27.80 on March 14, 2013. VOD had been trading in the range of $24.42-$30.07 in the past 52 weeks. VOD has a market cap of $136.72B with a low beta of 0.69. The MACD (12, 26, 9) indicator is showing a bullish trend. The momentum indicator, RSI (14), is picking up and indicating a strong buying momentum at 65.38. VOD is currently trading above its 50-day MA of $26.36 and 200-day MA of $26.96. The next resistance is $28.97, the R2 pivot point, as seen from the chart below.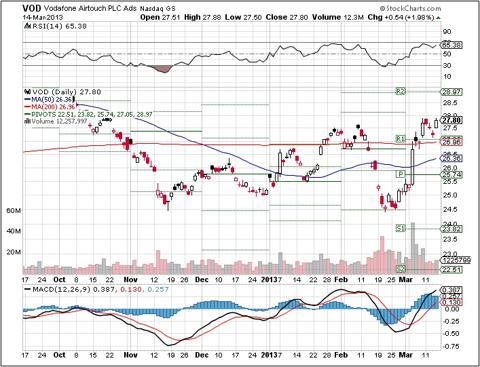 Source: StockCharts.com
How to Invest
Despite the recent downgrade, VOD remains a solid buy with its stake in Verizon Wireless at current valuation. For bullish investors, a credit put option spread of July 20, 2013 $24/$26 put can be reviewed, which will allow investors to gain some upside credit premium or to acquire VOD shares at a price below $26. Investors can also review the following ETFs to gain exposure to VOD:
Low Volatility Emerging Markets Dividend ETF (NYSEARCA:HILO), 4.24% weighting
SPDR S&P Emerging Markets Dividend ETF (NYSEARCA:EDIV), 2.92% weighting
Intl Dividend Achievers (NASDAQ:PID), 2.18% weighting
Note: All prices are quoted from the closing of March 14, 2013. Investors and traders are recommended to do their own due diligence and research before making any trading/investing decisions.
Disclosure: I am long VOD. I wrote this article myself, and it expresses my own opinions. I am not receiving compensation for it (other than from Seeking Alpha). I have no business relationship with any company whose stock is mentioned in this article.