As detailed here a short time ago, U.S. consumer prices jumped last month. While the increase was due largely to surging gasoline prices that have recently stopped rising, this could be the beginning of a very positive development for precious metals.
So far, the metals are reacting positively to the news (though a weaker U.S. dollar is also a factor) as the gold price has risen about $5 an ounce, while silver is up 10 or 15 cents an ounce. If inflation continues to rise, so should precious metals. The case for higher gold and silver prices based on renewed Federal Reserve money printing was laid out here last week, in "Why Current Fed Money Printing Will Lead To Higher Gold And Silver Prices."
Recall that, up until a few months ago, the central bank hadn't been printing money. Rather, it had been carrying out its "Operation Twist" maturity swap program last year, a program that did not add to its balance sheet. In fact, contrary to popular belief, the Fed's balance sheet actually contracted during most of 2012, and that trend only recently reversed.
With the September announcement of an additional $40 billion per month in money printing to buy mortgage-backed securities and then another $45 billion per month in new money to buy Treasuries as announced in December, the monetary base has only recently begun to rise again. As shown in this updated chart from last week, so has inflation.
Click to enlarge image.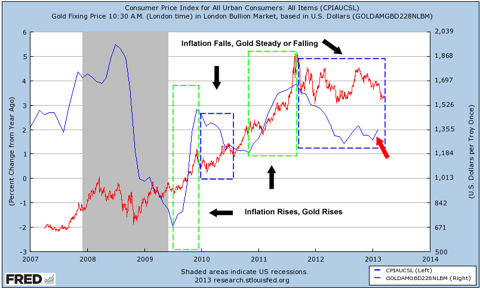 What has changed since last week is indicated by the red arrow -- year-over-year inflation has increased from 1.6% to 2.0%. A continued rise in inflation will be needed before investors really take notice and begin to act, but one has only to look to late last year in the chart above to see the relationship between a rising inflation rate and a rising gold price.
There were other factors involved (e.g., again, a falling dollar) and many other developments could influence metal prices in 2013, but rising inflation will certainly help the metals' chances of finally ending corrections that began in 2011. I've recently written about the ongoing "transition" in precious metals markets where buyers become more motivated by persistently higher inflation, rather than simply the announcement of more Fed money printing. This is likely the first step in that process.
With Japan and the U.K. committed to "quantitative easing" and Europe perhaps forced to do much more of the same after the uncertainty surrounding recent elections in Italy, the entire developed world is now printing money on a scale never seen before. Unlike what we've seen in recent years, this is now far more likely to show up in the inflation data. Reports this week from both China and the U.K. have also shown rising consumer prices. Unfortunately, this process may take a few months to play out here in the U.S. since energy prices play a key role in the inflation data.
As shown here, oil and gasoline prices were exceptionally high early last year, so, it will be difficult for year-over-year comparisons to show much of a gain in the month or two ahead. However, if energy prices continue to rise in May and June (when they normally do), there could be quite a big increase from a year ago. Add to this steadily building pressure in other areas such as housing, apparel, and medical services and, by late spring, a "perfect storm" may be developing.
Anyone who has recently sold shares of such popular gold funds as SPDR Gold Shares (NYSEARCA:GLD) and iShares Gold Trust (NYSEARCA:IAU) may regret having done so by summer time.
Disclosure: I am long GLD. I also own gold coins. I wrote this article myself, and it expresses my own opinions. I am not receiving compensation for it (other than from Seeking Alpha). I have no business relationship with any company whose stock is mentioned in this article.