Protective Life (NYSE:PL) is an insurance company that operates in five different operating segments: Life Market, Acquisitions, Annuities, Stable Value Products, and Asset Protection. Three of the four member companies under the Protective Life umbrella have A+ financial strength ratings from A.M. Best, the second highest possible (The fourth has a rating of A-). The company has been around since 1907 and its headquarters is in Alabama.
Like many financial institutions, Protective Life was hit hard by the financial crisis. Many of its investments suffered large mark-to-market losses, and some were permanently impaired. However, as the markets recovered, so did PL's portfolio: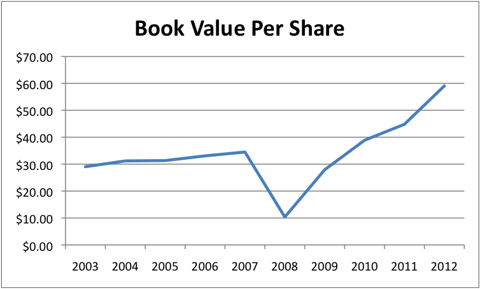 Investors have not fully recognized this recovery. At a price of $35.04, PL trades at 60% of book value, which is the same discount the market gave in 2009. The market is starting to notice the balance sheet improvement, and the stock is up 21% YTD. One reason for investor hesitance to bid PL back up to book value is the fact that PL's business performance has not been particularly inspiring: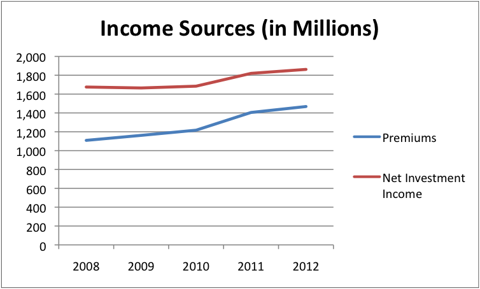 (Premiums are net of reinsurance ceded)
Although there has been modest growth in premium revenue and net investment income since the crisis, the company has been slow to drum up new business and the low interest rate environment has meant an uphill battle for the investment portfolio. The bottom line tells a similar story. EPS in fiscal 2012 (ended in December) rose from $3.65 per diluted EPS in 2011 to $3.66, less than 1% growth, although dividends paid grew 13% from $0.62 to $0.70.
Looking under the hood a bit, one of the reasons for the negligible EPS growth was an $80 million increase in derivatives losses, which translates into a bit more than a dollar a share. Although there is a lot going on with the derivatives positions, these losses appear to have been primarily a result of hedging the variable annuity book and on interest rate swaps protecting the fixed income portfolio. Because the market rose and interest rates fell, these hedging positions took a hit. While I'm not entirely comfortable saying that hedging losses do not matter and can therefore be ignored, they do introduce some noise into the final EPS numbers and can make what is essentially a slow-growth business appear like a no-growth business.
Valuation
At $35.04, PL has a P/B of 0.6, P/E ttm of 9.5, and a yield of 2.07%. Working backwards from the price to get market expectations, at a discount rate of 10% (my discount rate for mid caps), the market is expecting zero to slightly negative growth in both earnings and the dividend into perpetuity. That's quite a pessimistic perspective, because it not only requires that the underlying business will totally stagnate, but also that dividends will never grow, and that all future earnings not distributed as dividends will contribute nothing to the bottom line. This sort of performance is possible, but I'd consider it an unlikely scenario.
Another way to think about valuation is in terms of the balance sheet. Given that the company has mostly fixed income investments, at a current book value of $59.06 per share and an EPS ttm of $3.66, the company is like a bond fund with a coupon of 6.2% that can be bought at a 40% discount for an effective yield of 10.5% and a free option on earnings growth.
Catalysts
While the low valuation alone makes PL worthy of consideration as an investment, there are multiple catalysts that will likely drive both earnings growth and the improve the market's expectations. The company has about $500 in excess regulatory capital and management has plans to put it to use.
In short, management is looking for an acquisition financed through the balance sheet. This may be either a small life insurance company or a large purchase of policies from other companies. This acquisition idea seems like a good one to me because I believe many smaller players in the insurance industry undervalued by the market and PL might be able to get a great deal.
Management will also continue to buy back stock, which will be highly accretive when bought below book value. Last year, the company repurchased 3.9 million shares of an initial float of 81.7 million, a 4.7% reduction. Further reductions in the shares outstanding should also help drive EPS growth.
Risks to Watch
While I believe that the market is overly pessimistic about Protective Life's future prospects, there are some risks to watch. Acquisitions are always an iffy proposition. While PL has had a decent track record in the acquisitions area and an operating segment devoted specifically for that purpose, there is always the risk that management will overpay.
Another issue is PL's hedging of equity market and interest rate risk with derivatives positions. Interest rate risk and reinvestment risk are issues for all insurance companies to some extent, but in the recent investor conference management described assets and liabilities being "nicely matched up". This is done by matching policy and bond maturities along with derivatives positions. While I have no particular reason to think that their hedging strategy is inadequate or will cause a blow-up, there is limited visibility regarding their exact trading strategy and counterparty risks.
In Conclusion, I believe that PL is a decent insurance and investment company that is undervalued by the market. I do not know if the company will post outstanding or modest business results in the future, but either scenario will lead to excellent investor returns. I am planning on purchasing PL for my IRA, collecting the dividends and riding the stock up to book value, 60% higher than the current price. I wouldn't be too surprised if the stock got there within two years.
Disclosure: I have no positions in any stocks mentioned, but may initiate a long position in PL over the next 72 hours. I wrote this article myself, and it expresses my own opinions. I am not receiving compensation for it (other than from Seeking Alpha). I have no business relationship with any company whose stock is mentioned in this article.