Today's markets do not lend themselves to broad declarations. Each time we believe we understand the dynamics affecting current market prices, the ground shifts and the rules change.
Knowing this, we should tread carefully. However, given the dramatic moves from the Fed last week, I make a bold prediction in my weekly newsletter EPIC Insights-the commodity bear market has ended.
With the Fed's decision to inflate at all costs, hard assets are set to outperform. As indicated by the broad CRB index, commodity prices peaked in July 2008 and lost nearly 60% over the ensuing seven months. Given a growing global recession and creeping deflation threats, both traditional commodity consumers and investors fled the market. That has now changed. During the relentless price collapse, a long-standing downtrend held prices in check. As this trend broke, the pattern of lower prices has ceased. While I like to get long when a downtrend is broken, that fact alone does not speak to the need for overt bullishness. However, in the case of the CRB, I am comforted by the way in which the trend was broken.
[]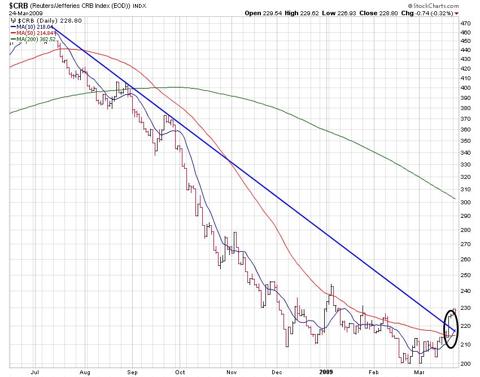 Looking at the black circle, we see a clear reversal. Reversals occur when trend-changing price movements coincide with the item opening at the low point of the day and closing at the high point. When the following days added to the gains, the CRB's reversal was reinforced.
Knowing we are bullish on commodities, we turn our attention to how to invest. For retail investors there are a series of ETFs that cover specific commodities and indices. Although these instruments offer a pure-play, they have their drawbacks. Commodity-based ETFs do not offer positive income and depending upon the structure of the market cost money to own. Instead, I will look toward an instrument that pays me for obtaining commodity exposure-the Wisdom Tree Brazilian Real Fund (NYSEARCA:BZF).
BZF is designed to earn current income reflective of money market rates available to foreign investors and to provide exposure to changes in the value of the currency. Since current CD rates in Brazil exceed 11%, BZF offers sufficient yield, but what of the commodity exposure? Because Brazil is a resource-rich country dependent upon commodity markets for exports, the Real has an 80% correlation to the CRB index. Therefore, BZF should appreciate as commodities rally.
Examining BZF's chart we see just that. When the CRB was breaking higher, BZF rallied sharply on unusually heavy volume (blue arrow). We now have a sustained uptrend from the March low that mirrors the 10-day moving average (MA) and is approaching a long-standing resistance level. When this resistance level finally falls, expect BZF to move materially higher.
[]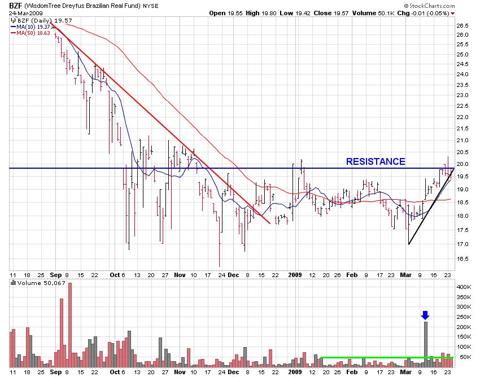 By using BZF as a cost-effective way to mimic commodity exposure, we will be positioning our portfolio for the future benefit of hard assets. I recommend a position in BZF as this week's technical trade.