Frugality may be back in vogue, but February's numbers at two fast food chains show that American consumers are still choosy when it comes to their food. MSSI statistics covering the Carl Jr's, owned by CKE Restaurants, Inc (NYSE: CKR) and Jack in the Box (NASDAQ: JBX) stores both indicated that the last quarter has seen a reversal of fortunes.
Average monthly spending among Geezeo users at both fast food options has dropped from November 2008. The decrease observed across Carl Jr's locations is 2.35% and spending dropped by 4.19% at Jack in the Box.
images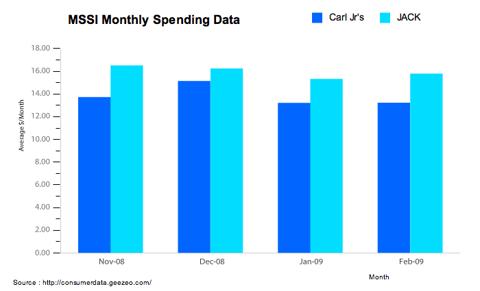 These quarterly figures, however, do not tell the full story. The economic downturn has indeed led to higher revenues across fast food retailers; these two firms are no exception. From January 2008, MSSI figures show that average spending at Carl Jr's has increased by 12.52% and an even larger 29.69% and Jack in the Box.
This being the case, why the recent negative trends? Are consumers feeling better about the economy or are they just shifting their preferences to other dining options? Looking at the year-on-year data for Jack in the Box, the answer appears to be no.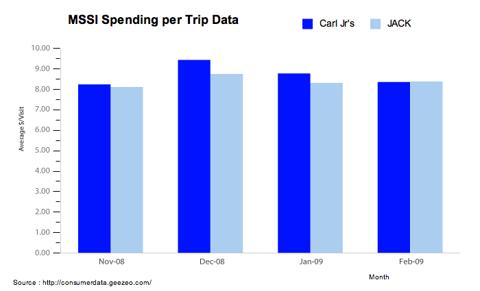 MSSI data from February 2009 showed monthly spending across the chains' locations to have increased by more than 25% from the same period a year ago. All of this gain cannot be explained by price increases, since the average cost per trip to the restaurant only went up by 14.3%.
The numbers at Carl Jr's appear to corroborate this trend as their customers are not paying more per trip in 2009 either.
This data was compiled by the Geezeo Main Street Spending Index (MSSI).