The Dow Jones Industrial Index has been putting in new highs almost every day for the past week and has recovered the massive drop of 2008. The S&P 500 is up 134% since the low of March 2009 as well. Congratulations to both Mr. Dow Jones and Ms. S&P 500!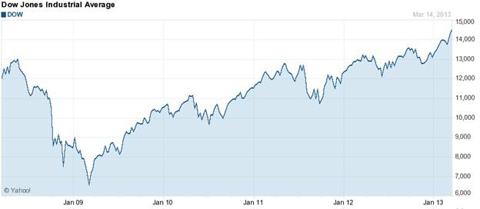 Source: Yahoo Finance
But what about John Smith's portfolio?
There is a clear distinction between an investor's return and the investment's return.
Our analysis below will show that most investor's returns always underperform the investment index's returns, which is a result of sub optimal human behavior. We will also show how to avoid some of these traps by comparing the returns to a risk managed portfolio.
The following chart of mutual fund inflows/outflows shows the effect of sub optimal investing quite clearly.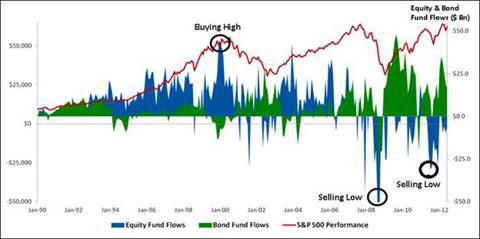 Source: Strategas & S&P 500; Adapted from Franklin Templeton "Time to Take Stock" Brochure
A study of the S&P500 versus an equity investor's returns show the following results:
Over the past 20 years (Jan 1993-Dec 2012):
S&P 500: 12% / annum
Equity Investor: 7.5% / annum approx.
Gap: -4.5% / annum
But the gap worsens over the past 10 years: (Jan 2003 - Dec 2012):
S&P 500: 7.5% / annum
Equity Investor: 1.5% / annum approx.
Gap: -6.0% / annum
The main reason for the dismal investor returns over the last 10 years is the loss sustained during 2008 and the missed rally of 2009. In the past decade:
Most equity investors bought the market during 2003-2004 period when the S&P500 entry point averaged 1,000 and again in 2006 when the S&P 500 was trading around 1,250
Most outflows happened in 2008 during March through October when the S&P500 averaged 1,200
The market did not see any significant net inflows in 2009-2010
The market saw significant outflows again in 2011 and 2012 from the fear of European crisis and the fiscal cliff.
The net result of this sub-optimal investor behavior has resulted in an investment return gap of -6% / annum over the past decade.
The buy and hold index mutual funds will point to this and say that investors should not trade their portfolios but should stay in for the long haul. This in my opinion is unrealistic and very dangerous and here is why:
If an investor wanted to take her money out in 2010 for her daughter's college expenses and saw the market drop 50% in 2008, her normal natural reaction would be to cut and run.
No matter what the investment horizon for an investor and no matter how astute an investor might be, a drop in excess of 15% (according to our study) causes investors to panic and exit the market. This invariably results in selling at or close to the lows.
Our analysis also shows that the bulk of investor buying happens after a significant rally and 90% of the times is within 10% of the near term market top.
Given the proclivity of human behavior to act in a suboptimal manner when it comes to investment decisions, it is imperative that properly risk managed portfolios be designed for investors such that maximum losses are well under 15%. This will let the investor stay in the markets to benefit from long term investment returns.
Here is a comparison of a buy and hold equity portfolio that is subject to human suboptimal behavior, versus a risk managed portfolio versus the investment returns.
We have used the SPY ETF returns as an investable index proxy for the S&P 500. The human behavior portfolio is based on our calculations of the returns generated by a typical investor subjected to the swings of the market. The Alpha Core portfolio is a dynamically rebalanced and systematically risk managed portfolio, used as a proxy for the risk managed portfolio.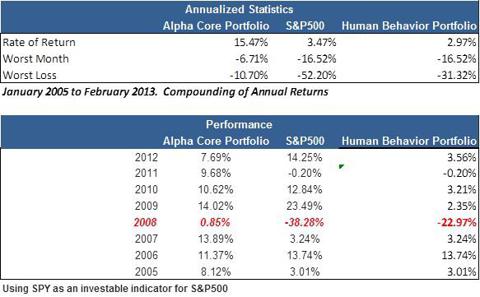 In the above comparison, since 2005, the human behavior portfolio lagged the S&P 500 as it missed a lot of the 2009 and 2010 as well as the 2012 rally.
But the risk managed portfolio kept the worst loss to under 15% and even eked out a small gain in 2008. This results in a higher return and longer participation by the investor in the market.
An important aspect of a risk managed portfolio to note is that in years like 2009 and 2012 when the market rises sharply, the risk managed portfolio will tend to underperform as it is defensive by nature. But it more than makes up for this underperformance in years like 2005, 2007, 2008 and 2011.
Therefore, it is never enough to look at the investment's returns, but look at capturing those returns in a risk controlled manner, otherwise human behavior will ensure sub-optimal performance.
Disclosure: I have no positions in any stocks mentioned, and no plans to initiate any positions within the next 72 hours. I wrote this article myself, and it expresses my own opinions. I am not receiving compensation for it (other than from Seeking Alpha). I have no business relationship with any company whose stock is mentioned in this article.
Additional disclosure: This message does not constitute an offering of any of MACM LLC services. The information contained herein is summary in nature and will be superseded and qualified by the more detailed information set forth in MACM LLC's Disclosure Document and advisory agreements executed between the concerned parties and, accordingly, is not to be relied upon in making any investment decisions. Futures trading involves substantial risk of loss and is not suitable for all investors. Only risk capital should be used to trade in the futures markets. You should carefully consider whether futures trading is suitable for you in light of your financial circumstances. Past performance is not necessarily indicative of future results.