You know there are problems with your business when your stock is hammered despite doing something that appears to be very positive on the surface. I covered some ProLogis (NYSE:PLD) (one of our 4 REITs) into the close yesterday as the stock was down 15%sh. This would be the third round trip in just over a week (15% each trade!) in this massively volatile sector. Each time government steps in (Fed day, Geithner day) they rocket, then reality sets in within 48 hours. The chart is deceiving because it's such a low priced stock, but this is huge volatility in between the $5s and $7s.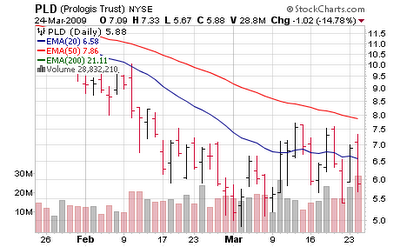 Now what was so strange about yesterday is that in the morning, the company made what appears to be a positive announcement - it was able to sell some assets to raise cash, to help pay off its substantial debt. The stock was actually green for the day and then "something" happened around 2 PM (well before the market sold off) when the stock crumbled from $7 to $5.80s in just over an hour. Very weird... but I'll take it. (Emphasis mine; my comments in italics.)
Distribution-facility owner ProLogis, a real-estate-investment trust, said Tuesday it has received a total of more than $1.3 billion in cash from previously announced asset sales that will help pay down debt. Those sale proceeds, and an additional $140 million from another pending transaction, will allow the company to make "substantial progress toward our goal of de-leveraging our balance sheet by $2 billion by the end of 2009," Chief Executive Walter Rakowich said.
ProLogis said Tuesday it has received $845 million in cash from its sales of industrial distribution properties in China, and the remaining stake in its Japanese property funds.
Including assumption of liabilities, the total cash consideration from the deals is nearly $1.35 billion, ProLogis said. "Proceeds will be used principally to reduce debt," ProLogis said.
ProLogis also said Tuesday it has completed a three-year extension of one of its debt obligations that will reduce the loan by $60 million.
"With our recent fund financing activity, we have addressed over 50 percent of 2009 fund-related maturities," Chief Financial Officer William Sullivan said. (and by 2010 the economy will be back to normal after the 2nd half 2009 recovery, so all systems go)
While it is not a great thing for the long run to give up businesses that provide cash flow, in the near term it is about survival. I thought this type of announcement would be treated in a better light...
ProLogis leases industrial facilities to more than 4,500 customers, with more than 475 million square feet of industrial space in markets across North America, Europe and Asia.
Disclosure: Short ProLogis in fund and personal account