Long-time readers of ZachStocks may remember the days when IPOs used to be priced and profit could be made quickly depending on how deals were trading. In June of 2008, we urged caution on Verso Paper (NYSE:VRS) shortly after the company began trading. In the article we noted the slowing demand for direct mail coated paper, significant competition abroad, a weakening dollar, and shares that were likely to be sold by Apollo Group (the majority shareholder).
Fast forward about 9 months and we see that the stock has dropped from its $12 IPO price to less than a dollar. And still the company continues to lose money on a quarterly basis. The fourth quarter saw sales of $1.77 billion but the company reported a net loss of $0.33 cents per share. The company also noted that it has suspended the dividend on common shares indefinitely - a move which may have marked the bottom of the stock slide.
Profits on our short position have been quite good. But at this point, there remains little room for the stock to fall, and some encouraging data points are cropping up which may indicate a chance to get involved from the long side. For starters, the company actually saw pricing increase by 17% during 2008. Now the price improvement is likely a function of the difficulty in the market and a thinning out of competitors. End prices are also affected by raw material costs which experienced an "unprecedented cost increase."
The company has historically shouldered a huge amount of debt which has held the company back from profitability. For instance, in 2008, operating income was positive at $62 million. But once you factor in interest expense of $125 million, the company swings to a major loss. But management appears to be handling the debt pro-actively and is paying down the balance methodically. At the same time, lower rates on the company's variable debt is leading to a break in interest expense. If the company can manage to continue posting operating profits and paying down debt, there is potential for a recovery.
And finally, the most exciting data point comes in the form of government stimulus. Verso, along with International Paper (NYSE:IP), has begun receiving alternative fuel tax credits for its use of non-traditional fuel sources in its plants. International Paper has announced the receipt of $71.6 million from the IRS for just a portion of the fourth quarter, and Deutsche Bank expects the company will receive $860 million annually. The program could be a significant factor in allowing VRS to return to profitability and begin building shareholder value.
Now let me be clear, I'm not suggesting you mortgage your house and put the capital all into Verso. There are still plenty of variables left to be determined and the interest burden is still high. But with the potential for up to $4 per share in tax credits, and an improving market, the stock could experience a significant bounce from its depressed state.
If analysts are correct in predicting $0.55 per share of earnings in 2010, this could be a long-term recovery story with a very strong return (percentage wise). I would recommend closing any short positions and potentially putting some at-risk capital into this dynamic situation.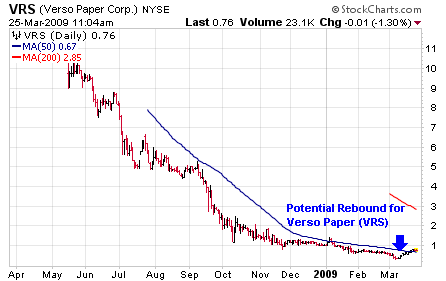 Disclosure: Author does not have a position in VRS.