Four ships with serious problems, in 30 days? It sure appears that way. Carnival (NYSE:CCL) has suddenly been thrust into the limelight due to several trip interruptions on its ships. Everyone remembers the pictures of the tent cities onboard the Carnival Triumph last month as tug boats dragged the helpless ship to land. There were the incredible stories about sewer problems, and a lack of power that led some passengers to file suit against the company. But the Triumph is an older boat, and these things happen. As an avid cruiser, I have been on ships rerouted for various reasons, including propulsion problems. After all they are just boats.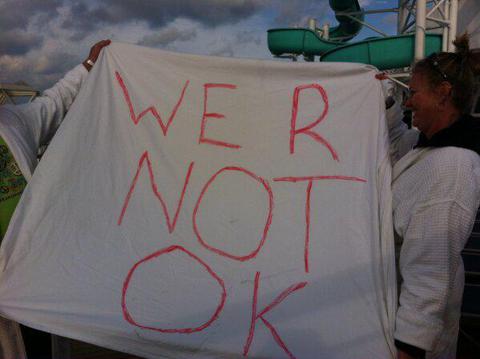 RT @KatyJBlakey: SIGN OF FRUSTRATION: Edmond family stuck on #CarnivalTriumph says they've had poor food & no shower for 3 days. pic.twitter.com/FO7FrudnAnthony Adornatoa month ago.
But last week on March 9, the Elation appeared to have propulsion problems, and Carnival called in a tugboat in the interest of "extreme caution":
Carnival said in a statement. "In the interest of extreme caution, we requested that a tugboat remain alongside the ship as it maneuvered away from the dock and into the river in New Orleans at the start of the voyage on Saturday, March 9. The tugboat trailed the ship down the Mississippi for good measure, although it was not needed. The ship's full itinerary is expected to operate normally."
According to the Los Angeles Times, the Elation was having trouble with one of two Azipod units which are used to propel and steer the ship. This is the same problem that the Carnival Legend is having, as it suddenly changed course on Friday, and cancelled visiting Grand Cayman:
"Carnival Legend is experiencing a technical issue with one of the ship's Azipod units that is affecting the vessel's sailing speed. The ship's safety systems and hotel services are all functioning normally," Carnival officials said in a statement emailed to the Los Angeles Times. The Azipod units are used to propel and steer the ship.
These instances would not have been nationally newsworthy if it had not been for the Carnival Dream which abruptly ended an Eastern Caribbean cruise while docked in St. Maarten, sending thousands of passengers back to Florida on 50 chartered planes this week. As Gene Sloan "admitted travel junkie" for USA TODAY said "....the Dream incident is a PR nightmare for Carnival and bad news for the cruise industry." Carnival is trying to "dispel rumors" that the problems with the Dream are on par with those of the Triumph:
"While the ship's propulsion systems and primary power source were not impacted, in an abundance of caution, we prefer not to sail with guests on board without an operational back up emergency generator," Carnival stated in a question-and-answer format posted on both its website and official Facebook page.
The Carnival Dream is a new beautiful ship, and the company could not take a risk of damaging it by sailing back to Florida without emergency power; thus avoiding a possible "Triumph situation." All of the affected passengers have been offered partial refunds and "half off" credits on a future cruise, regardless of whether the passenger has trip insurance. All of this "extreme caution" and passenger compensation shows that Carnival is really trying to do better.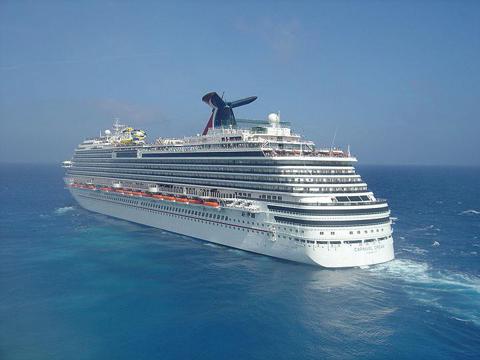 Last year when the Carnival Costa Concordia tipped over and sank (thankfully in shallow water), I wrote several articles about how the company mishandled the situation. You can read about them here: (1) Carnival Cruislines Will Survive... (2) Carnival Stock Is Not Out Of The Woods Yet and (3) Carnival Faces Public Relations Nightmare. However, as you can see from reading the third article, Carnival management learned from their mistakes. And they seem to be trying very hard to do the right thing now.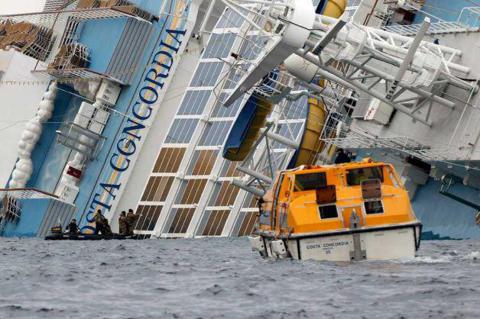 (AP Photo/Andrea Sinibaldi, Lapresse)
Probably because the United States government is getting involved. In March 2012, Senator Frank Lautenberg (D-NJ) participated in a Senate Commerce Committee hearing examining the cruise ship industry. The hearing was called in response to the wreck of the Costa Concordia, and other ongoing cruise ship safety issues. He is the Chairman of the Senate Commerce Subcommittee on Surface Transportation and Merchant Marine Infrastructure, Safety and Security. It has jurisdiction over cruise ship safety and security. On Thursday he made a statement regarding the problems with the Carnival Dream:
"This latest cruise ship breakdown raises serious concerns about the industry's ability to ensure a safe and enjoyable experience for its passengers," Lautenberg said. "The ongoing mechanical problems, crashes, and health scares aboard cruise ships indicate potentially serious problems with safety standards or enforcement. Cruises are for families and friends to relax and enjoy life, and we owe it to the public to look into this industry and ensure that safety never takes a vacation."
The stock is holding up remarkably well under the circumstances. It has made the expected dip, however, it is still outperforming the major market indices for the year. Do Carnival investors agree with the current actions that the company is taking? Evidently. Many shareholders are cruisers themselves, since the company offers on board credits for stockholders that own at least 100 shares.
On Friday, Carnival reported that income for Q1 was up compared to the same quarter in 2012. And the short interest has dropped dramatically from a high of 25 million shares last April, to 13 million now, which would only take two days to cover. Carnival short interest according to NASDAQ:
| Settlement Date | Short Interest | Avg Daily Share Volume | Days To Cover |
| --- | --- | --- | --- |
| 2/28/2013 | 13,246,989 | 6,527,694 | 2.029352 |
| 2/15/2013 | 12,931,974 | 5,336,720 | 2.423206 |
| 1/31/2013 | 11,341,581 | 4,684,540 | 2.421066 |
| 1/15/2013 | 11,771,963 | 3,201,146 | 3.677421 |
| 12/31/2012 | 11,740,342 | 4,783,587 | 2.454297 |
| 12/14/2012 | 11,849,285 | 2,928,631 | 4.046015 |
| 11/30/2012 | 12,053,498 | 3,122,726 | 3.859928 |
| 11/15/2012 | 12,370,215 | 3,050,094 | 4.055683 |
| 10/31/2012 | 13,098,201 | 3,410,765 | 3.840253 |
| 10/15/2012 | 14,508,726 | 3,391,885 | 4.277482 |
| 9/28/2012 | 16,337,401 | 4,454,331 | 3.667756 |
| 9/14/2012 | 19,210,987 | 3,861,538 | 4.974957 |
| 8/31/2012 | 21,099,169 | 3,320,948 | 6.353357 |
| 8/15/2012 | 23,012,946 | 2,616,046 | 8.796843 |
| 7/31/2012 | 23,349,066 | 3,695,131 | 6.318874 |
| 7/13/2012 | 22,341,865 | 3,165,300 | 7.058372 |
| 6/29/2012 | 23,482,299 | 5,477,872 | 4.286756 |
| 6/15/2012 | 24,970,273 | 4,749,355 | 5.257614 |
| 5/31/2012 | 24,343,936 | 4,670,216 | 5.212593 |
| 5/15/2012 | 24,605,478 | 3,542,263 | 6.946259 |
| 4/30/2012 | 25,027,247 | 4,414,836 | 5.668896 |
| 4/13/2012 | 23,534,355 | 5,088,272 | 4.625216 |
| 3/30/2012 | 22,535,338 | 4,404,705 | 5.116197 |
| 3/15/2012 | 19,669,406 | 7,380,826 | 2.664933 |
It is hard to know if all of this is some type of sabotage, or if there is some sort of glitch in Carnival's system. But so far the company is handling all of these situations very well. I am not sure that I would buy the shares right now, but if you already own the stock, it is holding up quite well. As long as there is not another major problem that could bring expensive government regulation, which may or may not be warranted, the share price should recover.
Disclosure: I have no positions in any stocks mentioned, and no plans to initiate any positions within the next 72 hours. I wrote this article myself, and it expresses my own opinions. I am not receiving compensation for it (other than from Seeking Alpha). I have no business relationship with any company whose stock is mentioned in this article.