"First to fall over when the atmosphere is less than perfect
Your sensibilities are shaken by the slightest defect
You live your life like a canary in a coalmine
You get so dizzy even walking in a straight line"
--The Police, Canary In A Coal Mine
Stock investors are certainly a fickle bunch. One day, a stock is the toast of Wall Street. The next, it can't seem to catch a bid on the best of news. And with no other stock has this switch been more evident in recent months than Apple (NASDAQ:AAPL). Although it is still the largest company in the world by market capitalization and the daily obsession for many investors to follow their every move, the stock is down nearly -18% year to date and -38% from its all-time highs only a few months ago in September 2012. While this stunning reversal has been most unpleasant for Apple investors, it also raises some broader questions that stock investors in general should consider as we arrive at fresh all-time highs in the market.
It was not long ago that everything was going Apple's way. The company was experiencing robust revenue and earnings growth supported by innovative products that loyal customers would camp out for days and line up around the block to purchase at every new release. The overall operating fundamentals were phenomenal including rapidly expanding margins, strong and rising return on equity, pristine financial health and a massive cash war chest. On top of it all, the stock continued to trade at valuations that looked downright cheap on a variety of metrics, as the company's earnings momentum continued to run ahead of its surging stock price. What was there not to like?
All of these forces and more including a fanatical investor base helped propel the stock to extraordinary heights. After pulling back to $358 per share in late November 2011 only a month after the passing of legendary Co-founder and Chairman Steve Jobs, the stock price skyrocketed. By mid-September 2012, the stock crossed $700 per share. With the operating wind firmly at its back coupled with the fact that the Fed had just announced the launch of its latest QE3 stimulus program at the time, it seemed that the next stop would inevitably be $1,000 per share.
But then it all suddenly changed. The stock dropped by -10% over the next month into mid October 2012 and sliced through its 50-day moving average along the way. But surely this was nothing more than a healthy consolidation after such a strong run, right? While this seemed like an opportunity to add to positions ahead of the next move higher, the decline continued. By mid November 2012, the uninterrupted plunge pushed the stock decisively through its 200-day moving average and down -25% from its highs. And even after the beginning of the New Year and the addition of Treasury purchases to the Fed's QE3 program, which has been a critical driver in pushing the broader stock market higher thus far in 2013, Apple's stock continued its descent straight down. In recent days, it has effectively fallen to levels last seen in late 2011 just prior to its lusty ascent. In the end, it has effectively been a full round trip for the stock in 18 months time.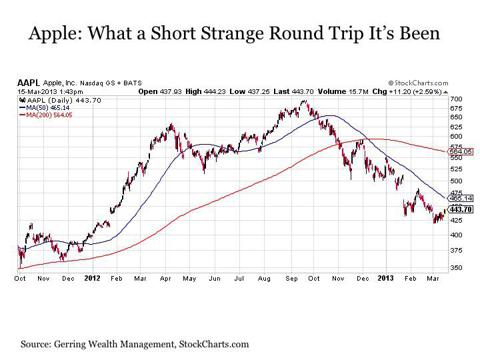 The experience of Apple shareholders over the last two years serves as an important reminder for stock market investors in general. In the interest of full disclosure, I have never owned Apple stock, as I generally steer clear of stocks that have gained overly fervent investor enthusiasm and whose businesses are driven largely by hugely popular consumer products. With this being said, I could easily construct both a bullish case and a bearish case for the stock today. As a matter of fact, I could have just as easily done the same when the stock peaked at $700 per share. Apple is still a great company that has a lot going for it - my family and I are very satisfied users of its products - but it also has its considerable challenges including the increasing competitive threat from the likes of Google (NASDAQ:GOOG) and Samsung (OTC:SSNLF) among others. What is perhaps most important to note from Apple's recent experience is the fact that all of the same things can be said about the broader stock market today. And just like Apple shareholders have experienced over the last seven months, there is no telling exactly when the tide is going to turn against the overall stock market in the same way.
The bullish case for stocks has been very well articulated over the last few months as stocks approach new highs. The economy remains on the mend at a time when corporations are running at peak operational efficiencies and are sitting on stockpiles of cash. Valuations also remain more than reasonable, particularly given the dearth of returns alternatives with interest rates locked at record low levels. And with earnings growth set to accelerate along with the improving economy, valuations should only become more attractive and dividend payouts more generous. Lending additional support is the U.S. Federal Reserve, which continues to flood the financial system with liquidity and provide a backstop of security against any signs of weakness. Full steam ahead to new highs!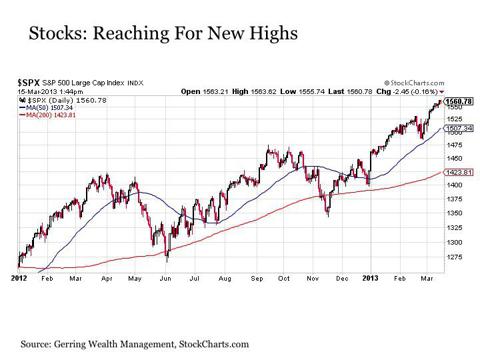 But the bearish case for stocks is just as compelling. We have traveled more than half a decade since the outbreak of the financial crisis, yet nothing really has been fixed as the problems have simply been papered over. The excess leverage that once plagued private sector balance sheets has now been transferred to the public sector, potentially leading to a greater problem down the road. And in selected regions such as Europe, the threat of full-blown crisis continues to build under the surface instead of subside. Global economies also remain engaged in competitive currency devaluations in an attempt to try and boost already sluggish economic growth. But despite the trillions of dollars worth of potentially destabilizing money printing by global central banks, global growth continues to fade including a stalling U.S. economy and a recession in Europe and parts of Asia. At the same time, the financial system remains on shaky ground, yet little in the way of regulatory reform has been enacted to prevent the development of another crisis in the future. Instead, we are starting to see fresh pockets of froth building once again in selected markets. Meanwhile, stock valuations were never allowed to fully wash out during the crisis, with multiples today still above the historical average and interest rates that have nowhere to go but up. All of this is certainly enough to keep an investor up at night and away from a long-term commitment with the stock market.
Over the last several months and for much of the last few years, the bullish case has prevailed over the bearish case for stocks. But as many Apple shareholders can attest over the past year, there is no telling when market sentiment will shift and investors will begin focusing only on the bearish side instead of the bullish. Thus, it is more than conceivable that we could see the stock market as a whole plunge into a similar descent that Apple has experienced over the last several months. And this may be true even if the U.S. economy starts to show signs of accelerating improvement.
But what about the Fed? Isn't our money printing central bank there to save the day and prevent all that is bad and uncomfortable for today's stock investors at the expense of all else, future systemic risks be damned. Yes, but to a point. The Fed can only do so much and print so much, but they cannot fix everything. At the moment, they are injecting additional liquidity into the system to the tune of roughly $4 billion per trading day in part to try and buy additional time for fiscal policy makers to get their acts together. But once this liquidity is in the system, those that have access to it and can leverage it do not necessarily need to place it into the stock market. After all, a variety of other ways exist to deploy capital. Right now the preference is stocks, but there is no telling when that preference may suddenly change just as it did with Apple stock only a few short months ago.
While the power of the Fed to lift asset prices is well known, a look back at some past episodes when the Fed was easing most aggressively reveals that this is not always the case.
The most recent example was during QE2 in early 2011. After peaking in February 2011, stocks began thrashing violently and ended the program lower from this interim peak.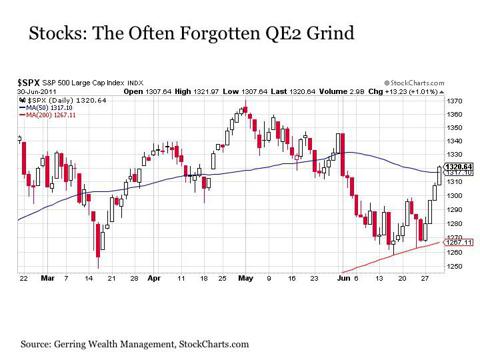 Another recent example was the aftermath of the technology bubble from 2000 to 2002. Then Chairman Alan Greenspan and his Fed was lowering interest rates aggressively throughout this entire period from 6.50% in May 2000 to 1.00% by June 2003, yet stocks moved relentlessly lower in recent Apple fashion throughout this entire period. And while extreme valuations were a major issue for the technology sector by the time the bubble burst in early 2000, it is worth noting that many other market sectors had already been lagging going back as far as 1998.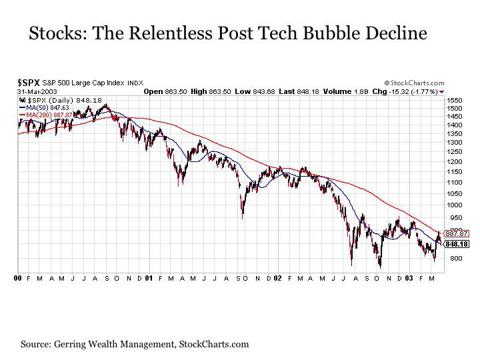 So where do we stand today with the stock market. At the moment, it is difficult to say. For some, the stock market is poised to break out to new highs and 2,000 on the S&P 500 Index is within reach over the next 18 months. For others, they hated the market when it touched 1350 on the S&P 500 Index a mere four months ago in November 2012, so they really hate it now. Both the bulls and bears have valid arguments, so any allocations going forward should avoid tilting too far in any one extreme.
A particular item is notable, however, when taking today's stock market and comparing it with a six-month lag against Apple's stock price. History has a funny way of repeating itself, and while the magnitudes of the ascents are certainly different, the pattern that is developing is strikingly similar. And just as it seemed that Apple's stock could do no wrong in September 2012, so too it seems today that stocks can go nowhere but higher having risen for 10 consecutive sessions on the Dow and counting.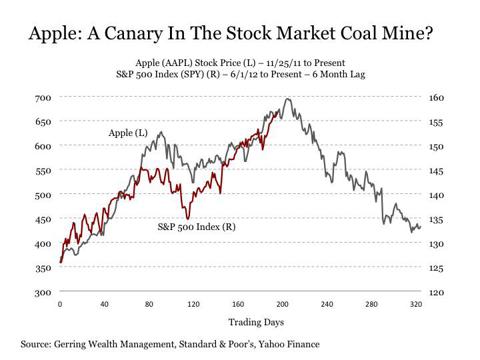 How stocks perform from here remains to be seen. But as we approach what is an important major resistance level for the S&P 500 at its previous all-time highs, it is important to remember that there are always two sides to every story. For just as stocks can go up seemingly each and every day despite the prevailing risks in any given market environment, so too can they descend lower each and every day no matter how good the underlying fundamentals may be. This, of course, is just one of the many natural dualities that inherently exist in nature. There is no darkness without light, no hot without cold, no life without death and no up without down. And the one thing we do know for sure is that there will be no bell that rings to let us know that a change in direction has gotten underway.
For all of these reasons, while it may remain worthwhile to continue riding the current stock market advance higher - I am currently long the S&P 500 Low Volatility ETF (NYSEARCA:SPLV) and the Utilities SPDR (NYSEARCA:XLU) as well as selected individual names including McDonald's (NYSE:MCD), Occidental Petroleum (NYSE:OXY), Potash (POT) and BHP Billiton (NYSE:BHP) - an increasing degree of caution is also warranted. In this light, I have taken the opportunity recently to raise cash through the sale of high yield bonds (NYSEARCA:HYG), U.S. mid-cap stocks (NYSEARCA:MDY) and China stocks (NYSEARCA:FXI) in order to step aside and see how the market responds up against its all-time peak and to eventually reallocate to new opportunities.
Taking a look beyond to other asset classes that have been largely ignored during the recent stock run up may be even more worthwhile. The beaten down precious metals space including gold (NYSEARCA:GLD) and silver (NYSEARCA:SLV) remains leading among these alternatives - I am long the Central GoldTrust (NYSEMKT:GTU), the Central Fund of Canada (NYSEMKT:CEF), the Sprott Physical Silver Trust (NYSEARCA:PSLV) and Silver Wheaton (SLW) - as this area of the market is showing signs of bottoming and has been recently moving with a strong negative correlation to stocks, particularly during days or intraday periods when stocks are moving lower. Speaking of negative correlations, long-term bonds including U.S. Treasuries (NYSEARCA:TLT) remains an ideal selection to short the stock market with far less risk. I am currently long Build America Bonds (NYSEARCA:BAB) from this long duration group as a more measured way to establish this offset diversification to the stock market.
Disclaimer: This post is for information purposes only. There are risks involved with investing including loss of principal. Gerring Wealth Management (GWM) makes no explicit or implicit guarantee with respect to performance or the outcome of any investment or projections made by GWM. There is no guarantee that the goals of the strategies discussed by GWM will be met.
Disclosure: I am long MCD, BHP, OXY, POT, SPLV, XLU, GTU, CEF, PSLV, SLW, BAB. I wrote this article myself, and it expresses my own opinions. I am not receiving compensation for it (other than from Seeking Alpha). I have no business relationship with any company whose stock is mentioned in this article.