It's been a tremendous fall for shares of one of the world's greatest companies. Apple (NASDAQ:AAPL), which was destined to be a $1,000 stock in many minds (not mine), has fallen from its $705 high to $443.66 at Friday's close. There are many reasons thrown out there, including poor margins, Mac production delays, terrible guidance, the iPad mini - just to name a few. I've even blamed the calendar for part of the fall, as an extra week threw off quarterly comparisons. Also, Apple launched the iPhone 5 a few calendar weeks earlier than the 4S, which shifted revenues from certain quarters to others.
But no matter what reason(s) you believe for the fall, there's not much you or I can do about it today. We can't snap our fingers and put Apple back at $705. Apple has fallen, but that is past history. Right now, we need to look to the future, and that's where Apple's management needs to come in. Throughout this fall, which has extended since Apple's quarterly earnings report, we really haven't heard much from the company. There hasn't been any big news about new products, and the shareholder meeting was a dud. Really, the only news from the company has been the announcement to lower MacBook prices. This company cannot wait until mid April to announce a new product or detail some cash return plan. Apple cannot sit back and just wait to report earnings, because if their guidance is below estimates again, this stock will continue to be hit. It's time for Apple to step up to the plate, because the only sound we are hearing now is from the crickets.
Last year at this time:
Just about one year ago, March 19th, 2012, Apple announced plans to initiate a dividend and buy back some shares. Looking at the calendar, the one-year anniversary of that date is this Tuesday. The announcement came on a Monday morning, so would Apple be bold enough to announce something this Monday, essentially the year anniversary? Some might think, or hope, so.
But the dividend and buyback wasn't the only March announcement. Just as Apple did with the second version, Apple announced and released the third generation iPad last March. The announcement came on March 7th, and the original release date was March 19th. There would be several release dates going forward until July, as Apple rolled out the new version across the globe over a series of months.
Apple rallied strongly on both pieces of news. The day before the iPad announcement, the stock closed at $530.26 (unadjusted price - not including dividends). The day before the dividend announcement, Apple was already up to $585.57. The dividend announcement put Apple over $600 significantly for the first time, not including the day where it touched $600.01 for about one second and then pulled back. About three weeks after the dividend announcement, Apple hit a new short-term high of $644.00. The stock was up a little more than 20% on the iPad and dividend/buyback news.
These two pieces of news got investors excited, and they went on a buying spree for shares (and iPads too). But they gave investors and the Street something to be confident about. Apple hasn't done anything this time around to give anyone confidence.
A simple sports analogy:
Being the huge sports fan that I am, I sometimes like to throw in some analogies between sports and investing. Sometimes, there can be lessons learned from each. Here is one of them.
Let's take a look at the New York Jets football team this offseason, because I see a few parallels to Apple. For those that don't know of the Jets, they like to be in the headlines. They've been a really overconfident and arrogant bunch, led by their coach Rex Ryan. Coach Ryan can be a bit of a loudmouth, and in his first few seasons as head coach, he guaranteed that the Jets would win the Super Bowl (the NFL Championship Game). In the first two years, the team did not even make the Super Bowl. In year three, the team finished with an 8-8 record and did not make the playoffs. In year four, they missed the playoffs again, this time with a 6-10 record.
Last year was year four. This offseason, the team is doing next to nothing to get its fans excited. Look at the player chart for what they've done so far. Of their top 9 players by ranking, 4 have left for other teams, and the team cut 4 others. The team has resigned two players so far, but they are at the bottom of the ranking scale. What have we heard from the team and loudmouth coach? Not much.
The Jets remind me of Apple, and the comparison is there. The Jets have done nothing in the offseason to get their fan base excited, which will mean that season ticket renewals will be down and overall ticket sales will probably fall as well. It goes the same way with Apple. With the company not doing anything right now to give its investors any confidence, the stock has gone lower and lower. Apple announcing a new product, or raising the dividend/buyback right now would be equal to the football team signing a good new player. You have to get your fan (or investor) base excited. The Jets haven't done that so far, and right now, neither is Apple.
The analyst negativity parade:
With Apple being extremely silent, it has given the analyst community their chance to speak. So far, that hasn't produced positive results, and I told you that Apple analysts would issue negative notes going forward. That process is starting a little earlier than I expected, but I can't say that I am surprised. Here's a recap of what has been said.
Citi issued a bearish note on Apple, reducing its price target from $500 to $480 while reiterating a neutral rating. The firm cut its iPhone sales forecast for fiscal Q2 by a million units. They also argued that Apple is losing tablet market share, evidenced by "reduced demand from Apple suppliers stemming from weaker end demand for the 9.7-inch iPad."
Berenberg was the next firm to pound the alarm, cutting Apple shares from a buy to a sell. The firm believes that smartphone investments have now become smartphone trades. Makers of these phones will be forced to target lower end consumers, which will greatly impact margins. The firm believes that Apple's gross margins, which recently topped out in the 45-50% range, could fall to 35% within three years.
This week started with a note from analyst Avi Silver of Credit Agricole. The analyst downgraded Apple from buy to outperform, while slashing his price target from $575 to $505. He believes that Apple is facing increased competition ahead of the iPhone 5S launch, and trends for the June quarter appear weak.
Just a day later, it was Jeffries' analyst Peter Misek who issued a very downbeat note. Misek maintained a hold rating, but cut his price target from $500 to $420. He cut his iPhone unit sales estimate from 37.5 million to 35 million for fiscal Q2, and cut his revenue estimate to $41 billion. That's the low end of the $41 to $43 billion range Apple gave, and Misek thinks there's a 25% chance that Apple misses the low end. He also believes that Apple suppliers are having trouble with the 5S, meaning a launch in July to September instead of June. To make up for this, Misek sees Apple launching a lower cost iPhone, which he sees having a gross margin in the low 30% area, compared to the mid 40% area for the 5S. He also sees the potential for a sooner than expected iPad release to make up for the lost 5S sales, but notes that yield issues could make it a calendar Q3 event.
We did receive a "positive" note from BTIG's Walter Piecyk, who upgraded Apple shares to buy. However, he notes that Apple is set to miss quarterly numbers and issue soft guidance. His main reason for the buy recommendation was that the stock had fallen enough already and that bad news may already be priced in. He also believes in a low cost iPhone, which he says will increase Apple's fiscal 2014 (ending September 2014) revenues by $11 billion but cut gross margins by 200 basis points.
Rumors about the iPhone 5S and a cheaper model have caused Sterne Agee analyst Shaw Wu to cut his price target on Apple. Wu believes that Apple will hit the low end of its guidance, but is not calling for the company to miss, not yet anyway. Wu cut his price target from $715 to $630 in this note.
Finally, UBS analyst Steven Milunovich reiterated his buy rating, but slashed his price target and estimates on Apple. He cut his iPhone estimates by 1.5 million for Q2 and 1 million for Q3. His Q2 earnings estimate drops from $10.05 to $9.66. The analyst cut his price target from $600 to $550 as well.
Analyst expectation cuts:
All of these negative notes and price target cuts are starting to add up. Just in the past 10 days, the mean and median price targets on Apple have come down by about $10 each. As of Friday, the mean target was $622 and the median was $600. Both of those numbers are about $150 below where they were just a few months ago.
Apple estimates have been cut as I've detailed above. The chart below shows the average analyst estimates for calendar Q2 in terms of revenues (in billions) and earnings per share. The yellow line shows where estimates stood going into Apple's fiscal Q1 report.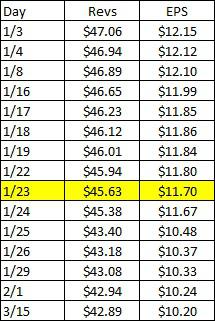 You'll notice that estimates are starting to creep down again, after the whacking they took when Apple's Q2 guidance was a bit softer than expected. It's not just the quarterly estimates that are being sliced though, the yearly ones are getting hit even more. The following table shows Apple's fiscal year estimates over time, with again, the yellow line being the day Apple reported fiscal Q1.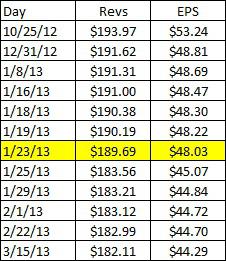 As of Friday, the average analyst estimate for Apple's fiscal 2013 earnings per share was $44.29. That's a rise of just 14 cents from the $44.15 we saw in fiscal 2012. The fiscal 2012 number had an extra week in it, so the adjusted number is about $43.16. Either way, we're getting closer and closer to analysts projecting no earnings per share growth for Apple in this fiscal year. That's a scary thought.
What Apple can do - the dividend:
When I discussed Apple's potential uses for its large cash position, a dividend raise was my most likely choice, and the one preferred on the Street. Apple currently pays a dividend of $2.65 per quarter, which yields 2.39% on an annual basis, using Friday's close of $443.66. I've stated that I believe the company will raise the dividend to somewhere in a range of $3.00 to $3.25 per quarter. I've been told that my estimate is too low, and if it is, that's fine. A higher raise would get you more of a dividend, and would probably be better for the stock as well. I put together a chart showing what Apple's annual yield would be, based on that new quarterly dividend (all numbers in the chart and below are using Friday's close).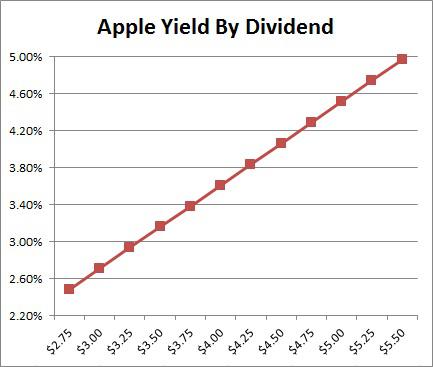 A raise to $3.00 per quarter gets us to 2.70% annually, which would be an increase of 31 basis points. This yield would put Apple's yield about 15 basis points above the yield of Cisco Systems (NASDAQ:CSCO). If Apple were to go all the way to $3.75 per quarter, we'd be looking at a yield of 3.38%. That yield would be about 10 basis points above Microsoft's (NASDAQ:MSFT) current yield, and Microsoft currently yields about 5 basis points higher than a 30-Year US Treasury Bond. If Apple wants its dividend to rival that of Intel (NASDAQ:INTC), it would need almost $4.75 a quarter. I don't see that happening currently, but anything is possible.
All expectations are for Apple to declare that $2.65 dividend again when it reports second quarter results in April. That would be the fourth dividend payment of $2.65, and when Apple declares third quarter results in July, they could start paying a raised dividend. But Apple doesn't have to wait until the July results to raise, or even announce, the higher dividend. They could easily raise it for the next payment, which I don't think they'll do. I believe that they will payout the $2.65 next time around, but I think they should announce the dividend raise before that. Like I said above, perhaps this Monday? Apple needs some positive news, and a dividend raise would certainly be included in that.
What Apple could do - the buyback:
Apple originally announced that they would be repurchasing $10 billion worth of shares over three years, but this was not your typical buyback. Companies that buy back large amounts of stock, like Microsoft and Intel, buy back enough to get their share counts down. Apple's goal, for the time being, was to just offset dilution from executive options and the like.
Why is offsetting that dilution so important? Well, I put together a chart showing the diluted share count (in thousands) used for earnings per share purposes over the last three years. This is not the number of outstanding shares. I look at the diluted share count, because this is the count used to determine earnings per share when you have a net income figure. You don't use outstanding shares for that.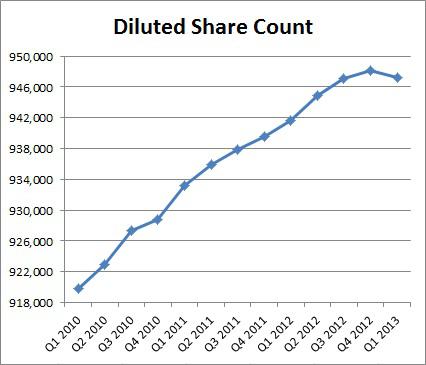 Dilution is important here. In fiscal 2012, the increase in the share count cost Apple 40 cents per share in earnings. It might not seem like much when Apple's profit was over $44, but every penny counts. In fact, during Apple's fiscal Q1 this year, Apple saw a rise in net income but a decline in earnings per share. Dilution cost them about 8 cents. Especially when it looks like Apple's earnings per share will be flat, or even negative for the year, getting that share count down could really help the earnings per share figure.
Here's the issue with the buyback. You can see in the chart above that the diluted share count declined during Q1. Apple accelerated part of the buyback, purchasing roughly $1.95 billion in shares during the quarter. With a 3-year, $10 billion buyback, Apple would roughly average $833 million per quarter, if they were to buy back in even segments. Since they accelerated the program, only about $8.05 billion is left for 11 quarters. That is about $732 million a quarter. Thus, in the quarters ahead, Apple's buyback might not be as large, and we probably won't see the share count decline as much as it did in Q1. It is quite possible that the share count could go higher from here.
Thus, I think that Apple should either continue buying back stock at that $2 billion per quarter rate, or at least try to finish the $10 billion plan in 2-2.5 years. I don't think they'll announce a huge buyback plan anytime soon, because it doesn't make sense for them to do so with so much time and money left on the current plan. Raising the dividend by an extra $0.25 or $0.50 per quarter (over what they might raise it to now) seems more likely than an announcement of a larger buyback, in my opinion anyway.
Final Thoughts:
Right now, we're not hearing a lot from Apple, and that's a bad thing in my opinion. While the stock ended up about $11 on Friday, we're still less than $25 from a new 52-week low. That can be reached in a day or two. Apple lost $9 the other day on a single negative note, and those negative pieces are coming in almost every day now.
At the end of the last quarter, Apple's cash, short-term investments, and long-term investments pile was up to $137.1 billion, of which about $43 billion was held within the United States. We can safely assume that the pile is above $140 billion by now, and probably closer to $145 billion. In fact, Apple produces so much cash each quarter, that the cash pile has probably risen by about $25 to $30 million in the time it took me to write this article.
I recently called Apple's bottom near $420, and I would think that the 2.5% dividend yield point will be a level of support for now. However, I don't think that Apple can hold that line for another month or 6 weeks until earnings if they don't announce something. Without any announcements, I fear that all we'll hear is more analyst negativity, and that could push us towards $400. It's time for Apple to make a sound, because the crickets are deafening right now.
Disclosure: I have no positions in any stocks mentioned, and no plans to initiate any positions within the next 72 hours. I wrote this article myself, and it expresses my own opinions. I am not receiving compensation for it (other than from Seeking Alpha). I have no business relationship with any company whose stock is mentioned in this article.
Additional disclosure: Investors are always reminded that before making any investment, you should do your own proper due diligence on any name directly or indirectly mentioned in this article. Investors should also consider seeking advice from a broker or financial adviser before making any investment decisions. Any material in this article should be considered general information, and not relied on as a formal investment recommendation.