Armour Residential REIT (NYSE:ARR) is a mortgage REIT. It is managed externally by Armour Residential Management LLC. ARR pays a monthly dividend. For the three months of Q4 2012 that dividend was $0.09 per month. For the three months of Q1 2013 that dividend was $0.08 per month. Recently ARR has declared that the dividend for Q2 2013 will be $0.07 (about 13.2% annually). In fact this has been a continuing trend since the beginning of 2011. Investors have also seen the net interest margin continue to go downward in recent quarterly reports. It has fallen consistently from 2.23% as of March 31, 2012 to 1.55% as of December 31, 2012. Naturally these items have had a negative effect on ARR's stock price.
Recent CPRs (constant prepayment rate) have been higher too (see chart below).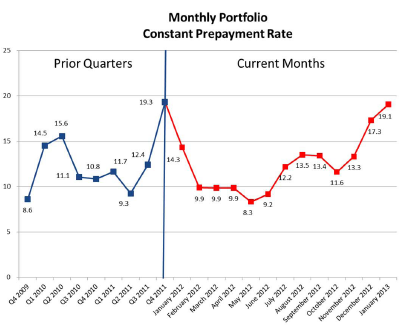 Higher CPRs along with decreasing mortgage rates tend to decrease the net interest rate spread. This usually means there is less distributable cash flow (lower dividends).
To better evaluate ARR's likely performance going forward, a look at its portfolio holdings as of January 14, 2013 may help (see table below).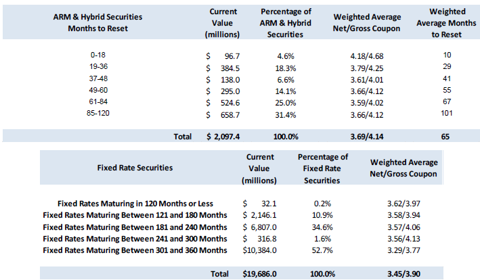 The highest proportional asset is Agency fixed rate securities ($19.7B). This means ARR's portfolio ought to be subject to roughly the same movement in net interest spread due to mortgage rates and CPRs that other Agency mortgage REITs are. MFA Financial (NYSE:MFA) with Agency CPRs close to ARR's CPRs cited CPRs for its Agency RMBS of about 20 for both January and February 2013. Many other mortgage REITs are citing declining CPRs. These results bode well for one of the main factors contributing to ARR's net interest margin.
The second factor, the current mortgage rates, also look promising. The net interest spreads of many mortgage REITs narrowed in the fall due in part to declining mortgage rates. However, the mortgage rates have started to rise since mid-fall. The actual mortgage rates shown on Yahoo Finance confirm this. Those rates reached a low of approximately 3.30% in the fall; and they are currently at 3.65% as of Sunday March 16, 2013. Many of these mortgage rates are based on US long term Treasury yields. The chart of the 30-year US Treasury yield below confirms a solid uptrend in its yield (and hence in mortgage rates).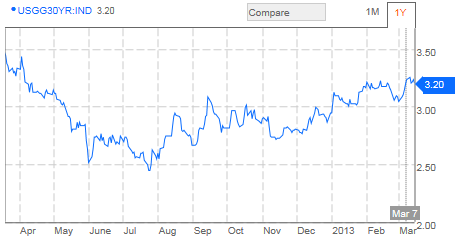 In many cases, CPRs were still up in the fall due to the lag between the fall of mortgage rates and an increase in new refinancings with lower rates (and hence more prepayments). However, this lag should be over by now. Now CPRs seem more likely to fall in coming months as mortgage rates are trending upward. If the CPRs are flat or down in Q1, the net interest rate spread for most Agency portfolios should be up as mortgage rates have been rising since mid-fall. This should be true for ARR.
Admittedly ARR did cut its dividend for Q2 2012 to $0.07 per month. However, this is most likely just prudent management. ARR's management is not counting its chickens before they are hatched. This should make investors happy. It indicates good management. ARR's net interest spread should rise in Q1 2013. If the current US long bond yield uptrend continues, ARR's net interest spread should rise again in Q2 2013. The recent February 2013 CPI and PPI of +0.7% (+0.2% core) are apt to help the US long bond yields rise. They indicate some inflation. With inflation, mortgage rates, which are at historical lows, are apt to rise. This should lead to higher net interest rate spreads for mortgage REITs (and for ARR in particular). Higher net interest spreads mean more profits and higher distributable cash flows/dividends.
On book value, ARR is a bargain currently. ARR lists its current book value (MRQ) at $7.47 per share. The current stock price is only $6.37 per share. ARR's March 13, 2013 announcement of the lowering of the Q2 dividend to $0.07 per month likely contributed to the near term stock fall. However, that has to be mostly done by now. Plus ARR's outlook for future dividend increases looks bright for future quarters. Its $0.07 per month dividend is inline with its Q4 2012 core income per common share of $0.22. It did have GAAP net income of $0.37 per common share. For the above reasons distributable cash flow should improve in Q1 and Q2 2013. When ARR gets the Q1 results, it will likely then raise the dividend for Q3 2013. When it gets the Q2 2013 results, it may raise the dividend again for Q4 2013. Hence now may be a good time to get into ARR. The book value could decrease as the net interest spread increases (mortgage rates move up and CPRs likely move downward). However, ARR is hedged against this. Plus some other Agency REITs are actually reporting increased book values even in the face of these increases.
The two year chart of ARR provides some technical direction for this trade.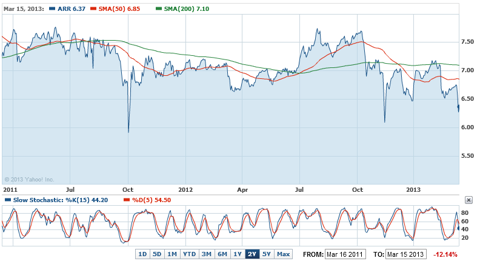 The slow stochastic sub chart shows that ARR is neither overbought nor oversold. The main chart shows that ARR has been consolidating for the last two years, although there is possibly a slight downtrend in stock price. It trades at a PE of 6.50 and an FPE of 6.71. It has an average analysts' next five years EPS growth estimate per annum of 9.60%, which is great for a top dividend payer. Plus the mean analysts' recommendation is 2.2 (a buy); and CAPS rates it four stars (a buy). I rate it a buy too.
Still it is important to keep the overall market in mind. Many are calling for a significant pullback in the overall market in the near future. Many economic indicators have been weak or negative lately. The US may go into recession in 2013. It makes sense to average into this great dividend payer over the course of 2013. Then you will be more assured of getting a good average entry price.
NOTE: Some of the fundamental financial data above is from Yahoo Finance.
Good Luck Trading.
Disclosure: I have no positions in any stocks mentioned, but may initiate a long position in ARR over the next 72 hours. I wrote this article myself, and it expresses my own opinions. I am not receiving compensation for it (other than from Seeking Alpha). I have no business relationship with any company whose stock is mentioned in this article.