To those who subscribe to the notion that the stock market needs a strong economy to deliver strong returns, one would think that four years of a strong market and a weak economy would provide strong enough evidence to the contrary. In the last four years, the market has erased the losses incurred during the financial crisis. While Gross Domestic Product (GDP) has recovered, its growth has been anemic. In 2012, for instance, it grew just 4%. Here is a longer-term perspective: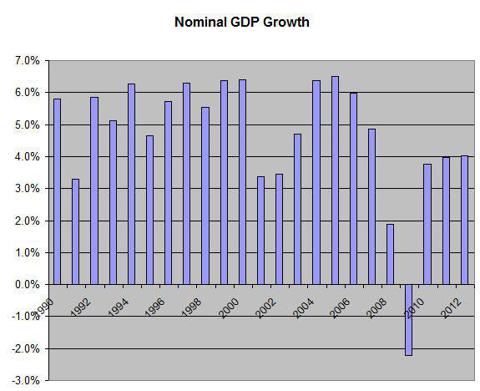 Many economists will refer to "real" GDP (which is inflation-adjusted), but when it comes to stocks, the actual GDP (Nominal GDP) is "real" as far as I am concerned. Stocks are priced of earnings, and earnings are tied to the actual and not inflation-adjusted economy.
These growth rates are based on the average quarterly GDP during each of the past 23 years. As you can see, we are suffering in the age of the "new normal", where what used to be a "bad" GDP is now just the way it is. A recession is defined as when inflation-adjusted growth is negative for two or more quarters. Prior to the 2008-2009 downturn, we experienced this in 1991 and 2001-2002. As you can see, 3% Nominal GDP growth was the "pain". The most recent downturn saw something that I don't believe had happened since the Great Depression: Negative Nominal GDP growth. Now, we just can't get that extra 2% that would take us to historical levels of 6%.
What's The Secret?
How is it that the markets have recovered in such a weak economy? The secret, if there is one, is that stocks were very cheap. But this is only part of the story. Perhaps a bigger part of the story is the following trends:
Margin Improvement
Balance Sheet Optimization and Capital Allocation
Strategic Assessment
Margin improvement is the easiest to understand. Sales have been recovering or rising slowly, and companies are slow to hire back. "Doing more with less" has been a mantra of many companies. Substituting technology helps, as does the implementation of "lean" and other management initiatives. The bottom line is that there are some earnings gains just by becoming more efficient.
The very low interest rate environment has had multiple impacts on companies and their earnings. On the one hand, many companies with access to cheap capital borrow and refinance existing debt. They also have been repurchasing stocks or using low-cost money to make acquisitions. I have seen some spectacular rallies follow deal announcements just in my little world, including Middleby (NASDAQ:MIDD) after it bought Viking, and Hormel (NYSE:HRL) after it bought Skippy. On the other hand, the low interest rates make stocks more attractive. Companies that never paid a dividend before have begun doing so, like Apple (NASDAQ:AAPL). In general, stocks have become more attractive relative to other asset classes because of the friendlier capital allocation by management.
It's the last topic that is most interesting to me. I have been amazed at some of the transformations taking place in the Industrial sector. Many of these are led by outside investors, like Relational Investors. For instance, they are working with conglomerate Illinois Tool Works (NYSE:ITW) to become more focused. Some of these are driven internally, like Pentair (NYSE:PNR), which last year swallowed up Tyco Flow Control before it was about to be spun out. This was a game-changer for many reasons. Barnes (NYSE:B) sold its distribution business to MSC Industrial (NYSE:MSM) after deciding it wanted to focus on its higher-margin businesses. All of these companies are creating tremendous value without relying on any sort of revenue creation. In the Consumer space, I have been tracking a small firm, Becker Drapkin, which just successfully turned around and sold Hot Topic (NASDAQ:HOTT) and has been engineering changes at Ruby Tuesday (NYSE:RT) and Tuesday Morning (NASDAQ:TUES). I have written recently about Men's Wearhouse (MW) intending to divest its underperforming K&G unit, and AT Cross (NASDAQ:ATX) considering sale of its iconic but moribund Cross brand. I share these examples but point to the fact that they are just the tip of the iceberg. We are in the midst of an epidemic of corporate contemplation. In a stagnant economy, it's more essential than ever that assets end up on the balance sheet of the best operators.
Can It Keep Up?
While surely a strong economy would lead to much better earnings growth, this is something that is difficult to imagine at this point given the state of the economies of our trading partners and the presence, still, of too much government and consumer debt in our country. I have described how companies have been adapting to the environment and creating shareholder value, but are we near some sort of limit?
The answer to this question requires us to make a judgment on where we are in the value creation process and to assess the valuation of stocks. Let's look first at a longer-term perspective of valuation: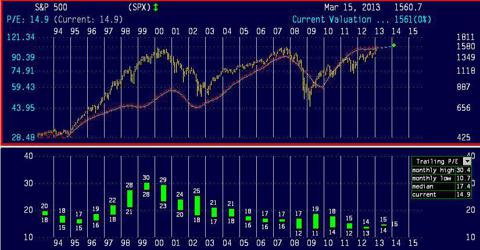 In the top panel, we see the S&P 500 (NYSEARCA:SPY) over the past 20 years, both the price (in yellow) and the earnings, which are well beyond the prior peak in late 2007. In the bottom panel, we see the yearly high and low for the market PE on a trailing basis. Currently at 15X, we are below the median (17.4X) for the past two decades. In the last decade, the range has been roughly 11X to 21X, with a median of 16.3X.
I would argue that slower EPS growth is only part of the story. The very low interest rates are perhaps a more powerful influence on the valuation level. If one takes the current 15PE and inverts it, one gets a 6.7% "earnings yield". This remains a historically wide spread to the corporate bond yield, no matter how one looks at it. As the market normalizes, I think that the PE can expand somewhat. If rates rise somewhat, this won't be an impediment as long as it is due to rising growth too. But, in the stagnant economy, we can expect rates to remain low. The bottom line is that we now have a trend towards rising PE, but it's by no means at a level that limits further expansion.
It's harder to answer the other question: Are we near limits on enhancement to strategy, margins and capital allocation? Let's take a look at the long-term perspective on S&P 500 profit margin: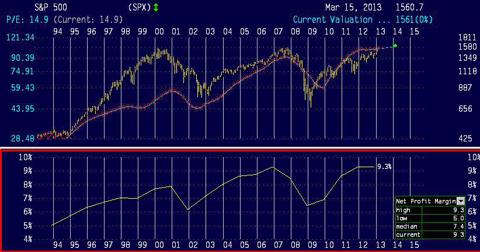 This is a tough one. On the one hand, we are at "an all-time high". On the other hand, there has been a tendency of "higher highs" that we haven't yet achieved in this cycle. It seems to me that in a slow-growth economy, there is little risk to a plunge in profit margins. We aren't likely to suffer a commodity spike as we did when oil soared in 2008. Other inputs, like labor or real estate, are under control. So, while I wouldn't want to bet on a lot of margin expansion, it seems likely that companies will continue to chew out efficiency gains.
How To Pick Stocks In This Environment
One of the themes that I have been suggesting for a while that should continue to work is investing in smaller companies. At the beginning of the 4th quarter, I shared three reasons for favoring the Russell 2000 (NYSEARCA:IWM), and one of them remains quite relevant: M&A. Smaller companies can benefit from both sides, as they can acquire private companies but also be swallowed up by larger ones. If the economy remains slow, I expect large companies, with their cheap access to debt, to remain on the prowl.
The new idea I want to introduce today is that we need to have a better appreciation for "game-changers". The best investments will be those made in advance of any announcement, of course, but I would argue that one can also participate in transformations after they are announced. I mentioned earlier several from my own watchlist or focus, including MIDD, HRL, PNR, and ITW, and each has enjoyed persistence in their rallies following the announcements. I would add to this that often the "game-changer" comes from new management.
So, while I am not at all sure when we will get "strong" growth for the economy, I remain confident that the rally can persist. I think that looking at smaller companies, especially those that might benefit from what is likely to be a robust M&A environment, is one strategy to pursue. Another one is to focus on companies that are being held back by a poorly performing division or set of assets and are willing to jettison them. Similarly, sometimes a really good operator is able to pick up someone else's under-managed assets, like PNR. The bottom line is that top-line growth isn't the only way to create value.
Disclosure: I have no positions in any stocks mentioned, and no plans to initiate any positions within the next 72 hours. I wrote this article myself, and it expresses my own opinions. I am not receiving compensation for it (other than from Seeking Alpha). I have no business relationship with any company whose stock is mentioned in this article.
Additional disclosure: MW is in a model portfolio managed by the author at Invest By Model