WisdomTree Investments (NASDAQ:WETF) is an asset manager that focuses on ETFs using its proprietary fundamentally weighted index methodology, which it also licenses to third parties. WETF offers products diversified across international, emerging market, U.S., fixed income, currency, and alternative asset classes.
The company is interesting for many reasons, one of which is its sky high earnings multiple of ~127 times trailing earnings. WETF experienced explosive growth in recent years, however the stock has gotten ahead of itself, leaving shareholders roughly flat after two years of wild ride.
This article addresses the prevailing opinions and market forces driving the stock price, shedding light on why this stock is trading at such high multiples:
Value Driver 1: Explosive ETF Industry
It is no secret that the ETF industry is exploding. According to the Investment Company Institute, ETFs grew from $1 billion in AUM in 1995 to over $1 trillion in 2011: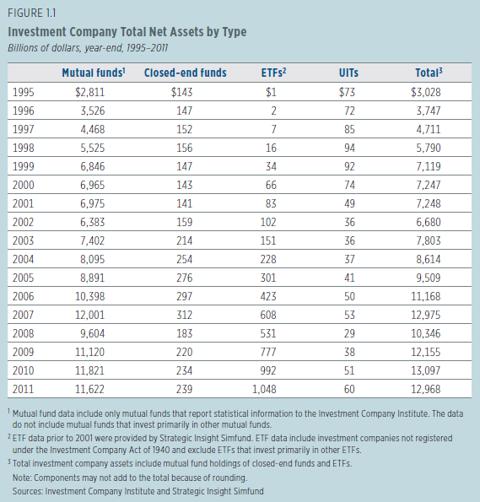 WETF management believes that ETF growth will accelerate, driven by 1) investor re-allocation out of money market and into higher yield/higher expected return products, 2) advantage of the ETF wrapper vs. mutual fund wrapper will attract RIA flows, and 3) increasing liquidity for block trading will make ETFs more attractive to institutions.
Value Driver 2: In-demand, Innovative Products
Historically, ETFs tracked traditional equity indexes, but the volume of ETF growth has led to significant innovation and product development, and WETF has been a leader in this area. WETF create their own indexes, rebalanced annually, that weight companies in its equity ETFs by a measure of fundamental value. Using this approach, WETF benchmarks generally outperforms market capitalization-weighted or competitive benchmarks.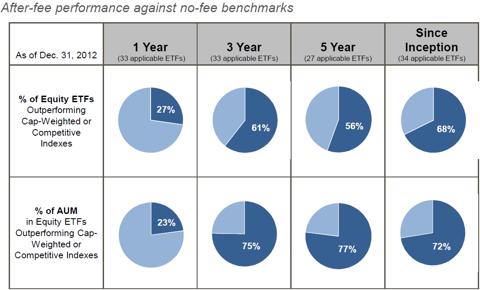 Source: 2012 Q4 Results Presentation
As a result, WETF is increasing market share: in 2012, the company captured 2.6% of inflow market share, ending the year with 1.5% of AUM market share.
Value Driver 3: Scalability of Business Drives Margin/Profitability Growth
Revenue has grown rapidly from $21 million in 2007 to $85 million in 2012. After years of losses due to scale issues, the company finally turned a profit in 2011, delivering $3 million in pre-tax income. Due to the scalability of the business and continued top-line growth, 2012 PTI was nearly 4 times higher at $11 million.
Management noted that each ETF launch delivers 80% incremental gross margins. Note that despite AUM increasing from $3 billion in 3/2009 to $23 billion today, headcount only increased from 60 to 70 today. Since the company outsources to third parties everything outside their core competencies and create their own indices (and thus do not incur licensing costs), they have the potential to become a margin leader in the asset management industry. Management expects to generate ~40% pre-tax margins when it reaches ~$35B of AUM.
Value Driver 4: Scarcity Value
WETF is the only publicly traded, pure play on ETFs, and being that, it has scarcity value as a potential take-over target and investment vehicle.
Unique Risk Considerations
My biggest concern is that the ETF space is extremely competitive and increasingly so. Many of WETF's existing competitors - take Blackrock, Vanguard or Invesco for example - has much more financial resource and much larger distribution capabilities. As a result of this fierce competition, ETF products are increasingly being commoditized.
Although management does not seem too concerned about the competitive landscape, I am less confident in the company's competitive advantage. How hard can it be to create fundamental weighted indexes? Large players like Fidelity are now entering the ETF market by innovating on the periphery - i.e. by launching specialized, unique ETFs in direct competition with WETF - since that's the only area where margins still exist in the ETF space. If WETF sees margin potential in an area, you can bet its larger peers see it as well.
What is stopping the barbarians from storming the castle? Is WETF's competitive really strong enough to justify a multiple of 127 times earnings?
Note: The purpose of this article is not to provide investment recommendations, but to engage readers in fruitful discussions so we can make the best investment decisions possible. Please share your thoughts in the comment section.
Disclosure:
I have no positions in any stocks mentioned, and no plans to initiate any positions within the next 72 hours. I wrote this article myself, and it expresses my own opinions. I am not receiving compensation for it (other than from Seeking Alpha). I have no business relationship with any company whose stock is mentioned in this article.