Introduction
Magnum Hunter Resources (MHR) has been in an aggressive growth strategy during the last 12 months primarily through the acquisition of properties from Samson and Virco. This is how it expanded its core areas and grew its production in 2012. However, the stock has not moved much during the last 9 months, because the investors are in "a wait and see" attitude.
Some Facts About Magnum
First, I need to discuss three facts about Magnum. The following facts will make you understand better my recommendation that follows in the next paragraph:
1) Debt Problem: The long-term debt has been growing on a quarter over quarter basis. In the meantime, the operating cash flow has not stabilized on a positive territory, and it is not enough to lower the growing debt. The D/CF ratio (annualized) is around 7, assuming that the annual operating cash flow is $100 million which is a very optimistic scenario. Things get worse because the company has been losing money for several quarters now.
This D/CF ratio is sky high, and the company will have either to sell assets or boost its cash flows by drilling very oily and low cost wells with quick payouts. Given the current significant element of risk on Magnum's balance sheet, the bulls do not want to see the company add more debt.
I personally never buy heavily indebted companies, and one of the main choices of my energy portfolio is Surge Energy (OTCPK:ZPTAF), which is a grossly undervalued oil-weighted producer for the reasons I analyzed here. I recommended Surge Energy when it dropped below $4, as the company has D/CF ratio (annualized) below 2 among its other great features.
2) Production Growth: The company is pouring $300 million this year to develop its acreage in the Eagle Ford in Texas, the Bakken in North Dakota, and the Marcellus/Utica in Ohio, West Virginia, and Pennsylvania.
The Eagle Ford, Williston and Appalachian Divisions have been allocated budgets of $100 million each, consisting of $95 million for drilling and completion cost and $5 Million for lease extensions.
Magnum expects to grow production from its current range of 18,500 boepd to a range of 23,000-25,000 boepd by the end of this year. Its production has a balanced mix of liquids and natural gas. Going forward, the company wants to become heavily liquids-weighted.
3) The Appalachian Basin: Magnum established its position in Appalachia primarily through two transactions:
A) In 2010, it bought NGAS for $25.5 million in an all-stock deal and increased its position in the Appalachian Basin by about 300,000 acres. Since the close of the NGAS transaction, only seventeen wells have been successfully drilled and completed.
B) In 2010, it also acquired Triad, a 24-year old privately-owned company, out of bankruptcy for about $81 million. Triad owned properties in the Marcellus and Utica Shale of West Virginia and Ohio.
In the Appalachian basin, the company has proved reserves of 36.5 MMBoe (March 2012) which is 50% from its total proved reserves of 73.1 MMBoe (December 2012). It also holds 467,000 net acres there, out of which 85,500 net acres are located in the Marcellus Shale and 81,800 net acres are prospective for the Utica shale.
In the Appalachian basin, Magnum will target the Utica shale and the Marcellus shale located in Ohio and West Virginia during 2013. According to Mr. Gary C. Evans, Chairman of the Board and Chief Executive Officer of Magnum Hunter, the company does not plan to drill in Tennessee in 2013:
"The Eagle Ford Division is providing consistent production growth with our two largest wells having been completed at year-end. The Williston Basin Division has been growing its production nicely and is in the current mode of high grading the higher EUR areas for its 2013 drilling budget. Additionally, now becoming an operator in Divide County, North Dakota, our first well is currently being drilled. The Utica Shale of Ohio will be a major focal point for our Company this year as we prepare to drill our first well in this exciting new resource play."
Magnum's properties in the Appalachian basin are colored with green and red: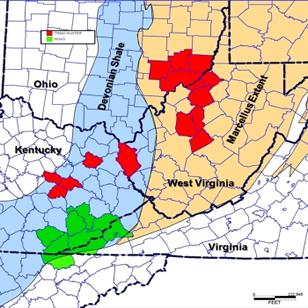 The Appalachian Solution: Eat, Drink And Drill It
Magnum has acreage in Claiborne County in Tennessee, in Bell, Harlan and Knox Counties in Kentucky, and in Lee County in Virginia as shown on the map above. Based on the facts above, Magnum seems to ignore the potential of its properties in Kentucky and Tennessee. It is clear that the company's target in the Appalachia basin are the Utica and Marcellus shale in Ohio and West Virginia. This is how it plans to grow its production, increase its cash flows and reduce its growing debt.
However, I have a different view and I believe that Magnum has to go South to Kentucky and Tennessee. Kentucky's Fried Chicken and Jack Daniel's whiskey are not the reasons for this move.
The reasoning behind my recommendation stems from the latest news of Miller Energy Resources (NYSE:MILL), an obscure company that has operations in Cook Inlet, Alaska and in the heart of Tennessee's Appalachian Basin including the Mississippian Lime and the Chattanooga Shale. Miller is the largest owner/operator of wells in Tennessee, over 49,000 acres. Its acreage is located in Scott, Campbell and Roane Counties which are at the borders with Kentucky. In other words, Miller's acreage is in a very close proximity to Magnum's properties in the area.
The Appalachian acreage is being de-risked currently, and the results have been very encouraging thus far. In January 2013, the rig of the first well there, CPP-H-1 well, encountered a pay section of approximately 2,300 feet in the horizontal section of the well. The well tested at a restricted rate of 487 boepd (75% oil). This heavily oil-weighted well marked the first successful horizontal well in the Mississippian Age Fort Payne formation in North America. Miller called it "an unprecedented achievement" and "a game changer," and it is in the process of obtaining a permit to re-inject the natural gas produced into the formation, to help maintain reservoir pressure.
The second successful horizontal oil well in Tennessee showed the same encouraging traits as the first well. Miller is in the process of completing its second horizontal well into the Fort Payne formation, Maynard H-1. Miller's management is processing information from the initial stimulation of the formation and has decided that additional isolation and stimulation is necessary, which is currently underway.
Miller's wells are 2,000-3,000 foot horizontal with 10-30 stage fracs. These wells have a very low cost and quick payouts. Their completion takes about three weeks, and the cost per well is ~$1.1 million. These wells remind me of the Viking wells in Canada, from a cost/well perspective. However, the type curve for a Viking well has an average IP30 rate from 60 boepd up to 100 boepd that is paying out in about 5-6 months.
Raging River Exploration (OTC:RRENF) is one of the main Canadian oil producers that drills Viking wells. Its stock performance says it all. Raging River Exploration was created after the acquisition of Wild Stream by Crescent Point Energy (CSCTF.PK) in 2012. Crescent Point Energy still holds 2.65 million shares into this new, growing Viking company, which kept the non-acquired balance of Wild Stream's production.
Two additional horizontal well sites in Tennessee have been designated for development by April 2013. At present, Miller has identified 25 sites on which similar horizontal wells may be developed on approximately 40,000 acres held by Miller under lease or by production in the state. The company has previously recovered approximately 9% of the oil believed to exist on its acreage and expects that future horizontal wells will significantly increase this recovery factor.
The news above is obviously very interesting for the shareholders of Atlas Resource Partners (NYSE:ARP) and Range Resources Corporation (NYSE:RRC) too. Atlas Resources Partners has over 100,000 net undeveloped acres in the Chattanooga Shale in northeastern Tennessee. Atlas operates over 450 wells in the region, and also has two gas processing plants, Fruehauf and Big Mountain plants, in eastern Tennessee with a combined capacity of ~35 Mmcf/d. Range Resources holds acreage in the Nora field in Wise, Dickenson, Buchanan Counties of Virginia right at the borders with southeastern Kentucky.
Conclusion
I do not really know whether the management team and the insiders of Magnum will ever read this article. However, Magnum's management team has to keep a very close eye on the drilling activity in Kentucky and Tennessee, because they might have to re-determine their growth strategy in order to achieve an oil-weighted production by year end.
Disclosure: I have no positions in any stocks mentioned, and no plans to initiate any positions within the next 72 hours. I wrote this article myself, and it expresses my own opinions. I am not receiving compensation for it (other than from Seeking Alpha). I have no business relationship with any company whose stock is mentioned in this article.