A reminder from Germany's Bundesbank on Tuesday that the European sovereign debt crisis is far from over caused safe haven demand for precious metals to spike and prices jumped, but, while gold held those gains in the days that followed, silver did not.
Mostly positive economic data in the U.S. contributed to new record highs for U.S. stocks, continuing to sap demand for precious metals amongst American investors, and this led to further declines in gold ETF holdings, though silver ETF holdings rose. In emerging market nations, demand for the metals from investors and central banks remains strong amid reports of rising inflation in China, a development that appears to be in its early stages in the U.S.
A weaker U.S. dollar was a key factor behind the gold price rising for the second straight week in March after a disastrous February and word that the CFTC (Commodities Futures Trading Commission) may investigate precious metals price fixing in London raised anew the question of market manipulation.
For the week, the gold price rose 0.8%, from $1,579.20 an ounce to $1,592.60, and silver fell 0.7%, from $29.00 an ounce to $28.79. Gold is down 4.9% for the year, now 17.2% below its 2011 high, and silver is 5.1% lower in 2013, down 41.8% from its high almost two years ago.
While there are no guarantees, it is increasingly likely that the gold price has put in a lasting bottom as shown in the developing reverse head-and-shoulders pattern below via StockCharts.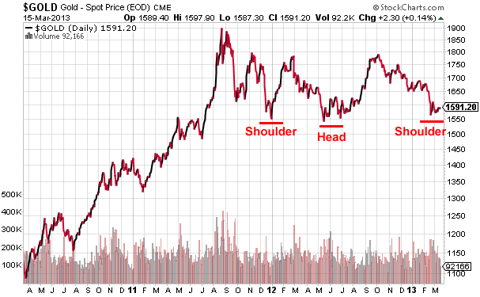 A violation of the 2012 low near $1,540 an ounce would cast doubt on that conclusion, but, to the surprise of many, the gold price has recently moved higher after record hedge fund short positions and record outflows from gold ETFs.
This is indicative of strong demand at lower prices, most of which is coming from central banks and individual investors in emerging market nations.
Short interest in gold futures is said to now comprise a staggering 10+% of open interest. Should prices remain steady over the near-term or continue to rise, many of these traders will decide to close out these positions, perhaps creating a record short-squeeze to rival the current record bearish bets.
Gold came tantalizingly close to surpassing the $1,600 an ounce level last week after Bundesbank chief Jens Weidmann said the eurozone crisis "is not over" and that the German central bank had set aside billions more euros in "risk provisioning" against what it sees as risky monetary policy by the European Central Bank.
A sustained move above $1,600 an ounce will go a long way in convincing short-seller to realize profits and, based on last week's market action, recent developments in Italy may be just what is needed as a catalyst. After inconclusive elections last month cast doubt on whether austerity measures would continue, new elections are increasingly seen as a worst-case scenario that would prolong this uncertainty and possibly have ripple effects.
Importantly, a renewed sovereign debt crisis in Europe would also pressure the euro and, since the gold price and the trade-weighted dollar often move in opposite directions as detailed in here last week, a higher gold price under these circumstances is by no means certain.
In both China and the U.S., higher inflation was suddenly back in the news and this likely contributed to some of the renewed gold buying last week. Driven by a surge in food prices, the annual inflation rate in China rose to a 10-month high of 3.2% and surging energy prices resulted in the biggest jump in U.S. inflation since 2009.
As detailed in Why Today's Inflation Report Is Good For Gold, these could be very important developments in precious metals markets as a move to persistently higher levels of inflation in a world awash in newly printed central bank money may be a key factor in driving gold and silver prices higher this year.
Physical demand for precious metals in China remains strong as retailers reported booming sales during the recent Lunar New Year celebration and average daily trading volume on the Shanghai Gold Exchange jumped by nearly 25% in the first two months of the year.
Yi Gang, a deputy governor at the People's Bank of China, surprised gold market analysts when he said the bank would probably limit their gold holdings to 2% of reserve assets. "If the Chinese government were to buy too much gold, gold prices would surge, a scenario that will hurt Chinese consumers," Yi said during a press conference on Wednesday. "We can only invest about 1-2% of the foreign exchange reserves into gold because the market is too small."
Recall that China's "official" gold holdings stand at 1,054 tonnes, representing 1.8% of China's reserves, though the Chinese are believed to have already accumulated another 1,000 tonnes or more since last reporting on their holdings almost four years ago.
So, what is to be made of Yi's comments?
I have only one thought to offer - if I wanted to buy thousands more tonnes of gold (at a good price), I'd say the same thing.
The World Gold Council came out with a new report last week on the role of gold as a central bank asset and, like most of the other papers this group produces, it is well worth a look. Amazingly, since 2000, total central bank foreign exchange reserves have risen from about $2 trillion to $16 trillion (an annual increase of 16%!) and, despite all the central bank gold buying in recent years, the share of gold in those reserves is essentially unchanged.
More importantly, the study recommends an 8% allocation to gold which, in the case of China, would translate to the purchase of almost another 5,000 tonnes of the metal.
Here in the U.S., the SPDR Gold Shares ETF (NYSEARCA:GLD) continued to shed more gold bullion last week after record monthly outflows in February as shown below.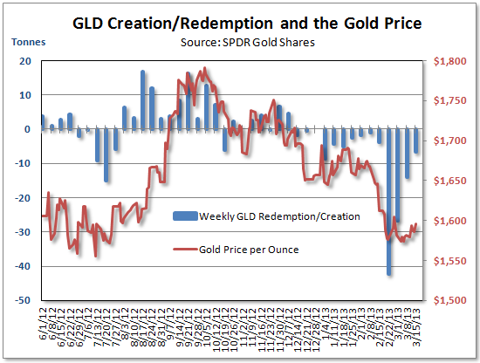 There is cause for optimism, however, since the pace of sales has slowed dramatically as the gold price has stabilized.
Gold is actually more than $20 an ounce higher than it was in mid-February during the biggest outflows, all the more reason to think that, while GLD holdings may be an interesting gauge of U.S. sentiment, they have little impact on the gold price.
Since big investment banks have repeatedly cited lower gold ETF holdings as justification for lowering their gold price forecasts, this latest data makes their prognostications even less convincing.
Overall silver ETF holdings continued to rise last week as the popular iShares Silver Trust ETF (NYSEARCA:SLV) added 87 tonnes.
This brings the ETF's year-to-date increase to almost 650 tonnes and offers more confirmation that investors in the U.S. are favoring silver over gold so far in 2013.
More signs of strong silver demand are seen in rising coin premiums as detailed in What, If Anything, Do Rising Silver Coin Premiums Foretell? For reasons explained in this article, this is a somewhat ominous development in that there are parallels between the 2007-2008 period and the current 2012-2013 period.
Lastly, in what was the most interesting development in precious metals markets last week, the CFTC (Commodity Futures Trading Commission) began internal discussions on whether gold and silver prices are being manipulated in London. Though an investigation has not yet been started, this is already being compared to the Libor rigging scandal in which British banks colluded to manipulate benchmark interest rates, resulting in billions of dollars in fines.
More than anything else, this calls further into question whether gold and silver prices are set by market forces or by vested interests and, sadly, given the CFTC's track record of investigating manipulation in the silver market, it seems unlikely that anything will ever come of this.
Disclosure: I am long GLD, SLV. I wrote this article myself, and it expresses my own opinions. I am not receiving compensation for it (other than from Seeking Alpha). I have no business relationship with any company whose stock is mentioned in this article.
Additional disclosure: I also own gold and silver coins and bars.