By Siraj Sarwar
Seth Klarman founded the Baupost Group in 1982. Since then, he has become widely known as a value investor. The Baupost Group's assets currently stand at $3.1 billion, having grown from a modest beginning of $30 million when the hedge fund was first established. It is now the 11th largest hedge fund in the world and is widely regarded as successful. There are currently 21 different stocks in the Baupost Group's portfolio, with an aggregate value of $3.1 billion.
At the end of Q4, the Baupost Group initiated positions in two stocks and made additional purchases of five stocks with three eliminations from its portfolio. In this article, I examine Klarman's latest picks. These are Microsoft Corporation (NASDAQ:MSFT), American International Group Inc. (NYSE:AIG), Viasat Inc. (NASDAQ:VSAT), News Corporation (NASDAQ:NWS), and NovaGold Resources Inc. (NYSEMKT:NG).
| | | | | | |
| --- | --- | --- | --- | --- | --- |
| Stocks | Shares Held | Market Value | % of Portfolio | Rank | Percent of Change |
| MSFT | 2,000,000 | $ 53,419,000 | 1.72% | 21 | New |
| AIG | 7,000,000 | $ 247,099,995 | 7.98% | 6 | New |
| NWS | 13,020,612 | $ 341,660,856 | 11.03% | 4 | 34% |
| VSAT | 11,000,000 | $ 427,900,017 | 13.81% | 2 | 2% |
| NG | 21,688,300 | $ 97,814,238 | 3.16% | 10 | 3% |
WhaleWisdom.com
Microsoft Corporation is engaged in developing, manufacturing, licensing and supporting a range of software products and services for different types of computing devices. At the end of Q4, the Baupost Group initiated a large position in the company by purchasing 2.0 million shares. This is the first appearance of Microsoft in the Baupost fund. The company constitutes 1.17% of the portfolio and ranked at 26th place in the hedge fund's portfolio.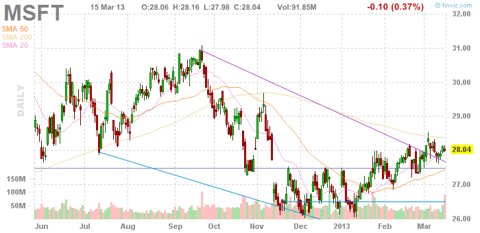 P/E : 15.4

Forward P/E: 8.8

ROE: 22.62%

Profit Margin: 21.20%

Dividend Yield: 3.29%
Baupost is well-known for picking stocks when they trade below intrinsic value and offer significant upside potential. As shown in the above chart, after reaching a 52 week high, the company dropped down back to a 52 week low of 26.4. At that time, the fund manger initiated a position while seeing an attractive entry point. Baupost purchased 2 million shares at an average price of $26.70 per share.
Since then, the stock has been on a surge and gained nearly 5%. The stock is still undervalued at present, with the analyst's suggesting a mean target price of $32. On the other hand, MSFT is famous for paying one of the best dividends. At present, the company offers a quarterly dividend of 0.23 cents/ share.
American International Group is an international insurance company serving customers in nearly 130 countries. At the end of Q4, Baupost started a large position in American International by purchasing 7 million shares, representing 7.98% of its portfolio. AIG is ranked at 6th place, and this is its first appearance in the hedge fund portfolio.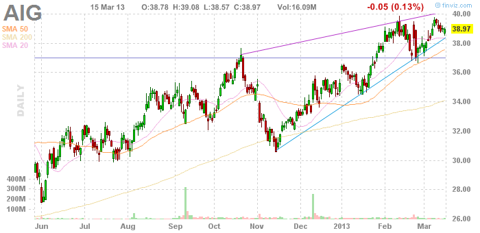 After the dramatic crash and bailout by the federal government, American International has been growing and creating value for shareholders. Seeing this as an opportunity, many hedge funds are initiating positions in the company. American International remains a favorite of many fund managers. At the end of Q4, 231 funds created a position and 411 funds added to their positions. Furthermore, 148 funds ranked this stock in their top 10 holdings.
Over the past year, the stock has been going up with few shortfalls. The stock is currently on a surge and gained nearly 30.60% in the last year alone. It has a significant upside potential. The stock is currently trading at a discount to the book value of $57. With a forward PE of 9.76, the stock will steadily grow further. In addition, the company has a solid financial position to support further growth.
News Corporation is a global media company with operations in filmed entertainment, television, cable network programming and others. At the end of Q4, the Baupost Group increased its stake in News Corporation by 34%. At present, the hedge fund holds 1.3 billion shares of the company. The company has been a consistent favorite of the fund manager over the previous few quarters.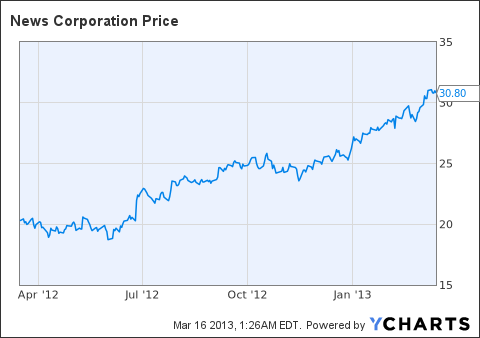 NWS data by YCharts
As the above chart demonstrates, the stock is consistently following an upward trend. Over the past year alone, the company has been able to increase its price by 30.80%. With a forward P/E of 10.4, the stock is looking to keep its upside potential. Moreover, the stock's surge is strongly backed by continuing profitability. At the end of Q2, the company was able to simultaneously grow revenue, earnings and cash reserves.
Viasat Inc. offers fixed and mobile broadband services, satellite and wireless networks and securenetworking systems, products and services. Viasat is a consistent favorite of the fund manger over the previous few quarters. At the end of Q4, the hedge fund increased its stake in the company by 0.25 million shares. At present, fund manager holds 1.1 billion shares.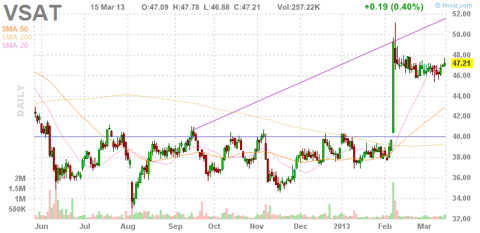 Viasat was unprofitable on a trailing basis; therefore, the stock trades at a constant rate of $35 to $40 with short ups and downs. However, after the positive third quarter earnings announcement on February 6, its stock gained nearly 25%. Since then, the stock gained nearly 17%. In addition, Wall Street analysts project it to earn $0.90 cents per share by the year ending in March 2014. I believe the stock will gain further with positive earnings announcements; though, the company recently has shown a huge increase in revenues.
NovaGold Resources Inc. engages in the exploration and development of mineral properties in British Columbia and Alaska. At the end of Q4, Baupost fund increased its stake in the company by 3%. At present, the fund manger holds 2.1 billion shares and ranked it at 10th place in its portfolio.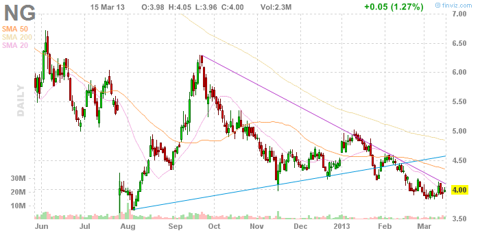 On July 26, NovaGold shares had fallen by 30% when it announced to hold off the expansion of the Donlin gold operation mainly due to the difficult economic climate. Since then, the company shares are following a downward trend. At present, the stock is trading well-below its 52 week high of $8.69 per share, representing a drop of 55%. The stock looks like a long-term play as the company is not looking to produce excessive gold from its Donlin mines at present.
Disclosure: I have no positions in any stocks mentioned, and no plans to initiate any positions within the next 72 hours.
Business relationship disclosure: EfsInvestment is a team of analysts. This article was written by Siraj Sarwar, one of our equity researchers. We did not receive compensation for this article (other than from Seeking Alpha), and we have no business relationship with any company whose stock is mentioned in this article.