Lululemon Athletica (NASDAQ:LULU) is a former highflyer, and one of the leaders of the 2009 bull market. The strong run of the stock was driven by explosive earnings and sales growth. The growth is still there, but has decelerated recently, and growing competition might put pressure on the company's performance.
Despite the market moving higher, shares of Lululemon were not able to reach new all time highs since late April 2012. Although earnings and sales are still growing at a lofty level, and the valuation is lower, that was not enough for the company to come closer to a fair valuation. With a trailing PE ratio of 42, forward PE of 30, and a PEG ratio of 1.40, the company still looks overpriced. However, paying a premium on great growth is often the case in the stock market.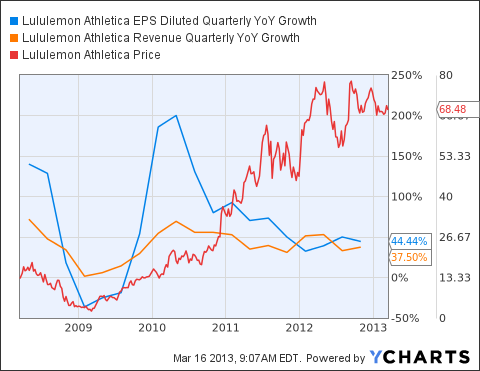 Growing competition
Lululemon seemed to have a niche market to itself until recently, and has managed to take advantage of it in a big way. But there are competitors coming to the market. Gap Inc's (NYSE:GPS) Athleta is targeting 50 U.S. stores by end of 2013. Montreal-based Lolë is also expanding in the U.S, although it poses a much smaller threat than others, as it aims to have 50 stores in five years from the current count of 11. Under Armour (NYSE:UA) is also expanding into workout gear. The company has opened a store in Baltimore with an outreach to women, as part of an effort to broaden beyond performance apparel.
Lululemon still has great-long term potential. The company is seeking further international growth. The management noted in the December 2012 conference call that they are investigating opportunities in at least 15 different countries over the next few years, especially in high-growth areas like Hong Kong. It also has a loyal customer base that might allow it to withstand the competition pressure, but margins will probably go down as competition pressure mounts.
Price action
On a weekly timeframe, there is a bullish ascending triangle, as the stock did not manage to close above the April 2012 peak after getting near that level two times since, and the corrections found higher lows since.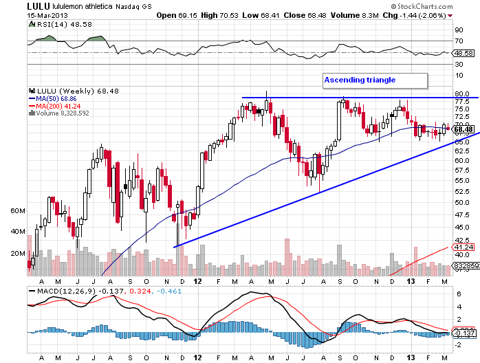 Source: Stockcharts
On a daily timeframe, Lululemon's share price has been consolidating since mid-September 2012. It appears to have found a bottom in the $65 region. The share price is also hovering around the 50 day and 200 day moving average lines. In the short term view, a breach of the $65 price level would be a very bearish sign. An upside breach of the $71 level, which has proven to be the short term resistance, would be positive for the share price.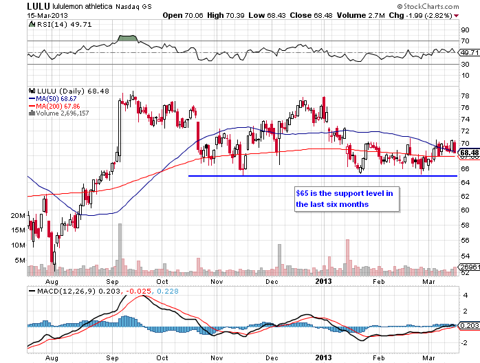 Source: Stockcharts
Rising short interest
The short interest is rising steadily since late October, meaning a more pronounced bearish bias of traders. The 20.9 million shares short offer a pretty high ratio, given the free float of 101.4 million shares. Next week's earnings release might provide a resolution of the current tight trading range, as there were bad reactions to the previous earnings release, and a weak guidance in January, as revenue forecast was below analyst estimates. If the earnings would surprise in a positive way, the increased short interest could have a more pronounced influence, as the shorts might cover their positions in a more meaningful way. On the other hand, a bad earnings report would probably prompt more traders to short the stock, especially if we see a breach of the $65 level.
Source for data: Nasdaq.com
Conclusion
Lululemon is still a great growth story. Earnings and revenue will rise in above average levels in the future, despite growing competition. However, the market seems to be discounting the new reality. Earnings at the end of the week might provide further clues for the short term prospects of the share price, and give the stock direction after this recent tight trading range. Until the earnings report and/or a resolution of a short term trading range, caution is advised.
Disclosure: I have no positions in any stocks mentioned, and no plans to initiate any positions within the next 72 hours. I wrote this article myself, and it expresses my own opinions. I am not receiving compensation for it (other than from Seeking Alpha). I have no business relationship with any company whose stock is mentioned in this article.
Disclaimer: This writing represents my personal opinion, and is for informational purposes only.