Background
Freeport-McMoran Copper (NYSE:FCX) is a leading mineral and metal exploration company. As you may know, major sources of revenue for the company come from copper, gold, molybdenum and cobalt operations located in Indonesia, Congo, North and South America. The company has strong management and solid financials, as I will mention in more detail below.
This year, the company made two major acquisitions of oil and natural gas companies -- McMoran Exploration (NYSE:MMR) and Plains Exploration (NYSE:PXP). The purchases totaled about $9B dollars but the debt they took on adds another $11B. The acquisitions caused Freeport's stock price to drop from $38 to just above $30 per share. It currently sits at $33.80 per share, above strong multi-month support at $31 and $29.
Acquisitions
The Plains acquisition looks to me to be the better of the two deals because Freeport is getting a company with expected earnings growth of 22% per year over the next five years. They paid a 39% premium over the share price at the time of offer, which isn't outrageous. Also, they are getting Plains at a price to cash flow of 4.1 compared to an industry average of 7.8. An example of the immediate benefits are that Plains had EBIT of $811M in 2012, but $297M of that went towards interest payments. Freeport just issued $6.4B in bonds, and expects to use that along with other credit lines to pay down the higher cost Plains debt. That will immediately result in a lower interest payments and more free cash.
The purchase of McMoran Exploration is more questionable. First, paying a 74% premium for a company that has been unprofitable for many years in a row and approaching bankruptcy seems like a poor management decision. With this acquisition price McMoran Exploration now has a price to cash flow of 93.6(!) compared to the 7.8 industry average. McMoran Exploration's price to sales is 7.01, which is also higher than the industry average of 2.3. Freeport can say it got some good commodity reserves in a stable part of the world from both acquisitions, but the price of McMoran seems way too high. Freeport and McMoran Exploration shared many board members and the board members did benefit from a high bid since they owned shares.
Lawsuits were filed after the acquisition was announced, alleging that Freeport paid too much for McMoran Exploration. Freeport shareholders are arguing that Freeport executives have paid too much for the other two companies. Shareholders of the other companies have also sued, believing that the offer price was too low, although this is not uncommon. While legal experts believe the deals will go through, some money may still change hands if the court thinks the price was influenced by insiders.
I believe that the courts will rule that the purchase price for McMoran Exploration was valued too high. I believe that if the companies were separate, the courts would have far less of a reason to challenge the decision of the board. But with members that owned stakes in the purchased company, the court is more likely to rule that there was self-dealing. This type of ruling would be a boost for the stock because Freeport wouldn't be paying as much to acquire McMoran Exploration.
The Plains and McMoran acquisitions allow Freeport to diversify into two other major commodities -- oil and natural gas -- and to do so in a more friendly part of the world. This allows Freeport to smooth out earnings despite copper fluctuations.
Ongoing
From the perspective of Freeport as a long term investment, it is still the lowest cost producer of copper in the world, giving it industry leading operating margins. This hasn't been easy for other metals mining companies, especially gold miners as I noted here. Freeport has huge reserves spread across numerous mines. It has good management, despite the questionable McMoran Exploration deal. It has a forward P/E of only 7.09. It has nice dividend yield of 3.70%. It is still facing increasing demand for copper as China and the rest of the emerging market build infrastructure and wire their new homes. Supply remains stable because mining is a hard industry to get into because of the expense of finding the metal or mineral and then developing it. This puts Freeport and the other major miners in strong positions. And their gold production is likely to remain at high prices because the world's central banks are still printing money and decreasing the values of their currencies, while gold is not growing nearly as fast. The bad news is that while Freeport will be paying lower interest rate on the acquisition companies' debt, it will add significantly to Freeport's total debt.
Despite the diversification to oil and gas, a large majority of the company's revenues will continue to be from copper and gold, so the copper outlook remains a major factor in short and intermediate term Freeport outlook.
Fitch Ratings believes that demand will remain strong going forward:
...long term copper fundamentals benefit from limited new supply, modest inventories, strong demand from China and solid demand from developed nations.
This is important because the earnings and stock prices of commodity stocks are almost totally dependent on the prices of the commodities they sell, regardless of whether they hedge or not. Fitch again mentioned this in their rating report of the Freeport debt issued to help pay for the Plains and McMoran Exploration deal:
...earnings and cash flows are highly leveraged to metals prices and a $0.10/lb. decline in copper prices could cut EBITDA by $405 million and operating cash flows by $275 million over a 12-month period. In particular, FCX's average copper realizations were $3.60/lb. for the full year 2012. Fitch's Base Case copper price assumptions are $3.40/lb. in 2013 and $2.70/lb. longer term.
For these reasons, the stock tracks copper extremely closely, as you can see in the chart below.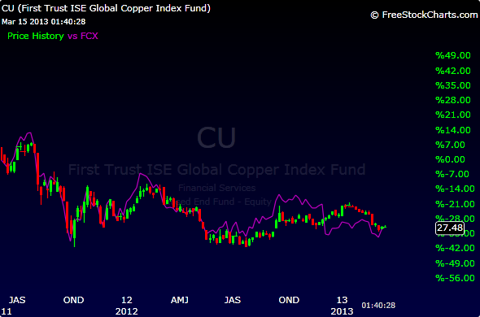 So we know Freeport tracks the price of copper closely (at least until it is proven that their oil and natural gas contribute to earnings), but what determines copper prices? Well, it is mainly related to global economic growth, particularly in China. Look at the chart below comparing the China ETF (NYSEARCA:FXI) and another copper index. They are highly correlated, with copper following the China ETF move for move.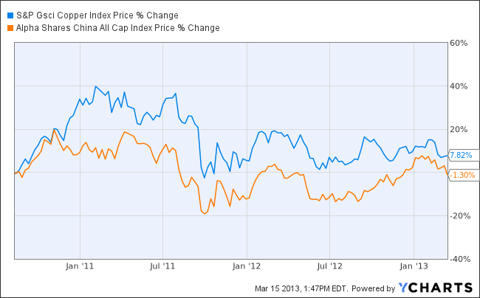 So the key for copper producers and Freeport (until the acquisitions pay off) remains China. The key question concerning China is whether it will have a "hard landing" from its most recent building boom, or whether it will have a more gentle "soft landing." The Chinese government has done a decent job with the economy up until now and the FXI reflects that. But the Chinese government is still taking steps to ensure inflation is kept under control and its possible that they could send China into a recession. Recently the Chinese "government announced measures to tame home prices, including a 20 percent tax on individuals selling properties" said Helen Lau, a Hong Kong- based analyst with UOB Kay Hian Ltd. This has resulted in the Chinese market and metals prices declining recently.
I don't believe that you can trust Chinese government data, so you have to watch the Chinese market itself; watch the copper price; or look at other data. Here is a chart of the Chinese market since 2008. You can see that it is in a large pennant. While it seems that China is avoiding a "hard landing," it is tough for me (an avowed chart lover) to declare one way or the other how they will "land" until I see how the Chinese market breaks out of this pattern.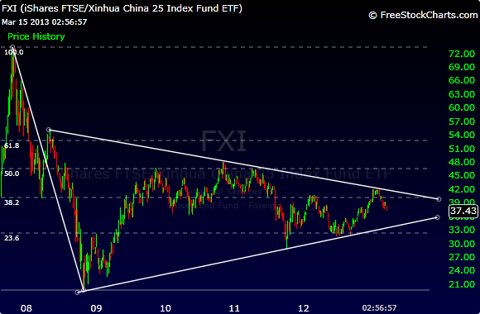 Especially concerning is data that came to light recently. Chinese electricity production had the largest seasonal drop (25%) in its history. When you consider the role that electricity plays in modern manufacturing and economic activity, you really wonder what the heck is going on there.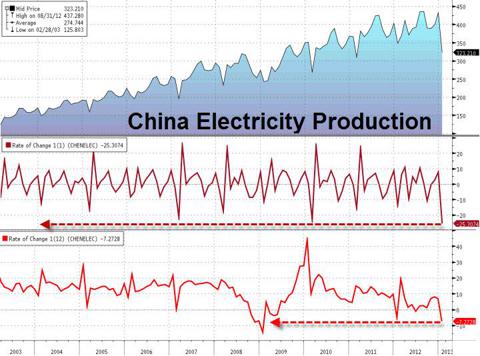 That is reason to be more cautious. Assuming China continues to work through its troubles, demand for copper should continue to increase, and get an additional boost as the United States housing industry continues to rebound. If China enters a major recession, copper is likely to sink further, and hurt Freeport. So this presents a bit of a problem.
What Else Can Cause Problems?
1) As mentioned above, China could cause copper prices to drop if their economy slows dramatically.
2) As mentioned near the top, mining labor relations are quite tense in many parts of the world, and Freeport's Indonesian, African, and South American mines are not different. Specifically, there is uncertainty over what the Indonesian government will do going forward concerning the huge Grasburg Mine. Similarly, the company has other mines in areas of the world where labor unrest is a concern. One only look to fellow gold miner, Harmony Gold, to see the affect labor disputes can have on the operation of a mine and on the stock price of the company.
3) Indonesia wants Freeport to build a smelting plant in Indonesia, but Freeport already has a plant in Spain and likely doesn't want to put up all of the capital to build a new facility. As can be seen in Venezuela and Argentina, a crazy government can nationalize businesses. While Indonesia has a decent relationship with Freeport, you never know who could take office. Argentina seemed fine a few years ago.
4) There is always a chance that the acquisition will not go well. Ideally, the operations of the companies should integrate well and provide synergies and cost savings. Sometimes that does not happen though.
The Play
There are risks with all investments. But I believe that Freeport is a strong stock pick for the long term given the fact that: 1) many of the risks above are unlikely; 2) the company has very strong management and financial strength; 3) the demand for copper, gold, other metals, oil, and natural gas are likely to stay strong and increase unless China goes into a severe recession; 4) the diversification into other commodities will make them less dependent on copper; and 5) the company offers a very nice dividend.
Because of near term uncertainty in Chinese demand for copper, I would enter Freeport strategically and manage the position. I would look to purchase on pullbacks, which I expect to begin this week. If the holding period is intended to be many years, scaling into the position over the course of a few months is also a possibility. I would also look to use a buy-write strategy on Freeport until there is more clarity in Chinese demand. Finally, with my long-term dividend holdings, I enroll them in DRIPs so that the repurchase is spread across good and bad periods.
Disclaimer: We do not know your personal financial situation, so the information contained in this article represents my opinion, and should not be construed as personalized investment advice. Past performance is no guarantee of future results. Do your own research on individual issues.
Disclosure: I have no positions in any stocks mentioned, and no plans to initiate any positions within the next 72 hours. I wrote this article myself, and it expresses my own opinions. I am not receiving compensation for it (other than from Seeking Alpha). I have no business relationship with any company whose stock is mentioned in this article.