Lately, I have been taking a closer look at the integrated oil and gas industry in a bid to find attractive relatively low risk value investment opportunities that pay a secure income stream. As a result, since the start of this year, I have been taking a closer look at large cap integrated oil and gas companies that meet those characteristics and appear to be under-valued based on their valuation metrics. In this article, I am going to compare five integrated large cap oil and gas companies to determine whether they offer value for investors. The five companies to be reviewed will be Colombia's Ecopetrol (NYSE:EC), Brazil's Petrobras (NYSE:PBR), Exxon (NYSE:XOM), Chevron (NYSE:CVX) and BP (NYSE:BP). I believe that each of these companies offers value for investors in different ways, and I will explain this in the article.
Share Price Performance
The reason I have selected these five companies is because each of them has performed poorly over the last year. As the chart below shows, Exxon is the only company to have seen its share price over the last year increase by around 10%. Chevron's share price has remained flat, while the other three have declined in value, with Ecopetrol down by 5%, BP by around 10% and Petrobras by almost 40%.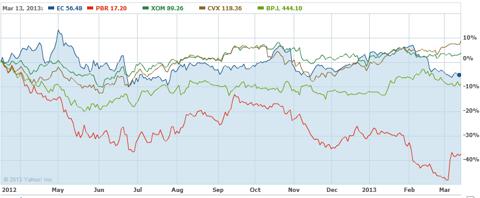 Source: Yahoo Finance.
The reason for this poor performance has been that each of these companies has been experiencing particular issues that have created negative sentiment with regard to their valuation by the market. This I believe indicates that there are value investment opportunities among each of these companies and to identify this, I have analyzed each of the companies' proven reserves, production life, valuation metrics and risk metrics.
Proven Reserves
Each of these five companies is in a very different position when its 1P reserves are considered. As the chart below illustrates, Ecopetrol has the lowest level of proven reserves at 1.88 billion BOE, while Exxon has the largest at 25 billion BOE, with Chevron, Petrobras and BP in between those ranges.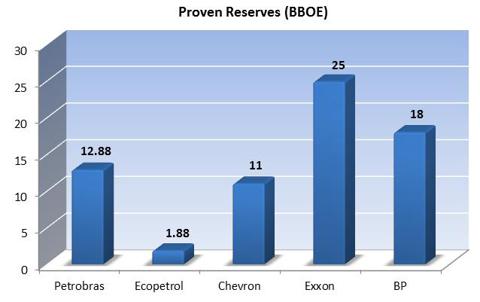 Source data: Petrobras, Ecopetrol, Chevron, Exxon and BP Financial Filings.
This indicates that a key risk facing investors in Ecopetrol is the company's low reserves, while each of the other oil majors have solid proven reserves. This risk is further underscored when the level of daily average production is considered. As the chart below illustrates, while having a high level of production, Ecopetrol has a low proven reserve production life of 7 years, because of its low proven reserves.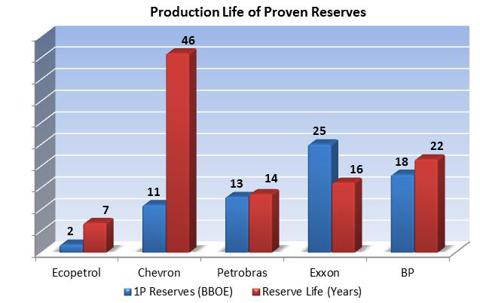 Source data: Petrobras, Ecopetrol, Chevron, Exxon and BP Financial Filings.
This is far lower than all of the other major integrated oil companies analyzed in this article, with this being half of Petrobras' 14 years, an eighth of Chevron's 46 years and just under half of Exxon's 16 years. This emphasizes the importance of proven reserves for investors, particularly because a short production life indicates the company needs to invest more of its operating cash flow in capital expenditure for exploration and well development.
Valuation Metrics
I have reviewed each of the companies' fourth quarter and full year 2012 results and assessed these results to build a set of valuation metrics to see how each company stacks up. The chart below sets out these metrics and it becomes clear that on price per flowing barrel, the most appealing companies are Petrobras at $68,339 and BP at $60,852, while the most expensive on the basis of this metric are Ecopetrol at $160,465 and BP at $60,852.

When examining enterprise value to 1P reserves, again both Petrobras and BP represent solid value at 13 and 9 respectively, whereas Ecopetrol appears to be quite expensive with a ratio of almost 64. This is a result of that company's low proven reserves in comparison to its peers.
However, these are not the most important metric for valuing these companies, because as major integrated oil companies, they derive a large portion of their revenues. As a result, I prefer to use the enterprise value to EBITDA multiple and the price to operational cash flow per share, which gives a better comparative indication of the value of the companies and their cash flow generating ability.
The best value companies on an enterprise value to EBITDA basis are Chevron with a ratio of 4, followed by Petrobras with a ratio of 6 and Ecopetrol with a ratio of 7.5. The most expensive is Exxon, which has a double figure ratio of 62, indicating that on the basis of this multiple, the company is quite expensive.
On a price to operational cash flow per share, the best value companies are Petrobras with a ratio of 5, Chevron with a ratio of 7 and Exxon with a ratio of 7. This is indicative of the stronger revenue generating ability, efficiencies of scale and cost control those companies are able to utilize.
After considering each of these ratios, I believe that Petrobras and Chevron represent the best value for investors, but each of the companies compared have their own unique risks. In order to assess these, I have started with a review of their debt and balance sheet metrics to ascertain the level of risk and how this compares to their peers.
Risk Metrics
The key risk metrics that I have assessed are the companies' level of leverage and their ability to meet their debt repayments. On this basis, the company that stands out as the least risky is Exxon, which as the chart below illustrates, has a particularly low level of leverage with a debt to equity ratio of 0.05, a solid debt to EBITDA ratio of almost 2 and a cash flow to debt ratio of almost 5.

The highest risk company on the basis of these metrics is Petrobras, which has a particularly low cash flow to debt ratio of 0.2 and the highest degree of leverage of the peers being reviewed of 0.5. It also has a particularly high debt to EBITDA ratio of 3.5, further confirming the company's high level of leverage in comparison to its ability to generate cash flow and its profitability.
However, in the case of Petrobras, I expect to see these ratios improve as the Brazilian government has recently increased gasoline prices, reducing the need for Petrobras to import and sell gasoline at a loss to meet quota requirements. This should see the company's operational cash flow and EBITDA improve.
Shareholder Remuneration
Each of these companies has a shareholder remuneration program that is primarily comprised of dividend payments, and each has an impressive dividend history. This I believe makes them an ideal candidate for inclusion in any income focused investment portfolio. The chart below sets out the dividend yield for each of these companies and illustrates that the highest yield is Ecopetrol, followed by BP and then Petrobras.

Source date: Yahoo Finance, Fidelity, Ecopetrol, Petrobras, Chevron, Exxon and BP Investor Relations.
Each of these companies has a low dividend payout ratio, which as a quick and dirty measure of dividend sustainability indicates that each company should be able to sustain its dividend payments at current levels.
Another important aspect for investors to consider when investing for income in foreign domiciled companies is the taxation of those companies' dividends. In the case of Colombian companies such as Ecopetrol, dividend withholding tax of 33% is applied to all dividends paid from profits that have not had corporate tax paid. However, Ecopetrol's dividends are withholding tax free because they are paid from taxed corporate profits.
For Brazilian companies such as Petrobras, dividend payments are withholding tax free, but interest payments on shareholder equity are subject to 15% withholding tax. The dividend payments of companies domiciled in the U.K., such as BP, are not subject to dividend withholding tax. When taking all of these factors into account, I believe that either Ecopetrol or BP represent the best value for income hungry investors.
Company Specific Risks and Issues
When considering which major integrated oil company in which to invest, it is important to have a firm understanding of the specific risks that apply to that company. In the case of Ecopetrol, the key risks relate to the fluid security situation in Colombia, which has seen the company experience production disruptions and increased costs due to bombings of key oil infrastructure and pipelines. There are also infrastructure issues that affect transportation and operational costs.
However, these are being mitigated with the commencement of peace talks between the Colombian government and the main insurgent group the Fuerzas Armadas Revolucionarias de Colombia, or FARC. There is also the chance that investors may see a dilution in their shareholdings with the Colombian government considering a further equity raising from its controlling stake in the company.
Petrobras is another company subject to significant risk primarily due to the ongoing interference in the company by the Brazilian government, local content policies and the fixed gasoline prices, which were impacting profitability during 2012. However, it appears that the Brazilian government has recognized that if the company is to prosper, management needs a freer hand when making decisions, along with increasing gasoline prices so the company can boost revenue.
Chevron is currently experiencing an annus horibilis, finding itself besieged by a number of legal suits in Latin America. This includes the $17.2 billion award made against the company to the Lago Agrio plaintiffs who have commenced action in other jurisdictions in order to recover the amount outstanding. This has recently seen the company's assets frozen in Argentina because of that country being a signatory to the Inter -American Convention on Execution of Preventive Measures.
By being a signatory to this treaty, Argentina is obliged to recognize the jurisdiction of the Ecuadorian judgment and in accordance with the provisions set out in the treaty, Argentine courts have started action to enforce the judgment. Chevron had also entered into a joint venture with the state controlled Argentine integrated oil company YPF (NYSE:YPF) to develop the shale oil fields of the Vaca Muerta in Argentina, but it has advised YPF that it won't proceed with that venture until the threat to its Argentine assets is removed.
Chevron is also facing legal action in Brazil as the result of two relatively minor oil spills in the Frade field off the Atlantic coast of Brazil. This has seen the company subject to a potential quantum of $22 billion as a result. The company has also seen extensive cost blowouts at its Gorgon Head development in Australia, and has had production issues throughout 2012 impacting on its ability to generate revenue.
BP suffered heavily as a result of the Macondo oil spill in the Gulf of Mexico, but it now appears that the company has moved close to resolving this issue, making the final payment of $860 million to the Gulf of Mexico Trust Fund. But the company has warned shareholders to expect a higher than expected settlement quantum than initially estimated, with business having being paid at a much higher average than initially estimated.
Furthermore, those companies such as Chevron, BP and Exxon, which operate across a variety of diverse international locations, will see those operations subject to political and economic risk associated with the countries in which they are operating.
Bottom Line
Of the five companies analyzed, I believe the best value for risk tolerant investors lies with Petrobras, Chevron or BP, all of which I believe are unfairly valued by the market. Of those three, Petrobras represents the highest degree of risk given the rising level of political and economic risk in Brazil, but because of its large proven reserves I believe it offers the best upside for investors. With regard to Chevron, while the company is subject to a potential quantum of almost $40 billion stemming from its legal issues in Latin America, I am of the firm view that even in a worst case scenario, the company is capable of absorbing that quantum.
I believe that Ecopetrol, being a star performer over the last two years and one of my preferred investments, is fairly valued by the market at around $55. For those investors seeking a lower risk integrated oil major for their portfolio, Exxon the king of oil would be the best choice, but its low dividend yield and relatively flat performance do raise questions as to whether it is a worthwhile addition. Finally, investors should be aware that this is a high level summary only and prior to making any investment in the companies listed, they should take the opportunity to further examine both their financial performance, operational performance and the level of risk inherent in their operations.
Disclosure: I have no positions in any stocks mentioned, and no plans to initiate any positions within the next 72 hours. I wrote this article myself, and it expresses my own opinions. I am not receiving compensation for it (other than from Seeking Alpha). I have no business relationship with any company whose stock is mentioned in this article.