Delcath Systems (NASDAQ:DCTH) is a cancer biotech focused on the development and commercialization of a medical device/drug combo product designed for the local delivery of high-dose chemo drugs to the liver with a goal of improving treatment outcomes while minimizing side effects typically associated with systemic/whole body exposure.
FDA CATALYST SUMMARY:
Delcath has a PDUFA decision goal date of 6/15/13 under a standard 10-month review period for a 505(b)(2) New Drug Application (NDA) seeking approval for MELBLEZ KIT (consisting of the approved chemo drug Melphalan for use with Delcath Hepatic Delivery System) to treat a rare form of skin cancer that cannot be removed by surgery (unresectable metastatic ocular melanoma) that has spread to the liver (the proposed indication was narrowed in December 2012 to provide the lowest risk pathway to a potential initial FDA approval with additional clinical trials planned for other indications).
A FDA advisory panel meeting (ODAC) is schedule during the afternoon session on 5/2/13 with FDA briefing documents expected to be published online two days earlier on 4/30/13. The company estimates the potential market for the initial and narrow proposed FDA indication to be approximately $100 million compared to a much larger market opportunity exceeding $2 billion in Europe based on treating a variety of different cancers with the two chemo drugs that have received CE Mark (CHEMOSAT Hepatic Delivery System).
While the company cites a much larger potential market opportunity in Europe; the market remains skeptical (as evidenced by the low share price/valuation) that Delcath can achieve any meaningful sales as the company must establish the clinical benefit and safety profile of the system in Phase 3 clinical trials.
TRADE SUMMARY:
I believe shares of Delcath will make another run-up similar to the most recent surge illustrated in the six-month stock chart below into the low-mid $2s given the sub-$2 stock price, pending FDA advisory panel meeting, high average trading volume (over 2 million shares traded per day on average) and actively traded stock options. However, with shares currently in a sharp correction following recent dilution and profit-taking; my plan is to watch the stock for signs of stabilization possibly back around the $1.50 level before considering any long positions for a run-up trade into the 5/2 FDA advisory panel meeting.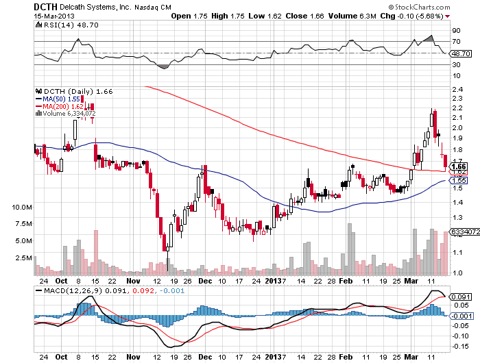 These factors combine to make Delcath an excellent trading vehicle despite the small size of the initial market associated with the NDA as traders are often attracted to low-priced stocks with FDA catalysts, and this should be no exception -- even with the constant dilution to shareholders through at-the-market sales agreements, which allow the Company to sell shares of stock over time rather than conducting a single, large stock offering.
I believe Delcath has a good chance (70%) to obtain a favorable advisory panel vote and FDA approval (upper $2-lower $3 target on positive advisory panel vote vs. sub 50-cent target on negative vote and low-mnts with no other treatment options so ultimately the stock could become a run-down trade in the case of FDA approval -- essentially a sell on the news event given the challenges of becoming a commercial stage company and what is likely to be a trend of continued operating losses and shareholder dilution even with FDA approval.
FINANCIAL STATS (click here for the Company's SEC 10-K annual report filing and here for the Q4 2012 quarterly results press release):
- As of 3/11/13, Delcath reported 91.2 million shares of common stock outstanding with no debt.
- As of 2/28/13, Delcath reported approximately $38M in cash and equivalents.
- From the beginning of the year through the end of February, Delcath raised approximately $20.9M through the completion of an at-the-market (ATM) equity offering program and subsequently entered into a new ATM facility for the sale of up to $50M in common stock.
- Delcath has provided guidance for a quarterly cash burn rate of $9-12M in 2013.
BACKGROUND & OVERVIEW:
In 2010, DCTH achieved the primary endpoint (extended hepatic progression-free survival or hPFS) in a Phase 3 clinical trial under a Special Protocol Assessment (SPA) agreement with FDA on the design of the pivotal study for patients with metastatic melanoma (a type of skin cancer) that spread to the liver. The company obtained authorization to affix a CE Mark for the Generation Two CHEMOSAT delivery system for the approved anti-cancer drug melphalan in APR12 and subsequently received a CE Mark for the delivery of another chemo drug (doxorubicin) in OCT12.
The company presented updated results last June from the pivotal study, which met the primary endpoint of improved hPFS (data submitted in the NDA included median hPFS of 7.0 months vs. 1.7 months in the control group receiving best alternative care or BAC). However, the study failed to demonstrate a benefit for MELBLEZ in median overall survival (OS) for which the Company cites the crossover study design that resulted in 55% of patients receiving BAC that crossed over to receive treatment with MELBLEZ.
Delcath is currently establishing reimbursement pathways in key EU markets (e.g., Italy, Germany, UK) and expects to finalize reimbursement in Germany and UK in early 2013. Pending FDA discussions, the company plans to conduct global Phase 2 and 3 clinical trials in 2013 for a variety of indications such as neuroendocrine tumors w/ major liver involvement, primary liver cancer (HCC), colon cancer and melanoma.
In February 2011, Delcath received a refusal-to-file (RTF) from the FDA for its first NDA filing, which requested information on manufacturing plant inspection timing, product and sterilization validations and additional safety information. At the time, Delcath expected to resubmit the NDA by the end of 3Q11 although the actual NDA resubmission occurred about one year later in mid-AUG12 seeking a priority review to expedite the review process.
The FDA accepted the NDA for review the second time around but issued a standard review for the application, extending the review by four months (10 months for standard review vs. six months for priority review). Delcath included its Generation 2 filter with the NDA filing as a technical change to the manufacturing (CMC) section along with providing additional clinical data in a new FDA compliant database (CDISC). If approved by the mid-June PDUFA date, Delcath plans for a U.S. market launch during 4Q13 with an initial focus on locations that participated in the Phase 3 clinical trial and/or expanded access program (EAP).
The company has a multi-faceted approach to exclusivity that includes a primary U.S. device patent set to expire in August 2016, up to five years of patent extension if approved by FDA under the 505(b)(2) NDA pathway, a proprietary manufacturing process for the device filter and FDA Orphan Drug status for a variety of indications that provides seven years of marketing exclusivity post FDA approval (granted for melphalan in the treatment of ocular melanoma, cutaneous melanoma and metastatic neuroendocrine tumors, as well as for doxorubicin in the treatment of primary liver cancer or HCC).
Disclosure: I have no positions in any stocks mentioned, and no plans to initiate any positions within the next 72 hours. I wrote this article myself, and it expresses my own opinions. I am not receiving compensation for it (other than from Seeking Alpha). I have no business relationship with any company whose stock is mentioned in this article.