Warren Buffett's Berkshire Hathaway Inc. (NYSE:BRK.B) has been buying General Motors (NYSE:GM) in the two latest disclosure periods. Berkshire Hathaway bought 10 million shares in the fourth quarter, bringing the total number of shares to 25 million as of December 31st. What does that mean for the retail investor?
I like to see when top investors like Warren Buffett own the stock on my watch list. It builds confidence in the stock's long term prospects, but you must do your own due diligence before buying a stock. Among others, David Einhorn's Greenlight Capital owns GM too, although he decreased the position slightly in the last reporting period. In his letter to shareholders, he noted that he sees more gains in share price, as:
GM has substantial excess capital and will reward investors through the considerable amount of buybacks which should be upcoming.

Recent developments
General Motors continued to enjoy strong U.S. sales. January sales were up 15.9%, beating consensus estimates of 13%. Strongest brands were Cadillac and Buick. February sales rose 7.2% over last year, beating estimates for 4.6% growth. Cadillac, Buick and GMC were strong performers with 20%, 15% and 23.4% growth respectively over last year.
China sales fell 11% in February as the Chinese New Year fell into a different month than last year. Sales were up 7.9% in first two months.
Europe remains a weak spot for auto sales. Opel's new CEO Karl-Thomas Neumann announced a turnaround plan for the company, calling it "Drive 2022", and he expects a return to profitability by 2015. The plan includes three main points:
1. Introduce new vehicles - Opel is in the process of launching 23 new or replacement models by 2016.
2. Cut costs - A deal with labor leaders was reached to reduce costs. The deal includes a closure of the GM's plant in Bochum at the end of 2016 (about 3,300 employees work there). A wage freeze through 2016 was also agreed for more than 20,000 Opel's German workers, in exchange for no firings during that time.
3. Change Opel's culture: Neumann implied the company has been plagued by complacency.
On the technological front, GM's CEO Dan Akerson said on March 6th that the company is working on an electric car that will have a range of up to 200 miles, on breakthroughs in battery technology.
Strong U.S. and China car sales are more than enough to offset the weakness in Europe. The potential turnaround in Europe with Opel's "Drive 2022" plan and a return to profitability will provide further value to GM.
Valuation
General Motors is still in deep value territory, and hence the interest of top value oriented investment professionals such as Buffett and Einhorn. Trailing PE is 9.67; forward PE is 6.49, with a PEG ratio of 0.51. Earnings are expected to grow 16% in the next five years.
Price action
GM's share price reached new 52 week highs in mid-January, and suffered a correction of about 10% since. The consolidation is shaped as a double bottom base. Shares have hit resistance at the 50 day moving average line last week. A decisive break of the 50 day moving average line on the upside with above average volume would provide an early entry point for short term traders. MACD is already in buy mode, with a bullish cross in early March.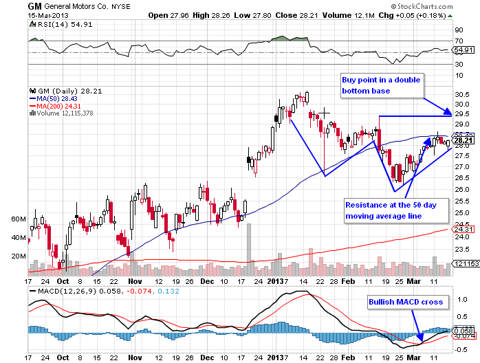 Source: Stockcharts
Conclusion
General Motors is enjoying the U.S. auto recovery, together with strong growth in China. With that offsetting the weakness in Europe, and with the new and aggressive initiative for revival of Opel, and still very low valuation, strong stock performance of the stock is expected to continue in the future. The cherry on top is the stock being owned by top investors like Warren Buffett and David Einhorn.
Disclosure: I have no positions in any stocks mentioned, and no plans to initiate any positions within the next 72 hours. I wrote this article myself, and it expresses my own opinions. I am not receiving compensation for it (other than from Seeking Alpha). I have no business relationship with any company whose stock is mentioned in this article.
Additional disclosure: This writing represents my personal opinion, and is for informational purposes only.