I have been touting the stocks in the refinery sector for over a year. I started with outlining the case for Valero (NYSE:VLO), the largest North American refining company in early March when the shares traded for just $26 a share. At the time, the shares traded for less than book value and were ridiculously cheap. VLO has gained more than 80% since then. I followed that piece two weeks later with an article on a refinery business that was structured as a Master Limited Partnership (MLP) to provide high yield along with growth, Calumet Specialty Product Partners (NASDAQ:CLMT). It was then trading at $24.50 and yielding nearly 9%. CLMT is up some 70% since the article ran and has also paid out almost 10% in distributions as well. I then highlighted the case for most of the rest of the sector in July which included major refiners Tesoro (TSO) and just spun off Phillips 66 (NYSE:PSX). Both of which I have previously been positive on in these pages. Over the last year, these refining stocks have provided outsized returns (See Chart) to the S&P and have grown to become more than 15% of my portfolio.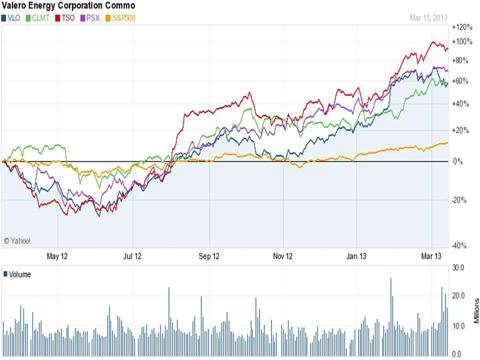 The purpose of this article is not to take a victory lap. I am penning this update as I now believe it is time to lighten up on the sector and I am in the process of reducing my allocation to this area by at least half. There are several reasons why I am taking some of my winnings off the table here. First and foremost, no one ever went broke taking profits. As the saying goes "Bulls make money, Bears make money and Pigs get slaughtered".
Second, these stocks are now way above their 200 day moving averages (See second chart) which makes them vulnerable to a significant pull back.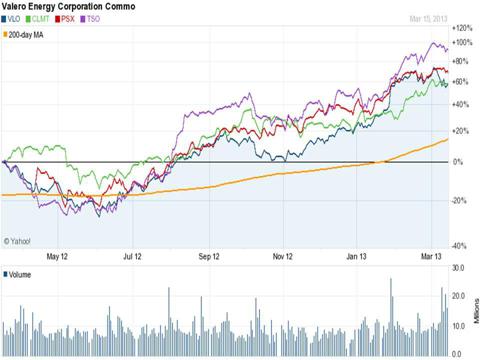 In addition, IPO activity has increased in the space with complicated entities like PBF Energy (NYSE:PBF) going public recently allowing their private equity owners like Blackstone (NYSE:BX) to monetize and profit immensely from their initial investments. This is not the type of accelerated activity that usually occurs when a sector is undervalued.
Finally, both the Wall Street Journal and NY Times highlighted this week that the costs of complying with federal mandates to use corn ethanol in fuel has risen sharply in the past few months, putting a squeeze on oil refiners. Personally, I think our current ethanol stance is one of the most ludicrous policies in the country as it takes more energy to produce a gallon of corn ethanol than it gives off in energy. In addition, these policies are a core driver of food inflation as corn is a feedstock for so many other food items. If we wanted to reduce greenhouse gases, increase our energy independence and lower our trade deficits following the Pickens plan or something similar would be an immensely better solution. It would also use our vast and growing natural gas reserves to better advantage. Unfortunately, both parties are hostage to the farming lobby to some degree and the Iowa caucuses are less than 3 years away. Regardless, these current policies and the increasing costs of these mandates should impact refinery margins as well as contribute to rising gas prices. Given how far these refinery stocks have come over the last twelve months, it is just one more reason to lighten up on the refiners.
Disclosure: I am long BX, CLMT, PSX, TSO, VLO. I wrote this article myself, and it expresses my own opinions. I am not receiving compensation for it (other than from Seeking Alpha). I have no business relationship with any company whose stock is mentioned in this article.