Kinder Morgan, Inc. (NYSE:KMI) is destined to be one of the better growth and dividend paying stocks, due to it being the General Partner ("GP") for both Kinder Morgan Energy Partners (NYSE:KMP) and El Paso Pipeline Partners (NYSE:EPB). Unlike these partnerships which pay distributions, KMI pays dividends. Since its IPO in earlier 2011, KMI has increased its quarterly dividend 6 out of the past 7 quarters. For full-year 2013, KMI expects its dividend to be $1.57 per share, an increase of 12% from 2012. KMI currently offers a quarterly dividend of $0.37 per share. At current prices, the dividend yield for KMI is about 4.06%.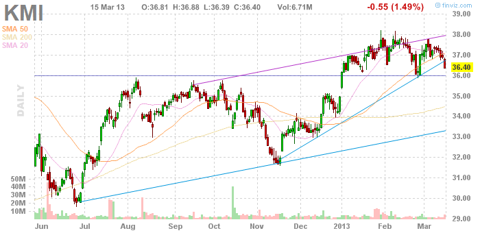 KMI is the largest midstream and the third largest energy company in North America. Their strategy is to expand, build and acquire primarily fee-based energy infrastructure in growing markets. These assets typically generate substantial stable cash flow and have minimal exposure to commodity price volatility. KMI either owns or has an interest in approximately 75,000 miles of pipelines and 180 terminals.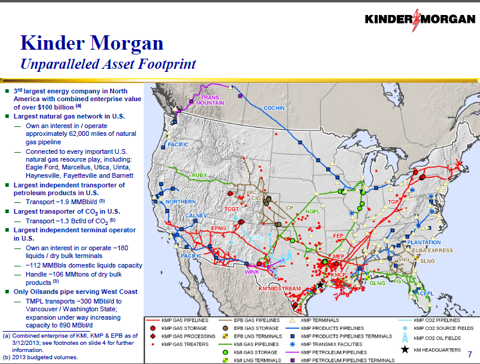 KMI is part of the Kinder Morgan family of companies. This stock has a mutually beneficial relationship with both Kinder Morgan Energy Partners and El Paso Pipeline Partners. As the GP for both, KMI has incentive distributions rights (IDR) with each partnership. KMI also owns about 11% of the limited partner ("LP") interests of Kinder Morgan Energy Partners and 42% of the LP interests of El Paso Pipeline Partners.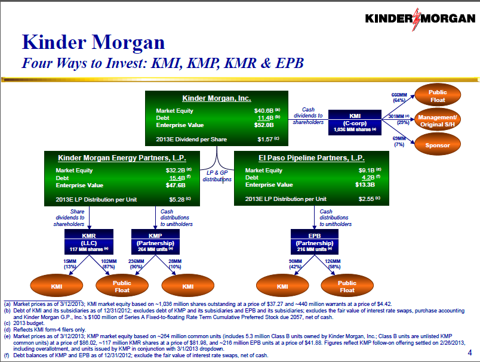 In addition to its GP and LP interests, KMI also directly owns a few legacy physical assets. Except for its 20% investment in NGPL, KMI plans to eventually dropdown all these remaining assets to KMP and EPB. By 2014, KMI plans to return to being a pure-play GP with the completion of the dropdowns.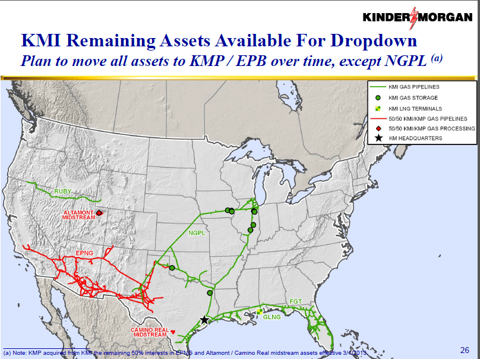 Since its 2011 IPO, KMI has achieved a 26% total return. This is a much better 2-year performance than the 18% returned by the S&P and the 19% returned by the Alerian MLP Index (NYSEARCA:AMLP). On a compounded annual basis, KMI has returned 15% per year.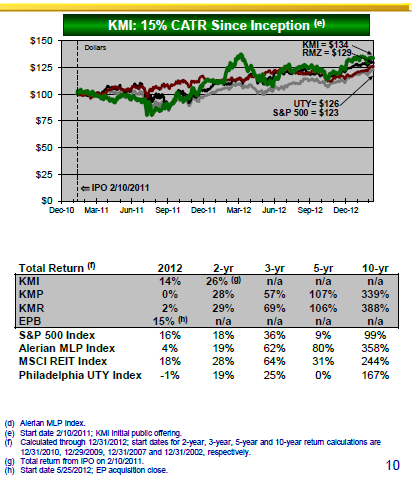 In terms of expected future growth, KMI easily beats both KMP and EPB with a projected 9 to 10% long-term growth rate. Additionally, KMI has substantial insider ownership, with CEO Rich Kinder and other management and original stockholders owning around 29% of shares.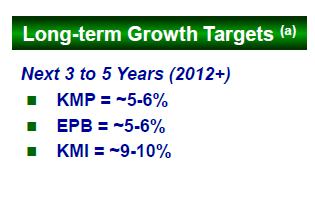 Investing in KMI does involve some risks. The primary risk with KMI is that it is highly levered, with a rather high net debt to EBITDA ratio of 5.0X. Due to this, KMI is exposed to any interest rate shocks. KMI also has some legacy E&P exposure.
Conclusion
Few companies are as shareholder friendly as KMI. The projected 2013 dividend of $1.57 leads to anticipated yield of about 4.3%. In my opinion, KMI is a buy on any weakness.
Disclosure: I have no positions in any stocks mentioned, but may initiate a long position in KMI over the next 72 hours. I wrote this article myself, and it expresses my own opinions. I am not receiving compensation for it (other than from Seeking Alpha). I have no business relationship with any company whose stock is mentioned in this article.