The Coach (COH) and Michael Kors (NYSE:KORS) story goes beyond hot brands. It is a powerful story fuelled by the pent-up demand for more fashion aficionados in an under-penetrated accessible luxury segment, spurred by substantial roll out of retail stores by both brands. KORS is making waves with a faster pace on the runway, challenging reigning behemoth COH, which over the last decade has dominated the accessible luxury handbag and accessories market with its classic, sophisticated, more traditional aesthetic.
Today we wanted to analyze the industry, review the two companies' potential, and determine which is the better investment.
Industry Outlook
According to a study from Altagamma and Bain Co., the global premium handbag and accessories market is valued at $28 billion in sales. The global luxury goods market generated $226.6 billion in sales in 2010 and $250.2 billion in sales in 2011. In 2012, year over year growth was 2% to 4% in Europe, 0% to 2% in Japan, 18% to 22% in China and 5% to 7% in the Americas. China is estimated to achieve close to $20 billion in the luxury market in 2012 ($35B in Greater China), up by 20% from the prior year. Retail sales have also continued to grow at a stable pace, demonstrating a strong consumer. Given the opportunity in China, and significant room for growth in other markets such as India and Southeast Asia, we anticipate KORS and COH to remain focused on global expansion.
The market for high-end luxury handbags is a crowded one. Ultra-chic brands such as Hermes (OTCPK:HESAF), Louis Vuitton (OTCPK:MAGOF), Chloe and Prada dominate the accessory market. Most luxury brands only participate at accessible price points through fragrances or small accessories like sunglasses. KORS is the first brand to present any visible challenge in accessible luxury handbags: among 87 designer labels on Macy's.com, only COH and KORS are the real accessories-focused businesses with their own specialty retail presence.
Aggressive Presence on Social Media and Fashion Shows
KORS recognized an opportunity to capitalize on the momentum of Project Runway and bring its brand in the off-luxury scale to an underserved segment of accessories. Bridging high-end, mass "accessible luxury" is the largest market segment (around 75%), and the most attractive of the premium handbag and accessory market. The balance between maintaining high-end credibility and brand image while having more attainable price points makes accessible luxury a challenging niche to carve out. Hence, few brands have successfully penetrated this specialty market.
Social Media Scores of Top Fashion Brands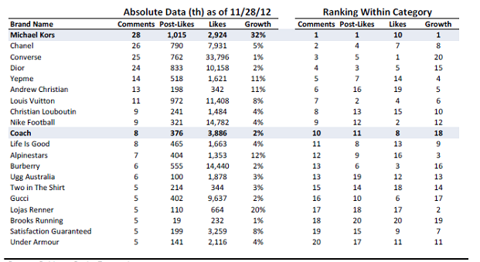 Source: Goldman Sachs
KORS is uniquely positioned to bridge scattered demographics compared to COH. Participation in New York and Paris fashion weeks, together with other international runway shows, keeps Michael Kors relevant for the high-end market. Additionally, Michael Kors was the most searched designer, according to a Bing press release. On Facebook, KORS topped all designers on the number of comments and number of times a post is liked, suggesting users are compelled enough to both read posts and write about them. The company also infuses its collection with a variety of lifestyle stores, lending weight to the luxury feel of the brand.
Growing Specialty Shops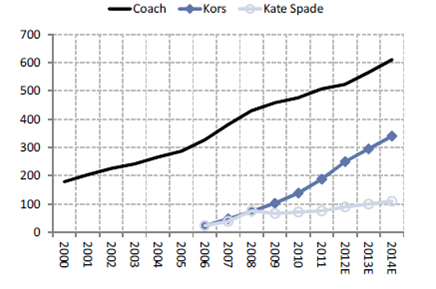 Source: Company Data, GS Research Estimates
KORS opened 28 new stores in 2012, bringing the company's current total owned stores to 297 of 600 planned long-term. Regional licensees operate some 91 stores, including 65 in Asia with 150 stores targeted in the region. The company inked an agreement with MK Panama Holdings to expand markets in South America, with a target of 40 locations. KORS is focused on converting department store doors to shop-in-shops, which tend to see strong double-digit comp increases. There are over 1,000 opportunities domestically to operate through shop-in-shops, and the company plans to convert over 100 per year.
Coach, which generates 30% of its sales through the global luxury bag market is well positioned to grow in Asia given positive accessible luxury trends, established market positions and the recent acquisitions of key distributors in China. KORS is the first competitor to build scale in COH's back yard, literally opening up many shops either directly next to or nearby an existing Coach store. KORS' price competes directly with COH's "sweet spot" price, but with a differentiated, chic fashion aesthetic.
KORS claimed an estimated 5% share within the $28 billion luxury market, compared to Coach at over 10%. Within the addressable $10 billion U.S. market, KORS has approximately 9%-10% share, versus COH at more than 30%.
Conclusion
KORS' long-term top line growth target of 20% to 25% and the anticipated penetration of the handbag and accessories category can improve its market positioning and grow market share. KORS offers the most compelling combination of top-tier growth and capitalizing on international markets.
Market Share of Premium US Handbags and Accessories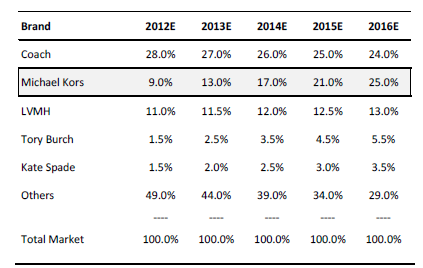 Source: Company Data, GS Research Estimates
Coach, on the other hand, is prone to market share risk. The company is in a better position to flex a number of other growth levers, however, including international markets and the launching of men's accessories. But ultimately, we expect it will invest more in the core domestic handbag business. COH reported poor earnings results in the latest quarter, which were driven by surprisingly weak comps in line with the market's view of low-single-digit organic growth. The U.S. retail market turned negative during the holidays, driven by weak consumer sentiment and aggressive promotional strategies from competitors in the accessible luxury market. To protect its brand, Coach did not immediately react to the vulnerable environment by changing its pricing strategy.
COH is currently trading at 12.80X P/E with EPS of $3.63. COH is trading well below its historic P/E multiple. Given slower growth prospects and new competitive challenges, COH looks to be priced fairly and therefore is a hold.
KOR is currently trading at 31.20X P/E with EPS of $1.90. Given its faster growth prospects and potential to steal share, we believe the P/E ratio is too low and believe it could be a great growth stock for investors.
Disclosure: I have no positions in any stocks mentioned, and no plans to initiate any positions within the next 72 hours.
Business relationship disclosure: Black Coral Research is a team of writers who provide unique perspective to help inspire investors. This article was written by Hans Centena, one of our Senior Analysts. We did not receive compensation for this article (other than from Seeking Alpha), and we have no business relationship with any company whose stock is mentioned in this article.
Additional disclosure: Black Coral Research is not a registered investment advisor or broker/dealer. Readers are advised that the material contained herein should be used solely for informational purposes. Investing involves risk, including the loss of principal. Readers are solely responsible for their own investment decisions.