Eagle Ford Shale Well Activity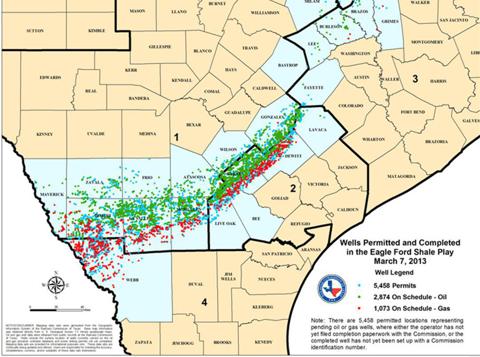 Within the U.S. unconventional oil and gas, the Eagle Ford Shale is a remarkable success story. The 229 rigs currently active in the play are a vivid testament thereto. Clarence Cazalot, Chairman and CEO of Marathon Oil (NYSE:MRO), addressing the Eagle Ford Consortium conference on March 7, commented:
To be clear: We consider the Eagle Ford Shale the most significant new opportunity for unconventional resources in North America ... perhaps even the world.
The Eagle Ford's success in oil and NGLs is very visible. The oil and liquids volumes have been growing rapidly and no slowdown is detectable as the largest operators in the play are all guiding to continued strong (20%-50%) 12-month volume increases.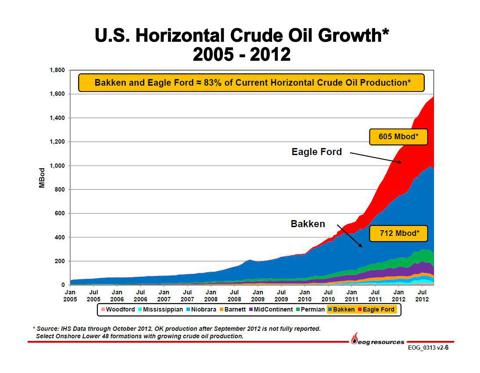 (Source: EOG March 2013 Investor Presentation)
Investment returns in the Eagle Ford's most prolific, albeit narrow, oil/condensate corridor remain exceptionally strong, even under very aggressive downspacing patterns that will likely be broadly adopted in the play.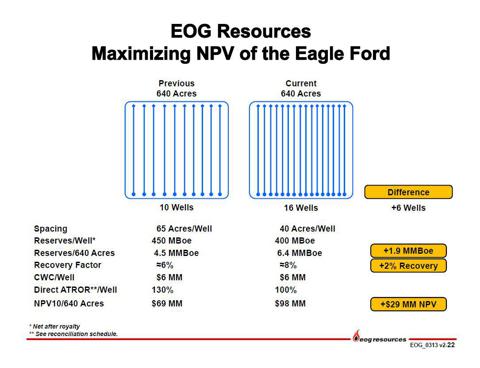 (Source: EOG Resources March 2013 Investor Presentation)
However, on the natural gas side - where the play originally started - the Eagle Ford may appear a disappointment. The play's dry gas statistics rarely get quoted in investor presentations. However, the latest production data from Texas Railroad Commission indicates that natural gas production from gas wells in the Eagle Ford counties (which also includes some shallow-decline conventional production) peaked in December 2011 at approximately 2.3 Bcf/d and has been in a steady and steep decline since then. In just one year, production volumes from gas wells have decreased by ~40% from the peak to ~1.4 Bcf/d in December 2012.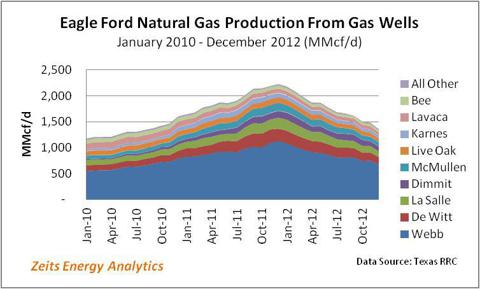 (Source: Texas RRC, Zeits Energy Analytics)
The 0.8 Bcf/d decline in production from gas wells has been only partially offset by the growing volumes of casinghead gas from oil and condensate wells. During the same one-year period, casinghead gas production in the Eagle Ford counties increased by ~0.3-0.4 Bcf/d of liquids-rich and super-rich gas. The amount of residue gas that ends up in gas transmission pipelines is substantially reduced after wellhead gas goes through processing plants (the "shrinkage").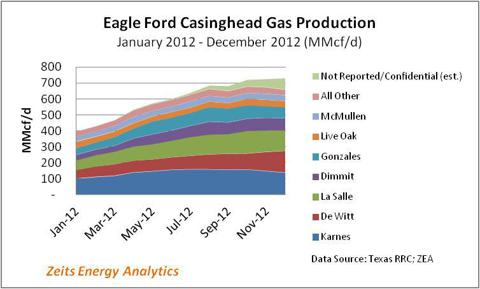 (Source: Texas RRC, Zeits Energy Analytics)
The steep drop in the Eagle Ford's dry gas production and low casinghead volumes may appear surprising given the remarkably high rig count in the area and continuously improving rig productivity. The trend is particularly counterintuitive given that of the 229 total rigs active in the play as of March 15, 60 rigs were classified by operators as targeting natural gas. (By comparison, 13 rigs that have stayed active in the Fayetteville Shale seem to be sufficient to sustain the field's 3 Bcf/d production at a plateau level.)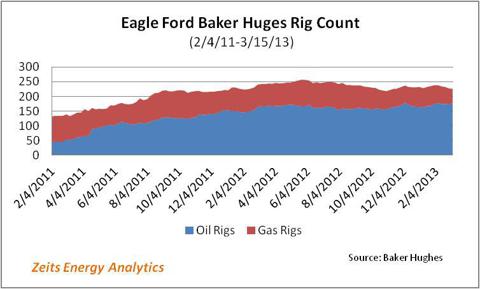 (Source: Texas RRC, Zeits Energy Analytics)
Two factors explain the dry gas trend in the Eagle Ford. First, there is very little drilling activity at the moment in the dry gas window which explains the "free fall" decline in the production volumes from gas wells (1,073 as of March 7, according to Texas RRC data). Second, in the oil and condensate windows, Eagle Ford wells would be considered "small" on a Bcfe basis by the standards of dry gas shales. On top of that, dry gas represents a relatively small portion of the EUR.
EOG Resources (NYSE:EOG) has most recently guided to a 400 MBoe net EUR per well on their acreage. Assuming a 20%-25% royalty rate, gross EUR per well would be in the ~500-530 Boe range (3.0-3.2 Bcfe per well, a fraction of a typical Marcellus well drilled for a similar cost). EOG's current production stream yields only 12% dry gas (in addition to the 78% oil and 10% NGLs). Even assuming that casinghead gas (dry gas plus NGLs) represents 30% of the EUR, that is still just 150-165 MBoe per well, or 0.9-1.0 Bcfe per well. Of that, the dry gas component may be as low as 0.5-0.6 Bcf/well.
EOG's productivity per well appears ahead of many of its peers in the play, while its oil and NGL cuts are noticeably higher (the two factors "balance" each other in the calculation of the dry gas weight in the EUR). Based on Zeits Energy Analytics' estimate, on average in the Eagle Ford for wells currently being completed, dry gas EUR per well is in the 0.7-1.0 Bcf range. To put that in perspective, one rig drilling in the dry gas sweet spot in Susquehanna County, Pennsylvania in the Marcellus may be able to generate more dry gas production than 15-20 rigs drilling for oil and condensate in the Eagle Ford.
The Eagle Ford natural gas volumes trends demonstrate that while the stream of "costless" gas from oil and combo plays is significant and growing, dry gas shales will continue to be the primary defining factor in the North American natural gas supply, due to their unparalleled deliverability and responsiveness to price. Dry gas shales also have the ability to fulfil the important role of "load followers," which is necessary to maintaining supply/demand balance.
For the time being, the dry gas portion of the Eagle Ford has been contributing to the natural gas supply rebalancing, alongside several other significant plays such as the Haynesville and Pinedale. An important question remains, at what natural gas price does the dry gas window of the Eagle Ford "work?" The Eagle Ford is ideally positioned to serve as a source of natural gas exports to Mexico to meet the country's growing demand in power generation.
The above discussion is fundamentally relevant for natural gas (NYSEARCA:UNG) and the natural gas producer stocks. My natural gas producer index includes:
Chesapeake Energy (NYSE:CHK)
EnCana Corporation (NYSE:ECA)
Devon Energy (NYSE:DVN)
Southwestern Energy (NYSE:SWN)
Ultra Petroleum (NASDAQ:UPL)
EXCO Resources (NYSE:XCO)
WPX Energy (NYSE:WPX)
Cabot Oil & Gas (NYSE:COG)
Range Resources (NYSE:RRC)
QEP Resources (NYSE:QEP)
Quicksilver Resources (NYSE:KWK)
Forest Oil (NYSE:FST)
Bill Barrett (BBG)
Disclaimer: This article is not an investment recommendation. Any analysis presented in this article is illustrative in nature, is based on an incomplete set of information and has limitations to its accuracy, and is not meant to be relied upon for investment decisions. Please consult a qualified investment advisor. The information upon which this material is based was obtained from sources believed to be reliable, but has not been independently verified. Therefore, the author cannot guarantee its accuracy. Any opinions or estimates constitute the author's best judgment as of the date of publication, and are subject to change without notice.
Disclosure: I have no positions in any stocks mentioned, and no plans to initiate any positions within the next 72 hours. I wrote this article myself, and it expresses my own opinions. I am not receiving compensation for it (other than from Seeking Alpha). I have no business relationship with any company whose stock is mentioned in this article.