GMCR Free Cash Flow data by YCharts
GreenMountain Coffee (NASDAQ:GMCR): New CEO Brian Kelly has wasted little time in exercising his operational skill at the Vermont based specialty coffee company. The company's recent announcement of a workforce reduction comes on the heels of comments we made more than a month ago suggesting that some form of restructuring might be imminent.
Although the company says the job cuts represent less than 2% of its North American workforce, management expects a one-time pre-tax charge of $600,000 to $650,000 in its second fiscal quarter.
While GMCR also expects the impact of the charge to be immaterial to its fiscal second quarter 2013 results, the company has not filed any related financial disclosures nor has it updated previously issued guidance. Under FASB ASC 420 how the cost(s) and liability of the charge will be recognized depends on various factors.
Restructuring efforts are intended to make sacrifices in the near-term for the better good of the enterprise in the long-term. From an analytical perspective there are several general observations for investors to consider with respect to any restructuring.
Firms employing conservative accounting policies (e.g., short useful lives and immediate expensing of plant-related expenditures) will likely have smaller amounts to write off.
Some firms may take restructuring charges for several years in an effort to avoid a large, single-year earnings hit.
Other firms may maximize amount of charge in a given year to convey all bad news at one time.
Ultimately, if the estimated restructuring charge proves too large (small), income from continuing operations in a later period will include a correction that increases (decreases) reported earnings. This provides a means for firms to shift income across periods.
Given GMCR's ongoing SEC investigation and widely publicized criticism of the company's controversial accounting practices, we had expected Mr. Kelly to come out swinging the axe more deftly. We also expressed similar concerns regarding GMCR's operational inefficiencies in an article published last December.
Considering that the restructuring announcement comes in a year that GMCR is expected to grow revenues by 15-20%, we can't help but think more "rationalizations" will be announced going forward.
With shares of GMCR up 34.5% in the past three months, investors appear quite positive on GMCR's future prospects. However, restructurings and "optimization" strategies are never precise nor a singular event.
In the case of GMCR, we view the announced job cuts as potentially the tip of a restructuring "iceberg". While a $600,000 - $650,000 charge may seem trifle to an investor of an $8 billion market-cap company, one should be reminded of the cock-roach theory: when you see one, more will likely follow.
GMCR recently emerged from a five-year hyper-growth phase to a vastly moderated forward growth expectation. Amidst this peak-to-trough shift the company went from capacity constrained to excess capacity and under utilized assets.
Thus, a rationalization of these assets or as CEO Kelly stated in the Q1 2013 earnings call, "we can make the assets we have sweat harder" makes perfect sense (see transcripts page 7, CEO Kelly's response to BofA/Merrill Lynch analyst Bryan Spillane).
Again, it is our belief that GMCR, under Kelly's leadership will eventually realize the operational efficiencies such as outlined in the recent job cut announcement. Yet, investors need to realize that the hyper growth "era" generated very little in free cash-flow or returns on invested capital.
Now, the company is faced with having to "rationalize" asset inefficiencies in an environment of moderating revenue expectations. An investor has to ask themselves several questions.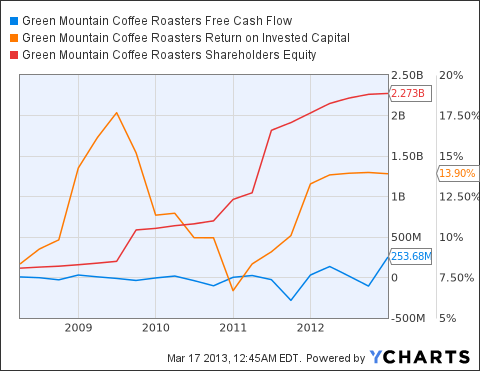 How is it that GMCR can produce seemingly robust growth in shareholder equity (red line) during the past five years when returns on invested capital (orange line) only recently in 2011 showed some signs of life? Meanwhile "free" cash-flow (blue line) suddenly turns positive in late 2012 and at a similar time when returns on invested capital have flattened.
The financial statements have long been warning us to concerns of poor earnings quality. At the very least, this distortion between shareholder equity, cash-flow and ROIC would suggest that earnings management may have been a primary driver to the company's historical results and torrid growth.
Clearly, CAPEX can't be blamed for dismal asset returns as the company expects to cut CAPEX spending this year as a means to preserve cash. We recognize that Mr. Kelly is identifying the operational issues and that the wild party did not occur on his watch. However, the job cuts though modest, sends the signal that house cleaning has commenced.
We do not know how it will play out except that big parties (think acquisition binges) often result in even bigger messes. If GMCR is going to improve its operating leverage, attention to gross margins will be critical to this objective. The common denominator to achieving this will be to extract returns on invested capital more productively.
Often, a restructuring is one way to optimize profitability, margins and asset returns. Unfortunately, short-term pain can be manifested in messy hits to shareholder equity and future earnings growth.
Our bearish tune hasn't changed much over the past several years, despite an impressive rebound in GMCR shares in recent months. That said, the likelihood of further equity destructive charges could in our view negatively impact the stock price as the restructuring progresses.
Disclosure: I have no positions in any stocks mentioned, and no plans to initiate any positions within the next 72 hours. I wrote this article myself, and it expresses my own opinions. I am not receiving compensation for it (other than from Seeking Alpha). I have no business relationship with any company whose stock is mentioned in this article.